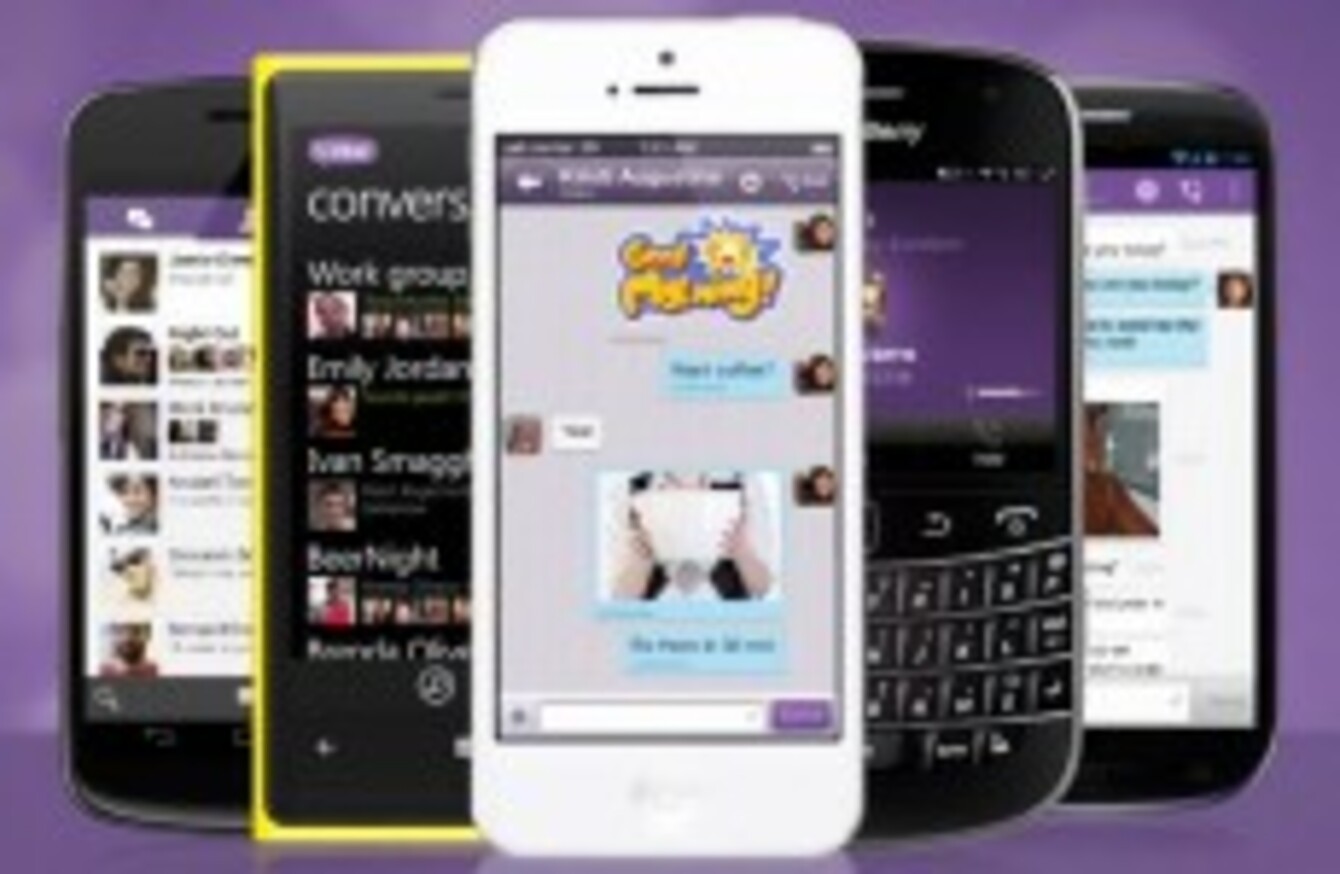 Image: Viber/YouTube
Image: Viber/YouTube
IT'S BEEN A strange year for the major social media sites. Not only are they in transition, migrating from desktop to mobile, but they're also fending off competition from new messaging apps, which is taking younger users away from their sites.
With Twitter updating its app to allow photos in its Direct Messaging service, and Instagram reportedly introducing its own private messaging service tomorrow, the focus for these sites over the last few months has been on messaging.
But why is this so important for these sites to break into this market, and what kind of threat do these messaging apps pose?
Why would the likes of Facebook and Twitter worry about this?
Messaging apps are more than just a way to connect with your friends, they're practically private social networks for your friends. WhatsApp has 350 million monthly active users, LINE has 300 million users and is targeting 500 million by the end of 2014 and Viber has more than 200 million, showing the appetite for these services.
The main attraction is just how much you can do through these apps and how they bypass other mediums. Images, videos, stickers, voice recordings, self-destructing messages, and games are some of the features included in these apps and the number of ways you can communicate with friends will continue to grow.

(Video: WhatsApp/YouTube)
Also, the privacy element – having conversations that only you and selected friends can see and hear – is a major draw.
For the likes of Facebook and Twitter, these apps could have an effect on both its userbase and its profits in a few years time.
But Facebook already has more than one billion users, why would it and other social media sites care about these apps?
It all ties back to the younger age groups using these apps. The fastest growing demographics on Facebook, Twitter and Google+ is the 45 – 64 year age bracket, mainly the parents, relatives and siblings who aren't overly familiar with the web and want to keep in touch with everyone.
By comparison, those who use services like WhatsApp, Viber and LINE are usually under 25. This audience is also more engaged on mobile, which only adds to the problems faced by Facebook and co. as they try to get users to download their own apps.
While Facebook and Twitter continue to grow, the fact that younger users are not using their apps is cause for concern. The logic is if you manage to hook in this age group, they will continue using the site as they grow older, and will be worth more to both the site and advertisers. It's not a problem now, but it could be further down the line.
LINE currently has 300 million users, and it's aiming to grow this figure to 500 million by the end of 2014 (Image: AP Photo/Sakchai Lalit).
How do Facebook, Twitter and Google's own messaging apps compare?
Not so well. Even Facebook Messenger, whose messaging app is one of the better apps out there, feels rigid in comparison to the likes of WhatsApp and Snapchat. Since its messaging services is tied into how their site works, it means it must keep things consistent so that everyone's happy.
Twitter introduced a new update to its Direct Messaging (DM) service in the form of photos. It's a small step for the site, but it's very unlikely it will appeal to anyone outside of Twitter's main userbase. Google brought hangouts, which has useful features like Hangouts, but that won't appeal to people not regularly using the service.
It's rumoured that Instagram will introduce its own private messaging function tomorrow evening. If it does go ahead with it, it's believed that it could be something similar to Snapchat, the company Facebook offered $3 billion for last month.
Hasn't Instagram/Facebook done something similar before?
It did. When Twitter launched its video sharing app Vine back in January, Facebook responded with Instagram video in June. That hasn't gone so well as Instagram has yet to reveal how many videos have been posted throughout the year.
The difference between Twitter and Snapchat is the former is one of its main rivals, and Instagram video was a response to Vine.
Snapchat just refused a bid from the company so incorporating a image messaging service into an established product would work better than creating a new app from scratch.
Instagram introduced video back in June to challenge Twitter's Vine service, but the company has yet to reveal how much it's used. (Image: Instagram)
Couldn't Facebook and co. just change what their messaging apps offer?
It could, but if you remember any time these sites changed the layout of its newsfeed, there's almost always a negative reaction to it – Twitter introducing preview images in October being a recent example. People don't like change, and that includes changes to apps and services.
Anytime a change is made, it's always rolled out gradually so that users are eased into it. While the big sites have their own messaging apps, this reaction means they will always be releasing updates slowly, and therefore playing catch-up with its rivals.
That's one of the reasons why Facebook bid $3 billion for Snapchat last month, and why Google reportedly bid $4 billion for Snapchat and $1 billion for WhatsApp, showing how important the market is for them.
Are these messaging apps even profitable?
Some of them are. WhatsApp has an annual subscription fee for users after users are signed up to the service for a year, and says its profitable, while others apps rely on ads or paid content like games or stickers.
Unlike Snapchat, these apps already have business models in place so they don't need to accept any bids that might come their way.