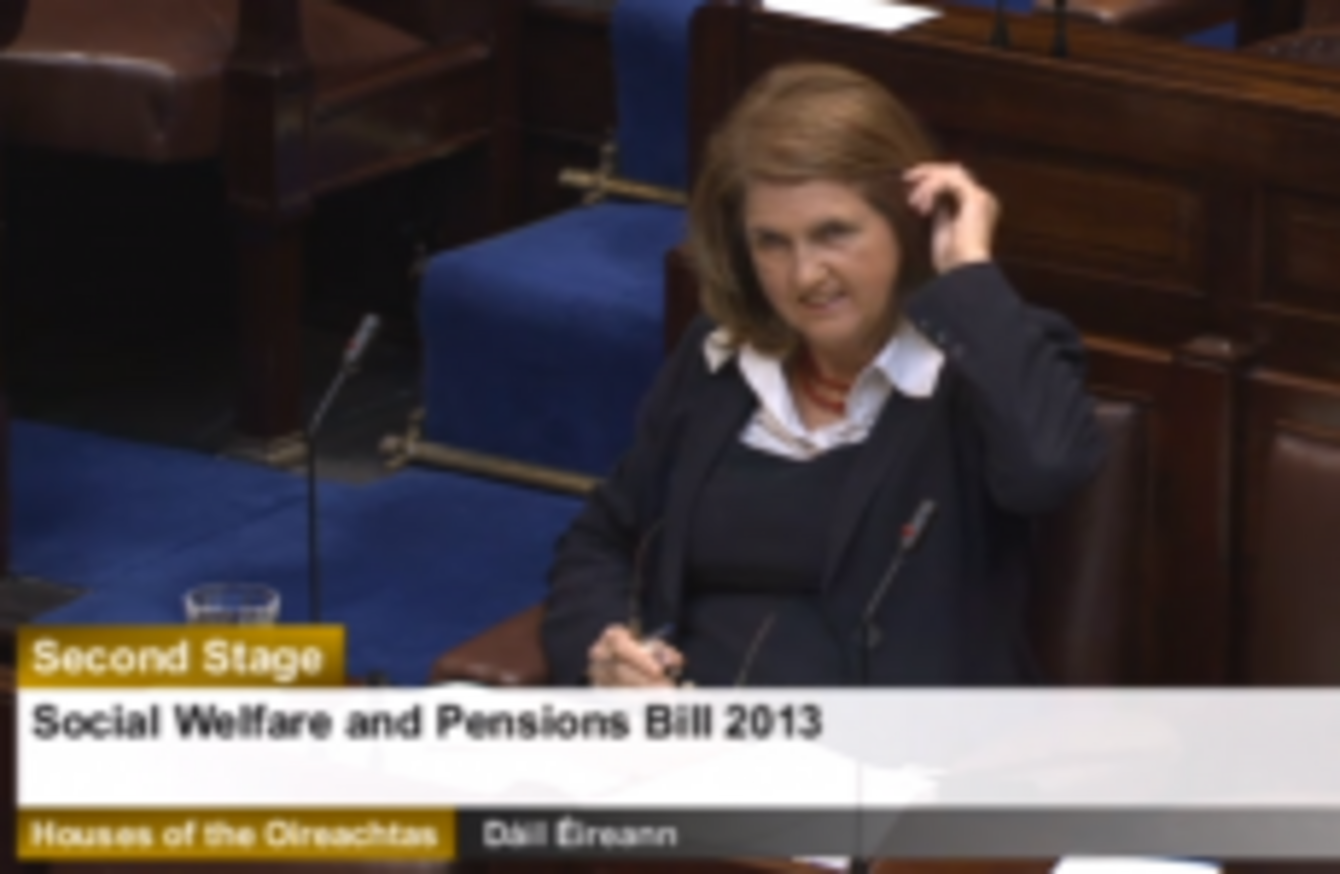 Joan Burton listening to opposition TDs in the Dáil today
Image: Screengrab
Joan Burton listening to opposition TDs in the Dáil today
Image: Screengrab
SOCIAL PROTECTION MINISTER Joan Burton has said that despite the €226 million in cuts to the social welfare budget next year her department is "protecting against poverty" in "exceptionally difficult times".
The Minister was speaking as the Dáil began the debate on the Social Welfare and Pensions Bill amid much criticism from opposition that the bill – being debated today and tomorrow – is being rushed through the legislature.
The bill gives effect to many of the changes announced in last week's Budget, including the reduction in jobseekers' allowance for young unemployed, the abolition of the bereavement grant and the reduction in maternity benefit for some mothers.
Burton told the Dáil that the Live Register will fall below 400,000 for the first time in four years and said that the budget for her department is being managed "prudently" despite the economic pressures.
She said the measures in the Budget and the various employment programmes will ensure that young people are "always better off in education, training or employment than claiming".
The Labour Party minister aid that her department will continue to get people back to work while reducing overall spending next year, but she noted that there will be an increase of €100 million in spending on State pensions next year due to the ageing population.
Orwellian
Fianna Fáil's social protection spokesperson Willie O'Dea described the measures announced last week as being part of the government's "third regressive Budget in a row".
He said that not enough money has been committed to the Youth Guarantee Scheme and said that the language being used by government to describe some of the cuts is "Orwellian" citing the reference to the maternity benefit cut for some mothers as a "standardisation".
Sinn Féin's Aengus Ó Snodaigh said that young people cannot be incentivised if jobs do not exist, saying that there are 32 jobseekers for every vacancy advertised. He said the bill is "devastating for young people, old people and anybody dependent on social welfare".
Socialist Party TD Joe Higgins compared Burton to former Tory minister Norman Tebbit, describing her as "Baroness Tebbit of the Fine Gael-Labour coalition".
Joan Collins, a United Left TD, said the changes in social welfare are "mean and cruel attack" on the elderly.
Fine Gael TD Joe O'Reilly defended the measures saying that there has been "scaremongering and embellishing of the facts".
He noted that the Budget this year has resulted in the protection of all core social welfare payments and he commended the Minister for this.