Image: Shutterstock/88studio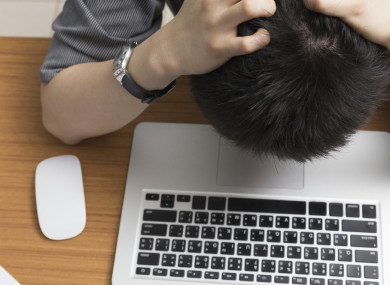 Image: Shutterstock/88studio
OFTEN, WHEN A story is made public concerning a social worker, it is because they have done something wrong. The extremely sensitive nature of their work means that their decisions can have damaging consequences when the wrong choice is made.
Social workers rarely speak in public, but issues around their failings make it into reports, reviews and the personal stories of interactions with the system.
One of the key risks identified by Tusla in its business plan for this year was the potential of an "insufficient supply and extreme pressure on recruitment".
According to figures released to RTÉ in 2015, one social worker a week resigned from their position between 2010 and 2013.
With the problem of recruitment and retention particularly acute for social workers, TheJournal.ie spoke to Ava*, an experienced Leinster-based social worker, to get a rare insight into the challenges the profession faces doing this job each and every day.
Burnout
Ava was unequivocal when asked why it's so hard to retain social workers in Ireland.
"Burnout," she said. "I can't describe it any other way than that.
In a very short space of time, I find that everyone around me has changed. They may stay in social work but go to a different area of it. It's such a shame. It becomes too stressful, and you've got to be able to cope.
She said that an extremely heavy workload is the main contributor to this feeling of burnout.
On a day-to-basis, the sheer weight of administrative tasks means that social workers are inhibited from fulfilling many of their core duties.
This can range from choosing not to visit a child, who is in care but deemed a lower priority, and instead working from the desk to arrange the provision of services for another child.
"There's an impossible amount of things to do," she said. "People will find that in all jobs, but we're doing work that's so important for people and their lives.
When you're prioritising, you have to leave things out that children really need. That could be a referral to a therapeutic service or something like that. You can't do it because you're prioritising other things.
This workload is reflected by the large backlog of cases that Tusla has regularly referenced.
At the end of January 2014, there were 8,685 cases awaiting a social worker. Of these, 3,535 were considered "high priority".
Improvements were made, and, as October 2016, there were 4,282 cases awaiting a social worker, 654 of which were considered "high priority".
The high caseloads that social workers have is something acknowledged by all stakeholders in this process.
Speaking to TheJournal.ie, Irish Foster Care Association CEO Catherine Bond pointed out that while "Tusla has been recruiting heavily, [...] social workers often have high caseloads".
At the time that RTÉ published its figures of social worker resignations, Tusla CEO Fred McBride said: "We're looking at a caseload management system to ensure caseloads are kept within a manageable level".
Ava said that social workers still have incredibly high workloads to get through and that a lot of younger people in the job can find it very difficult at the beginning.
"We have a lot of young people coming in when they're in their early 20s, straight out of college," she said. "Trying to deal with complex family dynamics while having such a high caseload can be very, very difficult."
She did say, however, that younger members of the team get more help from supervisors and team leaders. "The supports available to me, by and large, are very good," she said.
Morale
When asked about how negative perceptions about the profession affected social workers, Ava said that "when those sort of cases make it into the public domain, something has gone wrong".
She acknowledged that mistakes are made, but said that she and colleagues disagree with the perception that it is always the fault of social workers.
"There are other things that can contribute to things going wrong, though, but the blame is often laid at the feet of the social workers," she said.
In everything we do, there is risk attached. You're never 100% sure that everything will go fine. It's inevitable that there will be a number of instances where things go wrong.
Ava said that morale across the social work department is low when such criticisms are made on a regular basis.
"The decisions that social workers make has such a real effect on the lives of these children, but others make important decisions too like the courts, judges, parents and guardians ad litem," she said.
On the issue of guardians ad litem, appointed by a judge to act as the voice of the child in court proceedings, Ava said that there is often a tension between social workers and these guardians over what's best for a child.
#Open journalism No news is bad news Support The Journal

Your contributions will help us continue to deliver the stories that are important to you

Support us now
"In some cases, not all, you have a social worker who is so heavily embedded with families and children," she said. "A guardian came come in and, with a limited amount of involvement, can be seen to have a greater say in the eyes of a judge on the future of a child."
When faced with reports of social workers failing in their duty, it comes back to this issue of burnout, according to Ava.
"Looking at my caseload," she said, "if I had two-thirds of what I currently have, I'd be able to do a really great job.
I'd be able to live up to the job description that I have which is to protect and support children and families. I'm doing the best I can. Everyone does. But I don't think it's good enough. The children deserve more.
Statutorily, social workers must visit children in care at least once every six months. While they often visit more than this, sometimes these visits are confined to just the once every half year. "I would like to visit the children more, but I know it's not physically possible," Ava said.
When a case is brought before the court, it can sometimes be the case that a social worker is not as up to speed on a case as they should be because their own resources are so stressed. "That's not good enough," she said.
"Attrition and exhaustion"
In a recent Dáil debate, Fianna Fáil TD Anne Rabbitte asked Children's Minister Katherine Zappone what steps were being taken to address the "high rates of attrition and exhaustion among social care workers".
Rabbitte said: "Good staff are walking away from the job because we do not offer key supports to retain them such as a good ICT communications system. Retention is crucial in an industry in which only 230 qualify annually."
Zappone responded: "Social workers, social care workers and even administrative staff working with Tusla are working at the coalface.
These are hugely difficult and challenging jobs. As the Deputy identified, in terms of staff, it is important to pay attention to concerns about attrition rates, exhaustion, etc.
For its part, Tusla has been aggressively attempting to put in place measures that will ensure staff are recruited in adequate numbers, and remain in their jobs.
CEO McBride told the Irish Independent last year: "We have done a big recruitment campaign with third-level institutions… We are working to incentivise retention and appoint more grades of senior practitioners with higher pay."
For Ava, she wouldn't be interested in higher pay. "I just want a manageable workload." she said. "I want to be able to give all of these children I interact with the full care and attention they deserve.
I do like my job. I wouldn't still be in it if I didn't like it. You do see results… but there are lots of things that social workers get abuse for. I understand why a lot of people leave.
Ava's name has been changed