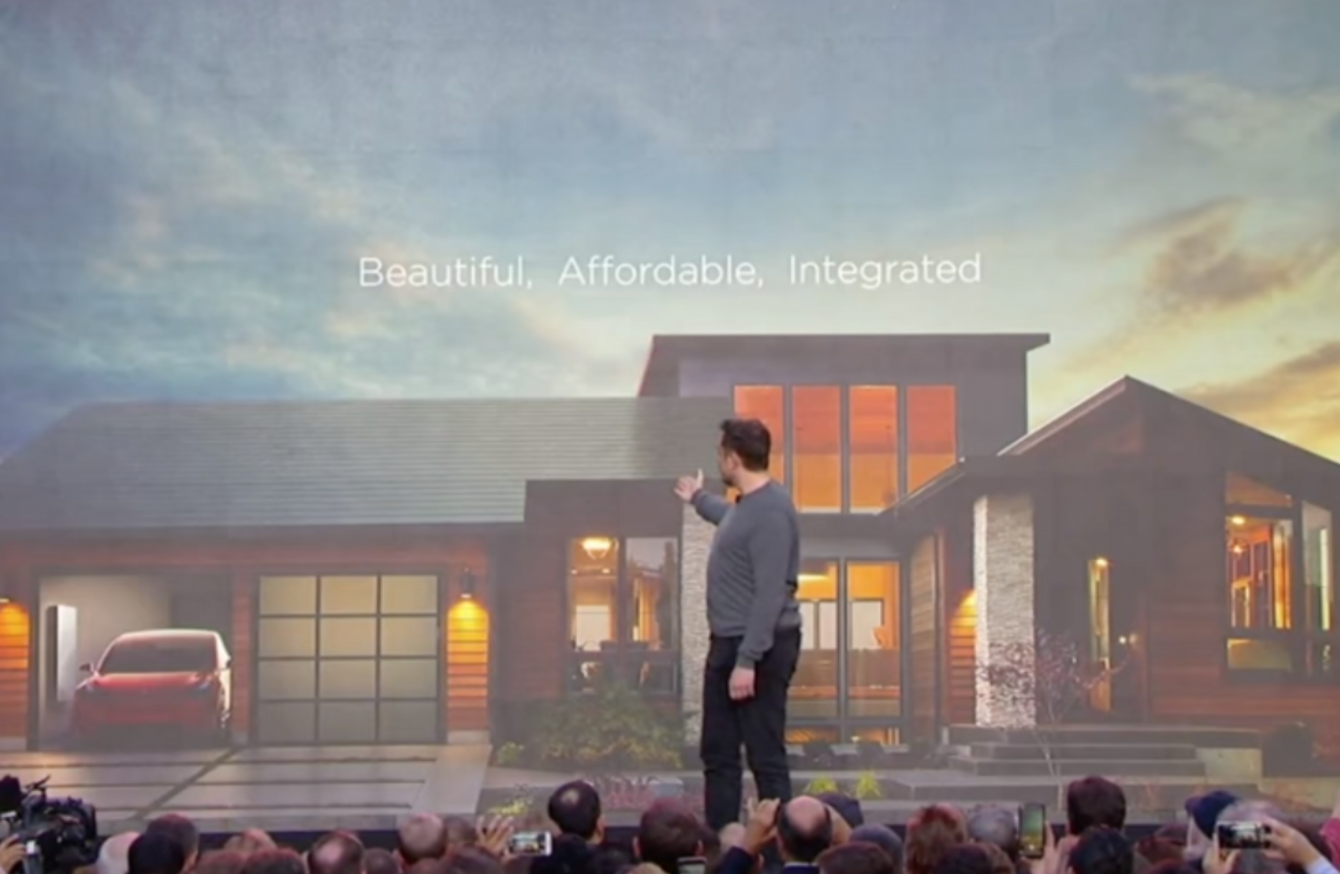 Image: YouTube
Image: YouTube
PRODUCERS OF ECO-FRIENDLY goods continue to try to strike the balance between cost-effectiveness, practicality and aesthetics.
A new product released by electric car manufacturer Tesla claims to tick two of those boxes – and leaves us in the dark over the third.
This weekend, Tesla's CEO Elon Musk unveiled solar roofs for environmentally friendly homes, saying "global warming is a serious crisis and we need to do something about that".
The roof tiles are made with extremely strong tempered glass, high-efficiency solar cells and colored film – claiming to look much better than the traditional solar panels.
The company also claim that the tiles are more durable than terra cotta, clay, and slate tiles, being able to withstand greater impacts.
But there is still no price announced for the tiles.
Musk, who is also the company's co-founder, said during a news conference at Universal Studios in Los Angeles that electric cars in the past "didn't look good… They were like a golf cart," but claimed that Tesla automobiles are now highly desired through tweaks to their design.
He said that solar panels need to undergo the same transformation.
"The goal is to have solar roofs that look better than a normal roof, generate electricity, last longer, have better insulation, and actually have a total cost that is less than the price of a normal roof plus electricity," Musk said.
"Why would you buy anything else?"
The tiles are promised to 'lower your electricity bill', 'increase the value of your home' and 'reduce your carbon footprint'.
Tesla
Founded in 2003, Tesla has a history of heavy investments which have led to consistent losses.
This week, the company released better-than-expected results for the third quarter of the year, which lifted Tesla shares 5.5% in after-hours trade on Wall Street.
Despite this being only the company's second profitable quarter as a public company, Musk sent a letter to shareholders upon the announcement, predicting profitability in the fourth quarter too.
"New product launches, increased store efficiency and new store openings drove year-on-year order growth in the third quarter, while self-driving hardware and other product enhancements position Tesla for additional market share gains," Musk said in the letter penned by him and his chief finance officer Jason Wheeler.
The letter said the company expects more than 25,000 deliveries in the fourth quarter to bring the total for the second half of the year to some 50,000 – "despite the challenges of winter weather and the holiday season".
Musk announced at the launch yesterday that they expect to start installing the first of the roof tiles "sometime next year".
With reporting from Gráinne Ní Aodha