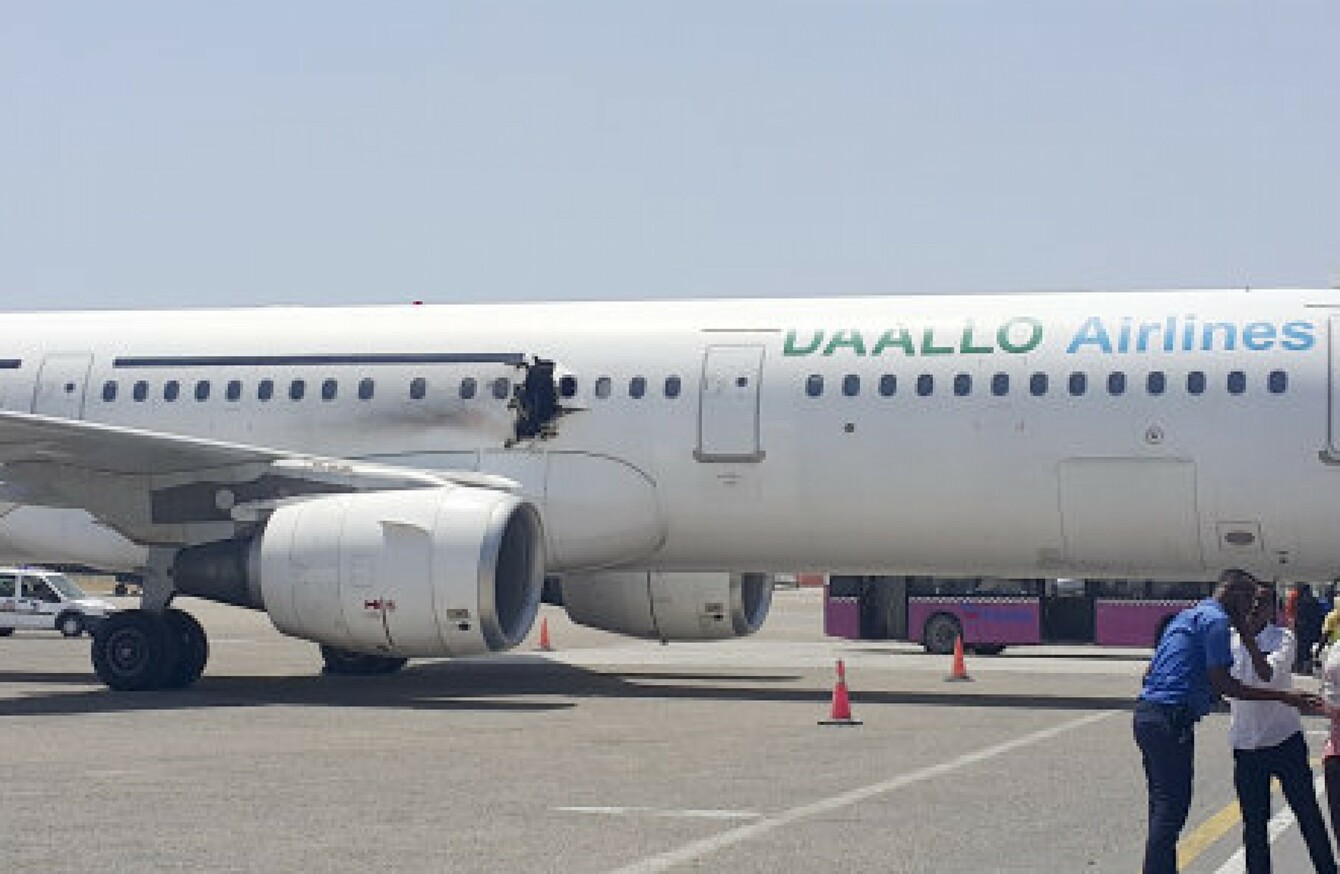 Image: Associated Press
Image: Associated Press
ONE PASSENGER IS missing after a blast on a commercial airliner that ripped a hole in its fuselage shortly after take-off from Somalia's capital, the airline said today.
"All passengers except one disembarked safely after aircraft landed at the airport," Daallo Airlines said in a statement. "Investigations are underway to ascertain the cause of one missing passenger."
Aviation experts and the pilot who landed the plane safely in Mogadishu after the explosion on Tuesday have said they fear the blast was a bomb. There has been no official confirmation of the cause of the explosion.
It was not clear if the missing passenger had been on the plane and was potentially blown up in the blast — or sucked out through the ragged hole ripped in the metal — or if there was some miscounting with the list of those on board.
Photographs showed a large hole — about a metre in diameter — just above the engines on the right wing, with streaks of soot on the plane.
"Two passengers have been reported to have suffered minor injuries and they were taken to the hospital for treatment," Daallo added.
The airline operates flights across Somalia and the wider Horn of Africa and Gulf region.
Somalia's government has said the blast was believed to be caused by a problem with air pressure.
"The flight was approximately 15 minutes in the air when the incident happened which caused a hole in the fuselage," Daallo added.
Heavily fortified
Video footage taken after the blast showed people having moved to the back of the plane with emergency oxygen masks dangling down as wind rushed around the main cabin.
Mogadishu airport is heavily fortified and adjoins the capital's main base of the African Union mission to Somalia, the 22,000-strong force backing the government in the battle against Al-Qaeda-affiliated Shebab insurgents.
The insurgents have lost ground since being routed from Mogadishu in 2011 but continue to stage regular shooting and suicide attacks. They have launched mortar attacks on the airport compound in the past.
They have made no claim of carrying out a bomb attack on the plane.