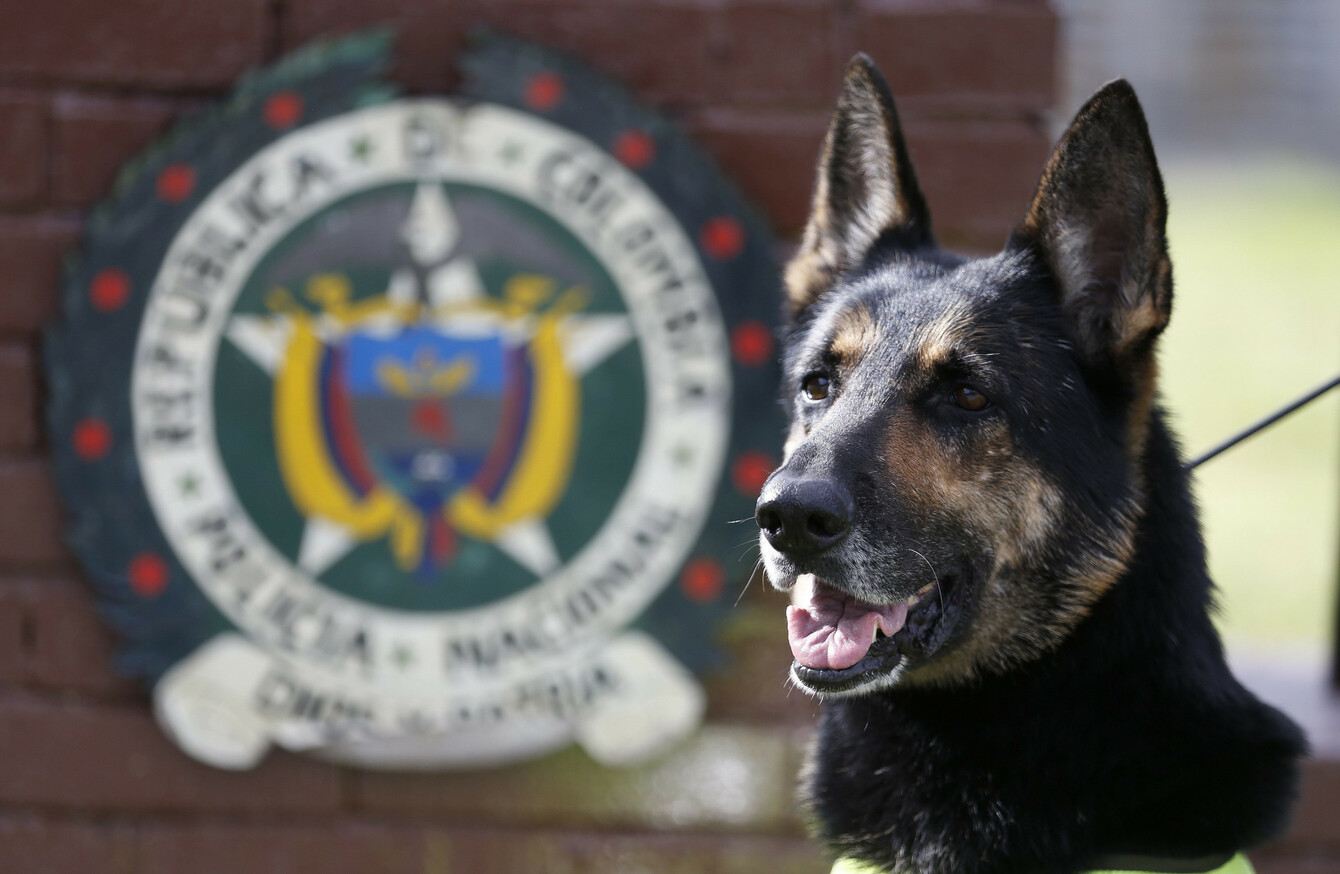 Image: Fernando Vergara
Image: Fernando Vergara
SOMBRA WORKS FOR a crack anti-narcotics police squad in Colombia's capital Bogota, has helped recover millions of dollars in illegal drugs, and like many of her colleagues, has faced threats.
But when a drug cartel placed a $7,000 bounty on her head, worried bosses decided to take the six-year-old German Shepherd out of the line of fire for her own protection.
"It's not only Sombra facing threats, many police dogs are threatened on a daily basis," police canine trainer Jeison Cardona told AFP.
Sombra's predicament came about after striking a number of blows against the powerful Clan del Golfo cartel, which is in the process of negotiating its surrender after a series of defeats.
Back in 2016, Sombra sniffed out 2.6 tonnes of cocaine in a container full of bananas at the Uraba port, bound for Antwerp in Belgium.
A year later, she repeated the trick, detecting a one tonne coke cache hidden in fruit pulp in a warehouse in the Caribbean city of Santa Marta.
Cartel threats 
Furious Clan del Golfo members offered a policeman $7,000 to hand over the super sleuth canine.
"We took the precautionary measure of transferring her, given the Clan del Golfo threats," deputy director of the police's anti-narcotics unit, Tito Castellanos said.
Menaced by one of the most feared men in Colombia, Clan del Golfo head Dairo Antonio Usuga, known as "Otoniel," Sombra was transferred to work at Bogota's international airport.
Police dogs play a crucial role in combatting the narcotics trade in Colombia, the world's biggest cocaine producer with 146,000 hectares of plantations in 2016, according to the United Nations – much of it sold in the US.
Colombia's 346-strong canine unit has helped police confiscate more than 180 tonnes of cocaine worth an estimated €5.2 billion over the last three years, according to the police anti-narcotics division.
Alone, Sombra, whose name means shadow, has tracked down eight tonnes during her five-year career.
'More than a job' 
Now, though, she's living a relatively quiet life, spending her days sniffing around the airport's cargo hold while at night she goes back to her kennel, the location of which is a closely guarded secret.
Sombra works a standard eight-hour day and appears to like her new life, sharing her time between two handlers.
"More than the job, the relationship with (the) dog is one of friendship, companionship, supporting one another," said Jose Rojas, one of her handlers.
As for the job, it is difficult to make the cut. Of every 100 dogs, only five have what it takes to be an anti-narcotics agent.
The chosen few specialise either in cocaine or synthetic drugs; the best develop a sense of smell capable of piercing steel.
But like all the best jobs, "looking for drugs is a game" for the dogs, said Rojas.
When Sombra detects something suspicious, she's given a ball as reward.
She's "excelled because she's developed her sense of smell" in hunting cocaine, added Rojas proudly.
She's also distinguished herself with her fearlessness: unlike some other dogs she doesn't flee from the jungle, ships or television cameras.
Valuable allies 
In the interminable fight against drugs, dogs have proved themselves valuable allies to authorities, to such an extent that drug traffickers have decided to try to eliminate them.
Already, dogs have been killed in the detection of drug crops, seeking out the explosives left behind by gang members to protect their yields.
In the border zone with Ecuador, in rural Tumaco, "animals have been killed by explosives and snipers. When the dog sits down to signal it's found an explosive, it activates it," said Carlos Villarreal, anti-narcotics canine training chief.
Colombia is second only to Afghanistan in terms of landmines, creating an extra peril in the fight against drugs for both humans and animals.
Drug traffickers themselves have had to adapt to the unique challenges their four-legged pursuers pose, going so far as using "lion's urine" to scare dogs off the cocaine scent, Villarreal said.
While the job is intense, it's a short career for a canine agent, in human terms at least. Sombra has two years left before she's sent to retire at a home in Guaymaral, a rural area north of Bogota.
Until then, the police will do their utmost to look after one of their most prized, and assets.