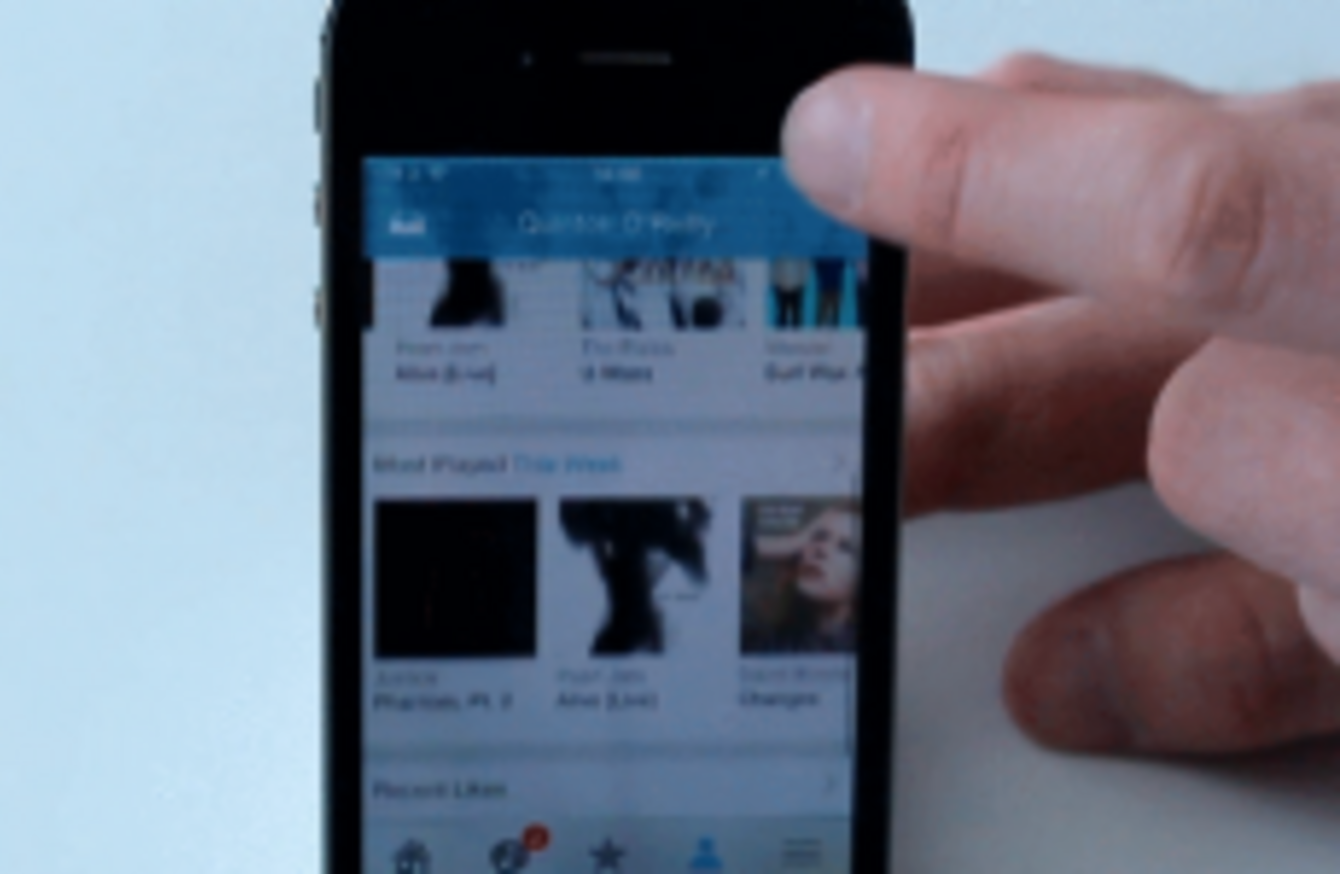 IT'S BEEN A pretty eventful year for Soundwave. Having celebrated its first birthday and passing the one million users mark, the Irish music app has improved and gone through significant changes. 
When it first started out, Soundwave was a novel way of discovering new music through location. It was a novel idea and gave it a way of separating itself from other similar services. Critical praise and support came from both Apple and Google, partnerships which helped it grow its user base to over one million.
Now it has released a new version of its app today, which takes a different approach and style. Gone are the numerous buttons and features that would populate each page for a more streamlined look, while the map has been relegated to options.
The focus is still on discovery, but this time it's built around social messaging. While the concept of group messaging has become something that's been tacked onto numerous apps without much thought (we're looking at you Instagram, Vine and Swarm), it fits into Soundwave's ethos better.
While it allows users to share and discover new music, seeing all music shared through these groups appear on a specialised playlist ensures that you're consuming new music in the one go without much effort.
It's a feature that has the most potential to really separate Soundwave from similar competitors. For one, it can be used to compile playlists for events or help find new bands from a specific genre of music, and chances are more uses will emerge as users play around with it.
These changes didn't come out of nowhere. For Aidan Sliney, Soundwave's co-founder and Chief Technical Officer (CTO), the team knew what they wanted to change, but it made sure that its users also played a major role in shaping the final product.
"I know a lot of people say you should listen to your users and others say users don't know what they want, but it definitely is a thin line," explains Sliney. "I suppose the beauty of what we had was we had a community… when we get feedback, we don't get it from two or three people, we get it from 300 people."
While this feedback is ongoing, the team spent a "solid three months" researching in preparation for the update. While this took in suggestions from users, focus groups and surveys, a great deal of time was spent talking to users one-on-one from around the world.
But there's also another element for consideration: metrics. Knowing how people respond to new or current features is always important, but it's allowed Soundwave to experiment and figure out what works.
We use metrics to drive pretty much everything, we've launched features and five days later we pulled them back because the metrics were showing that they weren't working.

It's a good mix between the quality stuff and the users coming straight to you… we spend as much time developing the product as we do the metrics behind the product to let us know if we're building the right thing or the wrong thing.
The startup has also found itself  becoming one of the first apps globally to get Android Wear integration, Google's smartwatch offering. The swipe-based smartwatch only provides two main functions for Soundwave: telling you what song you're listening to and the option to tweet it.
#Open journalism No news is bad news Support The Journal

Your contributions will help us continue to deliver the stories that are important to you

Support us now
If this sounds simplistic, that's the point. Reducing the functionality of an app to its most minimal is the only way such an experience can be replicated, and having that early experience with Android Wear could be replicated if competitors like Apple enter the wearables market.
While the buildup to Soundwave's update was heavily focused around current users, the goal for now is to grow that userbase globally.
When asked about the potential for the app to introduce a business model within the next year, Sinley says they're "always keeping the business end at the back of our minds." What shape that takes isn't entirely clear, but the data it's accumulated on habits like location and music tastes certainly be useful for those companies specialising in the market.
For now, the team hope this update will be a product that's accessible to everyone globally and help it become the dominant player in music discovery. Once that is achieved, then looking into the commercial and business side is possible.
"We've pockets of people using the app all over the world, and we want to continue on and move from one million to ten million… It comes down to having a goal and a path and trying to stick to it.

If you look at where we were twelve months ago, we just launched. Now we've over a million [users] and… at the moment, our goal is to win the space. If you want to share music with somebody, Soundwave needs to come to mind.