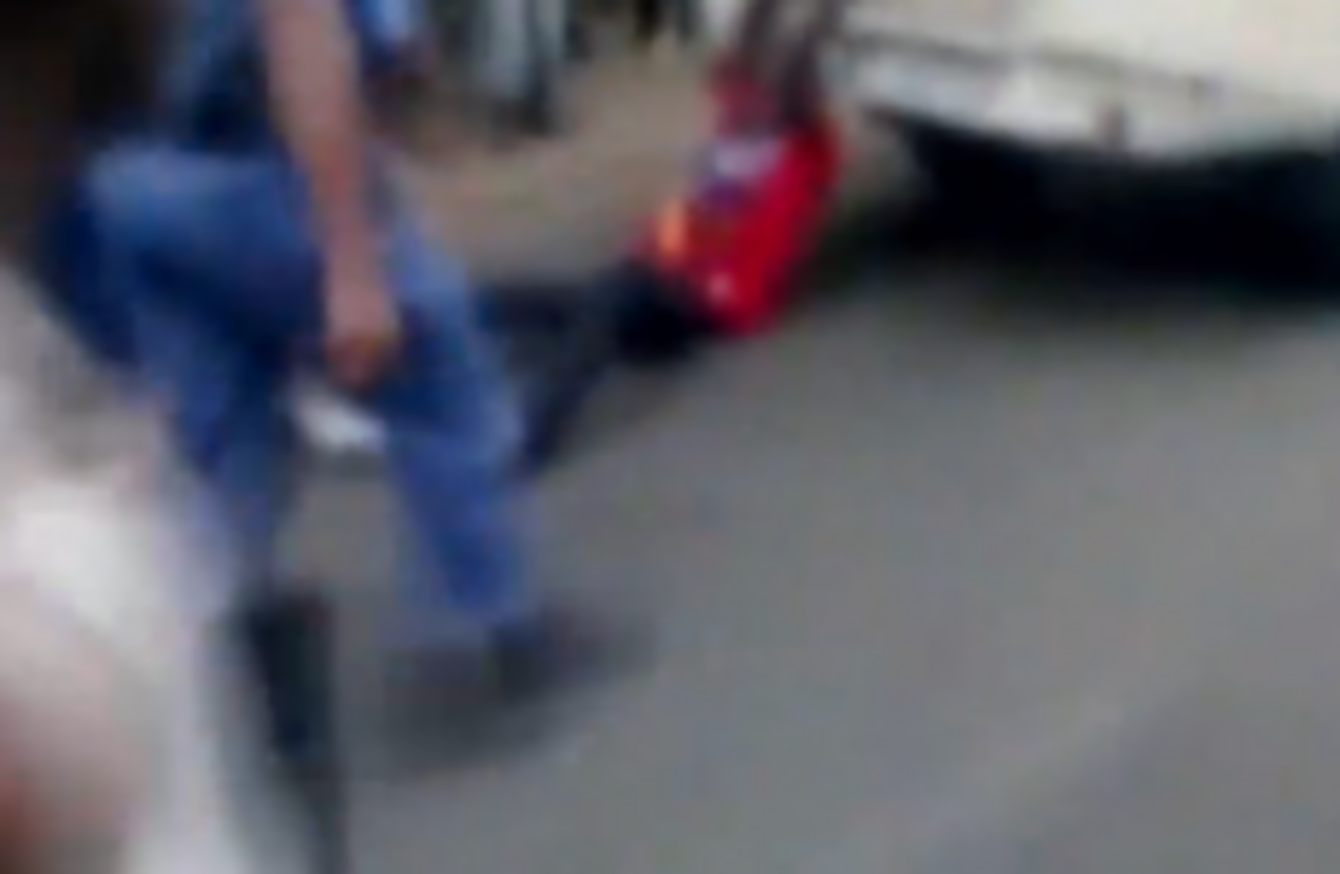 A still from the video of the incident
A still from the video of the incident
EIGHT POLICE OFFICERS have been arrested in South Africa on suspicion of murder over the death of a Mozambican taxi driver who was dragged through the streets tied to a police van, prompting an international outcry.
"Eight policemen have been arrested by IPID at Benoni police station," Moses Dlamini, spokesman for the Independent Police Investigative Directorate, told AFP.
The group will appear in court on Monday. The arrests come just hours after police chief Riah Phiyega announced the eight officers had been disarmed and suspended for "callous and unacceptable behaviour" and the station commander had been removed from his post pending investigation.
Mido Macia
Mozambican taxi driver Mido Macia (27) was filmed being manhandled, handcuffed to the back of a police van and dragged hundreds of metres to the Daveyton police station, east of Johannesburg, on Tuesday.
Just over two hours later he was found dead in custody. A post mortem found he died from head injuries and internal bleeding.
South African President Jacob Zuma on Thursday condemned the killing as "horrific, disturbing and unacceptable".
Footage of the incident spread quickly online and sent shockwaves through the country, shining a spotlight yet again on the conduct of South Africa's much maligned police force.
Phiyega insisted the episode was being thoroughly investigated.
"Any one death is one too many," she said, adding that:
what is in the video is not how the SAPS (South African Police Service) in a democratic South Africa goes about its work.
The footage shows a large crowd of horrified bystanders looking on, some warning police they were being filmed. "Hey! Hey! Why are you hitting him?" one person in the crowd can be heard shouting in Zulu.
Macia, lying on his back, can be seen kicking and struggling to avoid the tarmac.
In an interview with AFP, Phiyega, who has been in the job for less than a year, rejected suggestions that the police force under her watch was lurching from crisis to crisis.
She insisted the force was regionally respected, but that abuses were bound to happen with over 200,000 officers in its ranks. "It's a monstrous organisation, so to have these types of incidents, it's not untoward, you will always have them," she said.
As and when they happen, we shall decisively and unequivocally, without doubt, deal with those.
The Office of the UN High Commissioner for Human Rights strongly condemned the incident. "This is clearly an absolutely dreadful case," OHCHR spokesman Rupert Colville told reporters in Geneva.
"I think perhaps encouraging signs are there have been strong statements by the president of South Africa," he said.
The IPID received 720 new cases for investigation of suspicious deaths in custody or in other policing contexts from April 2011 to March 2012, according to rights group Amnesty International.
Macia's death has also prompted a diplomatic incident with neighbouring Mozambique, whose government said it was "outraged by what happened".
Macia had moved to South Africa as 10-year-old boy when his parents travelled to work on the mines, said the Mozambican ambassador to South Africa, Fernando Fazenda, who has appointed a lawyer to represent the family.
He came from the town of Macia some 160 kilometres (100 miles) north of the capital Maputo. His wife and son had been on holiday in Mozambique and are returning to South Africa.