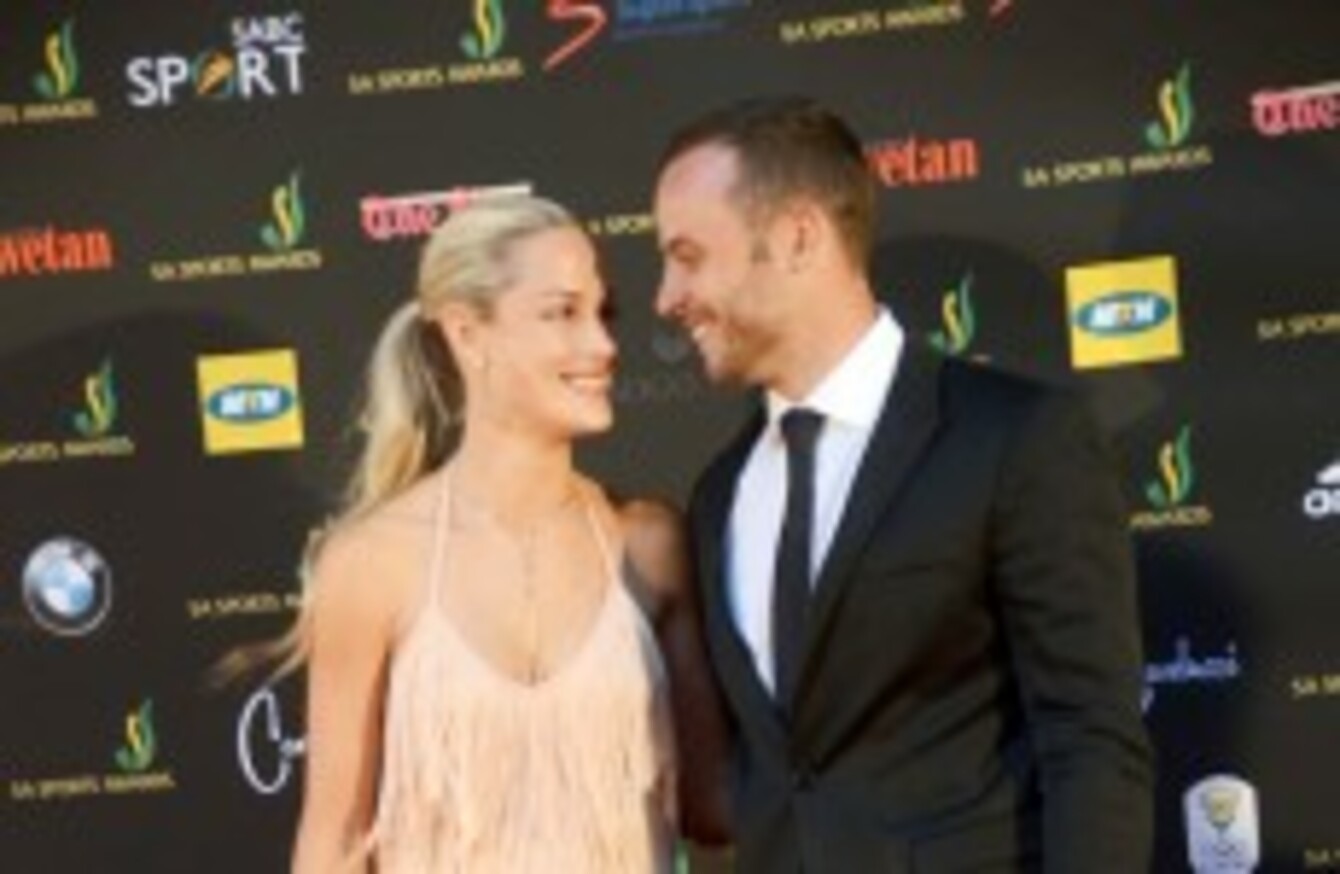 Reeva Steenkamp and Oscar Pistorius at an event in South Africa last November.
Image: Elite/EMPICS Entertainment
Reeva Steenkamp and Oscar Pistorius at an event in South Africa last November.
Image: Elite/EMPICS Entertainment
Update 1.22pm
SIX-TIME PARALYMPIC champion and all-round darling son of South Africa Oscar Pistorius will not be given special treatment as police investigate the murder of his 30-year-old girlfriend, authorities said today.
Reeva Steencamp was found dead at Pistorius's home in Silver Lakes, Pretoria in the early hours of this morning, allegedly shot four times.
Pistorius was arrested and has been charged with murder. The 26-year-old is due to appear in the magistrates court tomorrow. He will spend the night in jail.
Police spokesperson Denise Beukes told reporters that the athlete would first undergo medical examinations, including blood-alcohol tests and fingernail DNA scrapes, at a nearby hospital.
"There will be no special treatment whatsoever."
Pistorius, who asked for a fast-tracked court appearance, will apply for bail but the application will be strongly opposed by South African police. It is not known on what grounds they will dispute bail.
During a press briefing, Beukes dismissed initial media coverage that the victim had been mistaken for a burglar. She said investigating officers were "surprised" by the reports, which, she added "did not come from South Africa police". Authorities have "no idea" where that version of events came from.
The only two people on the premises at the time of the incident were Pistorius and Steenkamp. There were also no signs of forced entry and it is understood the property is located in a quiet area with a low incidence of crime.
Police have been forthcoming with information to the media this morning, confirming that there have been previous alleged incidents of a "domestic nature" at the home of Oscar Pistorius.
Beukes said witnesses are being interviewed about "things that happened earlier in the evening", as well as around the 4am shooting.
"It would be premature and irresponsible to say what happened – we're not sure," concluded Beukes.
Capacity Relations, Steenkamp's talent management agency, confirmed the model had passed away.
"We are in communication with people on the scene. Please wait for official statements, as there is too much speculation at this moment in time. We will provide further information as soon as we are able to provide accurate information as to what transpired," it said through social media.
"Our thoughts and prayers go out to the Steenkamp family who have requested their privacy be respected during this difficult time.
She was the kindest, sweetest human being; an angel on earth and will be sorely missed.
South Africa's Olympic body SASCOC also issued a statement to express its condolences to the families involved in the incident.
CEO Tubby Reddy said it would be irresponsible and inappropriate to comment further as there is an ongoing police investigation.
"The organisation is in no position to comment on the incident other than to say our deepest sympathy and condolences have been expressed to the families of all concerned."