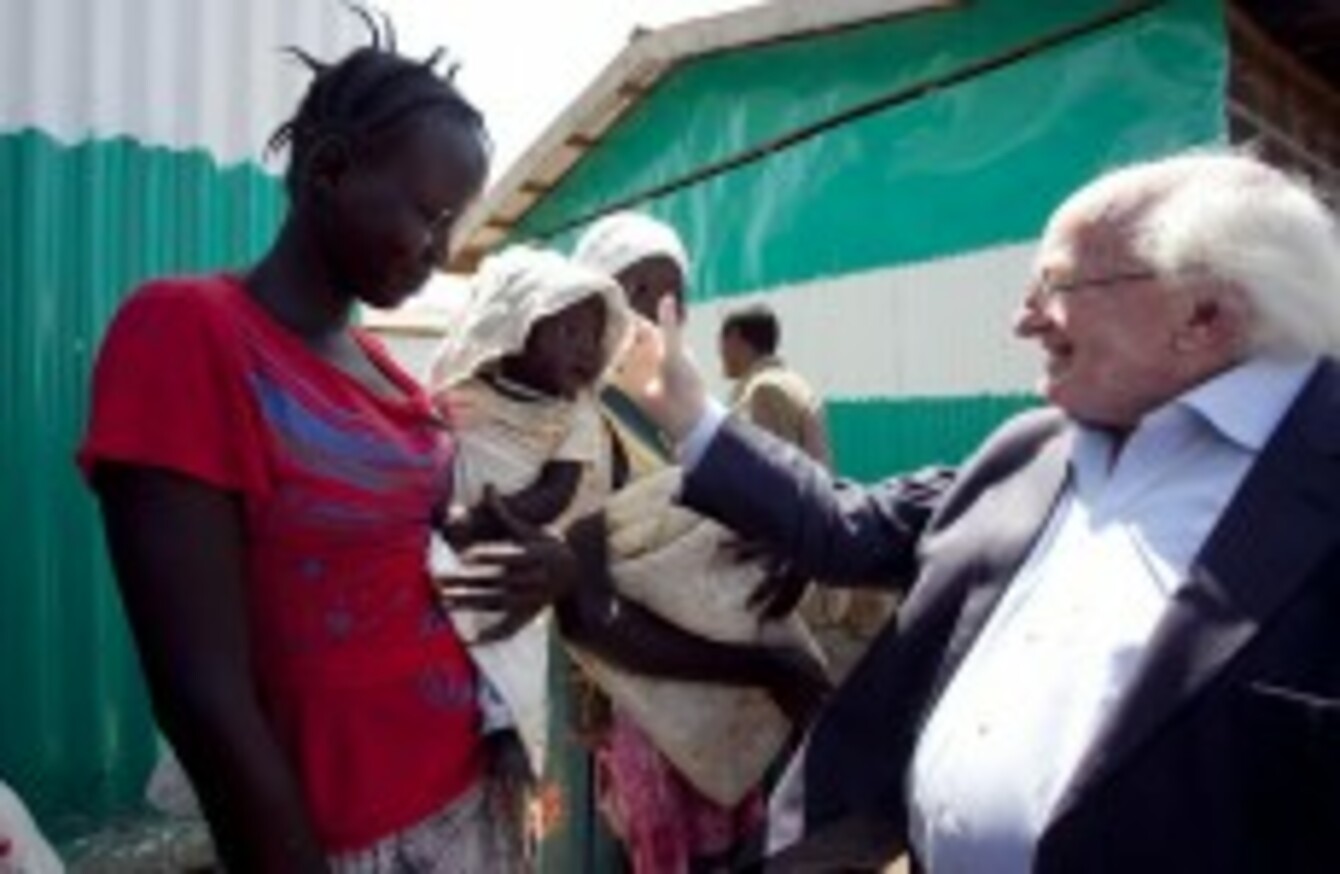 President Higgins visits GOAL Nutrition Centre, Tierkadi Refugee Camp
Image: Chris Bellew/Fennell Photography
President Higgins visits GOAL Nutrition Centre, Tierkadi Refugee Camp
Image: Chris Bellew/Fennell Photography
THE GOVERNMENT HAS announced that it will provide €2 million in funding to help communities affected by conflict in South Sudan and refugees who have fled to Ethiopia.
The money will go to aid agencies responding to the crisis and will provide food, clean water, healthcare, shelter, education programmes for children and protection to vulnerable people.
Widespread violence against civilians in South Sudan has forced almost two million people to flee their homes. Almost half a million of these have taken refuge in neighbouring countries, including Ethiopia.
Gambella refugee camps provide shelter to many of the 180,000 South Sudanese who have fled to Ethiopia as a result of the conflict.
President Michael D. Higgins and Minister for Development, Trade Promotion and North South Co-operation, Seán Sherlock, will visit the refugee camps in Gambella today.
Sherlock said, "The vast majority of South Sudanese refugees arriving in Ethiopia are women and children.
Many are in very poor health having walked for weeks from a number of areas of South Sudan to reach shelter.
Funding
The 2 million will be divided as follows:
€1 million to Médecins sans Frontières, GOAL, Plan Ireland and Concern to provide health care, clean water and sanitation and education for South Sudanee refugees in Gambella, Ethiopia.
€1 million will go to Concern, Christian Aid and Trócaire for programmes in South Sudan to provide emergency nutrition, improve food security and assist people to develop livelihoods.
Making the announcement, Minister for Foreign Affairs and Trade, Charlie Flanagan, said:
"With an estimated 3.8 million people in need of humanitarian assistance in South Sudan, I am gravely concerned at the impact that the violence is having on the civilian population.
I am particularly alarmed by the high levels of sexual and gender based violence being perpetrated against women and girls and at the plight of refugees who have fled the country.
This will bring the funding provided by Ireland to the South Sudanese crisis this year to over €8.5 million.