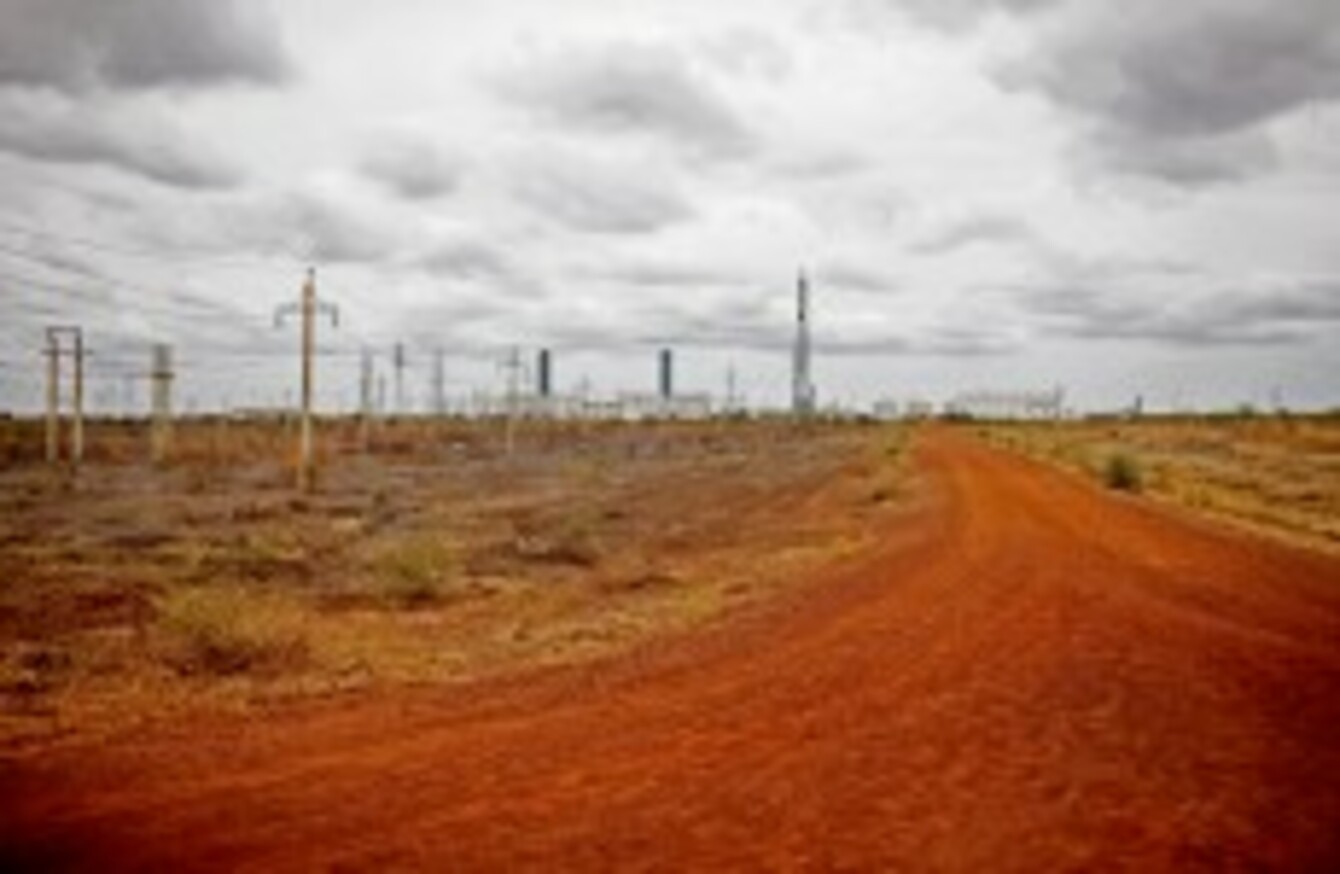 Inactive and abandoned oil installations seen near frontline positions north of Bentiu, Unity State, South Sudan earlier this year.
Image: Pete Muller/AP/Press Association Images
Inactive and abandoned oil installations seen near frontline positions north of Bentiu, Unity State, South Sudan earlier this year.
Image: Pete Muller/AP/Press Association Images
THE AID ORGANISATION Medecins Sans Frontieres (MSF) has warned of a worsening humanitarian crisis in South Sudan – which is marking a year of independence today – where mortality rates in one refugee camp are nearly double the threshold for an emergency.
MSF has called for urgent action to deal with the situation at the Jamam refugee camp where there was an influx of some 35,000 refugees from the troubled border areas of Blue Nile state and South Kordofan at the beginning of last month.
These refugees have no shelter, water or food as the existing camps are already full and under supplied.
Speaking to TheJournal.ie from the Jamam camp, MSF Ireland's Jane-Ann McKenna said:
Up to eight children a day are dying. The majority of that is through diarrhoea so this escalating health situation is from our point of view entirely preventable.
The camp's location on a flood plain coupled with heavy rainfall has made conditions at the camp extremely difficult and created a swampland environment for those based at the camp.
On top of that, the arrival of tens of thousands of new refugees in addition to the estimated 35,000 that were already stationed there since last September has compounded the problems.
MSF says that mortality rates both for children and adults are well above the normal threshold for emergencies and has called for urgent action to be taken by the UN refugee agency UNHCR.
"This is probably the most unsuitable place for refugees, or anyone as it's on a flood plain here," McKenna said.
"In the last two weeks we've had the rainy season and the dry dirt on the ground here has essentially turned into mud. This week and last week was these type of conditions after heavy rain fall.
"So there's a huge amount of stagnant water around and there's no source of fresh clean water."
'They're literally eating the leaves off the trees'
McKenna has been in Jamam for the past two weeks and will spend this week there as well. She is part of a team of around 50 expatriates and 150 national staff from MSF working to assist those in the camp.
An Irish nurse, Laura Duggan, is also based at the camp and will be there for another few months at least, McKenna says. She says MSF have in some instances been looking for places to drill for fresh water, a task usually outside of their remit.
"Every morning (at the MSF hospital) there are literally hundreds of people here waiting to be seen, mostly women and children," McKenna said.
"There's men as well coming in with illnesses which we are able to treat. There's also a number of children who have had to walk for weeks and months on end and are suffering from dehydration.
They're telling us that on the way they are unable to find any sort of food and are literally eating the leaves off the trees. That's a stark indication of level of desperation here.
A total of 120,o00 people have fled border areas in the year since South Sudan officially seceded from Sudan.
Conflicts have broken out in areas around the border where some communities that were traditionally allied to the south found themselves north of the border after independence.
#Open journalism No news is bad news Support The Journal

Your contributions will help us continue to deliver the stories that are important to you

Support us now
Many have fled fearing violence and MSF have said that a year on from independence, development in South Sudan is at a "virtual standstill".
MSF Ireland chairman Dr Simon Collins said that the situation in the Jamam camp has been entirely predictable given the location of it and the current rainfall season in the region.
He told TheJournal.ie: "This time of year from now to October you get rain every two or three days but it is a huge amount of rain, everything turns to mud and then it will rain again, particularly in August so this is only starting now.
He said that the UNHCR and other aid organisations working in the area needed to do more to address the crisis by coming up with ways to get refugees out of Jamam and to an area less susceptible to being turned into a "cesspit" by the weather conditions.
"Our main point is people need to be moved and contingency plans need to be put in place," he said.
The great unknown is how many more people will arrive from the north? There is no aid agencies on the northern side of the border so we're operating on an information vacuum.
"We need to work on the assumption that large numbers may arrive in coming weeks."
Unresolved disputes between South Sudan and Sudan have led to the south halting all oil production meaning it has virtually no revenue for use in building hospitals, roads and a water system in the region.