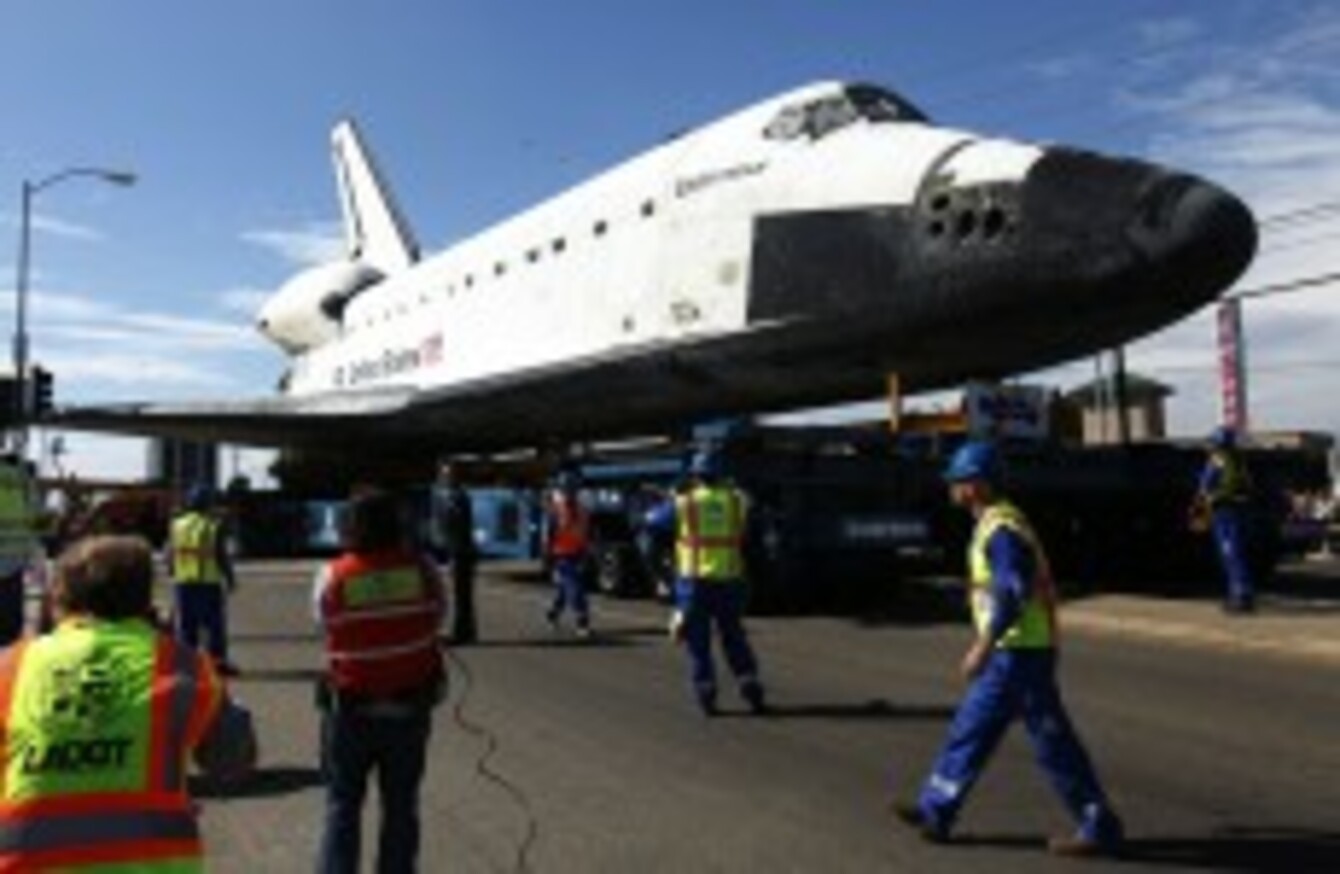 Image: Patrick T. Fallon/AP/Press Association Images
Image: Patrick T. Fallon/AP/Press Association Images
THE US SPACE shuttle Endeavour has finally reached its California retirement home, after taking three days instead of two for its last-ever journey – 12 miles (19 kilometres) across Los Angeles.
Mayor Antonio Villaraigosa hailed the "mother of all parades" which saw more than a million Angelenos cheer the vast white spacecraft through LA's streets, at the slower than jet-propelled speed of less than 1 mile per hour.
Delay
The Endeavour had been due to arrive at the California Science Center early Saturday evening, but was repeatedly delayed as organisers had to squeeze it past buildings, power lines and trees, sometimes with only inches to spare.
It eventually arrived lunchtime Sunday, to even bigger cheers from the crowds, and relief from officials who held a postponed ceremony to welcome it to its final home.
"Is this amazing or what?" said LA Fire Department chief Brian Cummings, looking across the crowd at the vast winged vehicle. "I feel like a kid standing up here watching this come in here."
"Today everyone in the city of Los Angels is an astronaut .. and every young man and young woman out there is one step closer to the stars," he added.
The orbiter – which zoomed at 17,500 miles per hour when in Earth's orbit – arrived in Los Angeles last month, piggybacking on top of a 747. It was stored in a hangar at LA international (LAX) airport until early Friday.
Party atmosphere
The first 24 hours of its trip went off relatively smoothly, in a party-like atmosphere, and organisers at one point even forecast that it would reach its destination ahead of time.
But things started going wrong Saturday afternoon as the enormous 78-ton vehicle, mounted on a huge, computerized, multi-part transporter, began negotiating some of the narrowest stretches of its route during the day.
Some 400 trees had to be cut down – initially provoking protests from locals, placated by officials' vows to plant several new saplings for every tree felled – and several more were trimmed at the last minute.
On the final straight it was brought to a halt several times, as the spacecraft's wing-tips brushed inches away from apartment buildings, electricity poles and other obstructions.
A future generation of astronauts
Former shuttle commander Mark Kelly, who captained Endeavour's final flight, said he hoped the craft – which flew more than 115 million miles in its two-decade career – would inspire future generations of astronauts.
"Maybe someday one of these kids that see Endeavour, look up at it at the California Science Center, will be that person that walks on the planet Mars," he told CNN, adding: "That would be a great thing to see."
#Open journalism No news is bad news Support The Journal

Your contributions will help us continue to deliver the stories that are important to you

Support us now
After NASA brought an end to the 30-year shuttle program last year, major US cities battled for the right to house the four retired vehicles.
Enterprise, which never flew into space, is now on permanent display on the runway of the Intrepid aircraft carrier in New York. The Kennedy Space Center will keep Atlantis, and Discovery is on display at a museum outside Washington.
Two other shuttles were destroyed in flight. Challenger disintegrated shortly after liftoff in 1986, and Columbia broke apart upon re-entry to Earth in 2003. Both disasters killed everyone on board.
On Sunday, there was palpable relief when the Endeavour finally arrived at its destination.
"What a phenomenal three days," said California Science Center chief Jeff Rudolf, adding: "I may get kicked for it, but it was the mother of all parades!" – a refrain taken up by Villaraigosa.
"I may need some sleep, but what a great three days," Rudolf added.