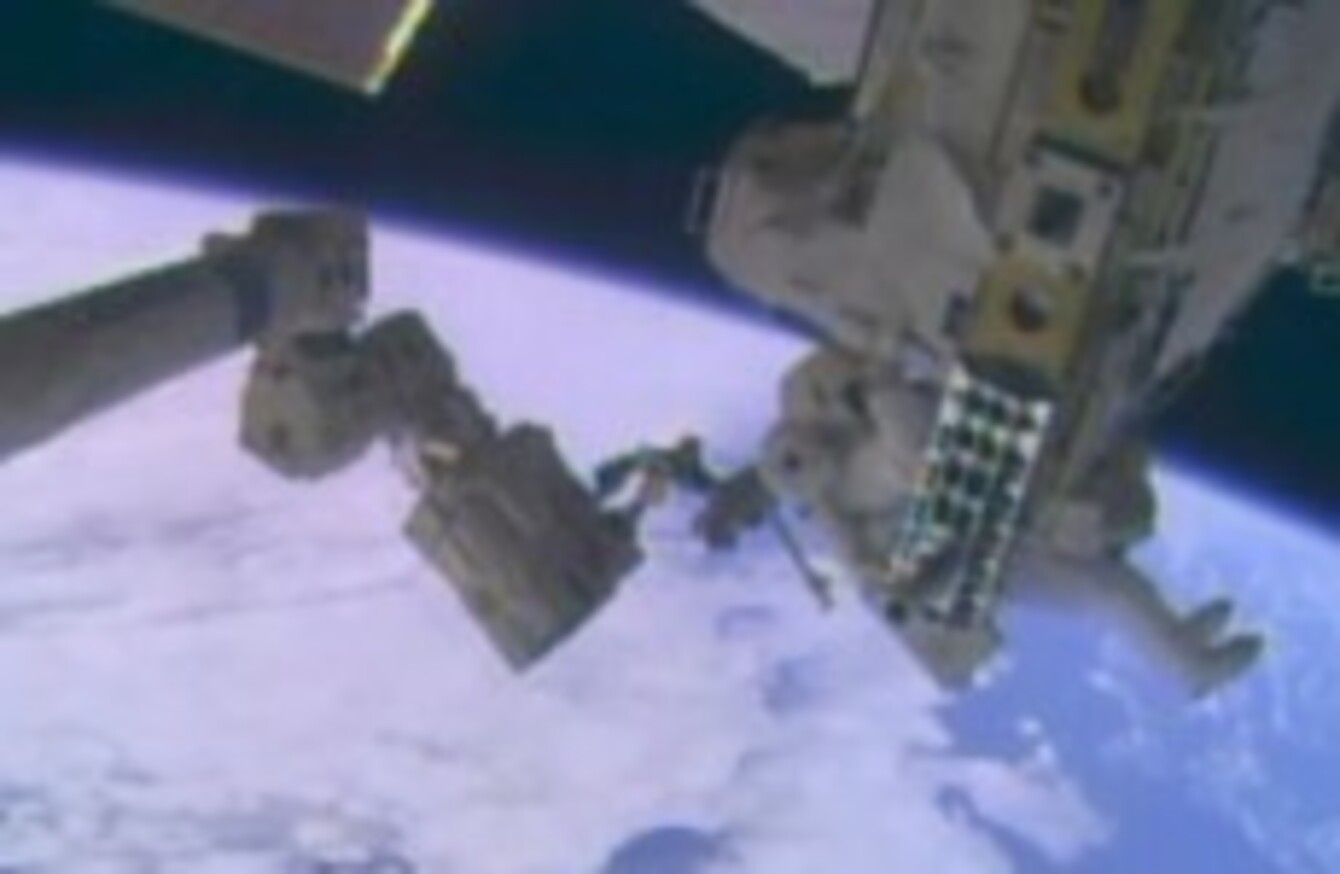 Spacewalk taking place at the moment.
Image: NASA Screengrab
Spacewalk taking place at the moment.
Image: NASA Screengrab
NASA ASTRONAUTS ARE taking part in a Christmas Eve spacewalk to replace a faulty ammonia pump on the International Space Station (ISS).
NASA are broadcasting the space walk live, which is taking place now, and can been seen across their channels, as well as on other platforms. You can watch the space walk live here and also listen to the audio from the astronauts and mission control.
This is the tenth space walk of the 2013 and the ISS is currently 260 miles over Mongolia.
Repairs
A bad valve in the pump caused the breakdown at the International Space Station prompting the urgent series of spacewalk repairs. The new pump will fix the cooling functions for the ISS. Astronauts Rick Mastracchio and Michael Hopkins removed the faulty pump Saturday.
An extra day was given to allow time for the crew to resize a spare spacesuit on the space station for use by Mastracchio. During repressurisation of the station's airlock following the spacewalk on Saturday, a spacesuit configuration issue put the suit Mastracchio was wearing in question for the next excursion – specifically whether water entered into the suit's sublimator inside the airlock.
The flight control team at NASA's Johnson Space Center in Houston decided to switch to a backup suit for the next spacewalk.
Space
This issue is not related to the spacesuit water leak that was seen during a July spacewalk by European Space Agency astronaut Luca Parmitano and NASA's Chris Cassidy.
Both Mastracchio and Hopkins reported dry conditions repeatedly throughout Saturday's activities and the two were never in danger.
NASA has conducted a Christmas Eve spacewalk only once before, during a Hubble Space Telescope repair mission in 1999.
Mission Control said it expects no conflicts between the path of the space station and Santa's flight.
"The skies are all clear," commentator Rob Navias observed from Houston.
Watch the spacewalk LIVE HERE>>>