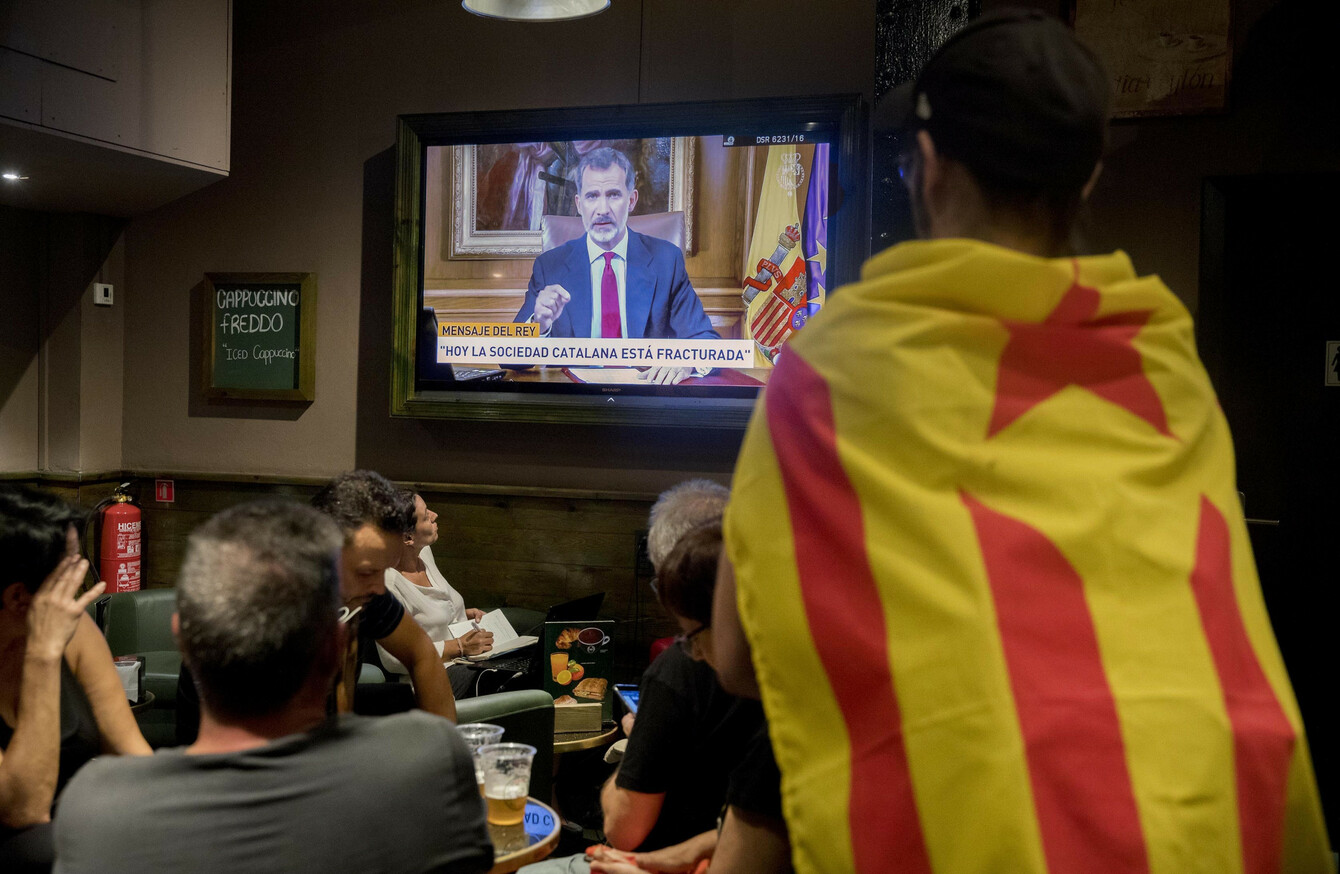 Image: Almagro/ABACA/PA Images
Image: Almagro/ABACA/PA Images
Updated 4pm
SPAIN'S CONSTITUTIONAL COURT has ordered the suspension of a planned session in Catalonia's parliament which separatist leaders have called for the region to declare independence.
Judges "ordered the suspension of the plenary that has been called for Monday in the (Catalan) parliament" while it hears an appeal by rival Catalan politicians, a spokeswoman said.
The court confirmed the decision in a written ruling.
Catalan lawmakers had summoned regional president Carles Puigdemont to address the parliament about Sunday's contested independence referendum in Catalonia.
The court warned that any session carried out in defiance of its ban would be "null."
It said the parliament's leaders could face criminal action if they ignore the court order.
Puigdemont and other Catalan leaders have said they are not afraid of going to jail if Spanish authorities arrest them over their independence bid.
They have defied the court's rulings in the past.
Puigdemont carried out the referendum in defiance of a ban by the Spanish court and stern warnings from the national government in Madrid.
Thursday's ruling raised the question of how the Spanish state will respond if Catalans decide to push ahead with Monday's session.
The vote last weekend saw shocking scenes of police beating unarmed voters and plunged Spain into its worst political crisis in decades.
The vote was not carried out according to regular electoral standards but Puigdemont said it had given legitimacy to the independence drive.
He said this week that the region's leaders could declare independence within days.
Madrid rejected his call for mediation in the crisis, heightening tensions today.
The national government could suspend Catalonia's existing autonomous status if it declares independence.
Spain's key IBEX 35 stock index plunged by more than 3% yesterday in the ongoing turbulence, with some big Catalan banks down more than 5%.
"Political risk is back on the agenda in Europe," NFS Macro analyst Nick Stamenkovic told AFP.
A rich industrial region of 7.5 million people with their own language and cultural traditions, Catalonia accounts for a fifth of Spain's economy.
Catalan claims for independence date back centuries but have surged during recent years of economic crisis.
The regional government said 42% of the electorate voted on Sunday, with 90% of those backing independence. But polls indicate Catalans are split.
The vote was held without regular electoral lists or observers.