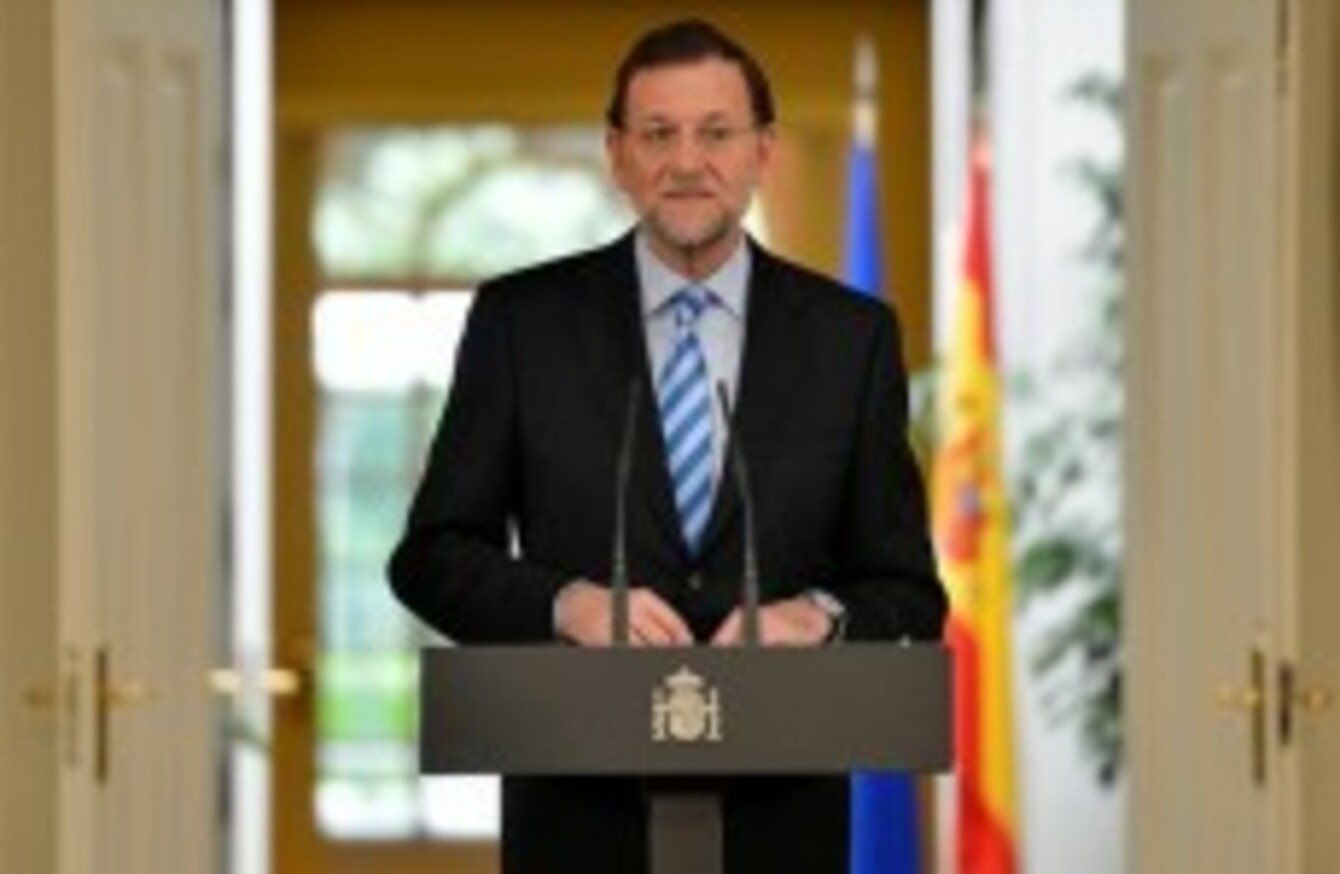 Image: PA/PA Wire/Press Association Images
Image: PA/PA Wire/Press Association Images
SPAIN'S PRIME MINISTER has hailed the Spanish bailout as a victory for his country and the eurozone.
Speaking at a press conference today, Mariano Rajoy said that during yesterday's eurogroup meeting he "won the credibility of the European project" and ensured the future of the euro. He described the possible loans of up to €100 billion as a reopening of a credit line, rather than a bailout.
He said the money given by the EFSF or ESM will allow for a "re-flow of credit to households, entrepreneurs, small and medium enterprises, workers and freelancers", which will ultimately create jobs.
Spain's unemployment rate, at 24.3 per cent, is the highest in Europe and youth unemployment has hit a massive 51.5 per cent.
Rajoy claimed that yesterday's decision to seek financial aid for the ailing banking sector is part of a "global plan of reorganisation of the Spanish economy…to restore growth and, above all, create jobs".
He added that, despite the lifeline, Spain's economic situation remains "very sensitive" and continued reforms and a clean-up of the financial system are necessary.
The Prime Minister thanked the Spanish public for its "exemplary behaviour and maturity" in the recovery process, noting that credibility, image and reputation are vital to the economy. He promised that the government knows what it needs to do and what decision should be taken to restore growth and jobs.
The government insists that Spain was not pressured into taking financial aid – a move that has been welcomed by European leaders, the US, the IMF and Ireland. "But it was I who pressured for a line of credit," claimed Rajoy. Any possibility of a rescue loan was flatly denied by the PM just two weeks ago. However, he would not concede that yesterday's announcement was a U-turn.
He talked of a Spanish victory – that if Spain had not earned the credibility of its international partners over the past five months with its reform processes, then yesterday would have marked a bailout of the Kingdom of Spain, and not just an "opening of a European credit line to regain solvency of Spanish banks that need it".
The government has also highlighted that no package of austerity comes attached to the rescue package – as it has in other programme countries such as Ireland, Greece and Portugal – because the full amount will be directed towards the country's banks, not the sovereign.
Within Spain's own press, there seemed to be relief that help was eventually sought and that the government had stopped denying it needed aid.
However, most of the daily newspapers noted that no austerity was being imposed on the Spanish people as a result of the loans. Quite a stark difference to the reaction to Ireland's bailout in October 2010.