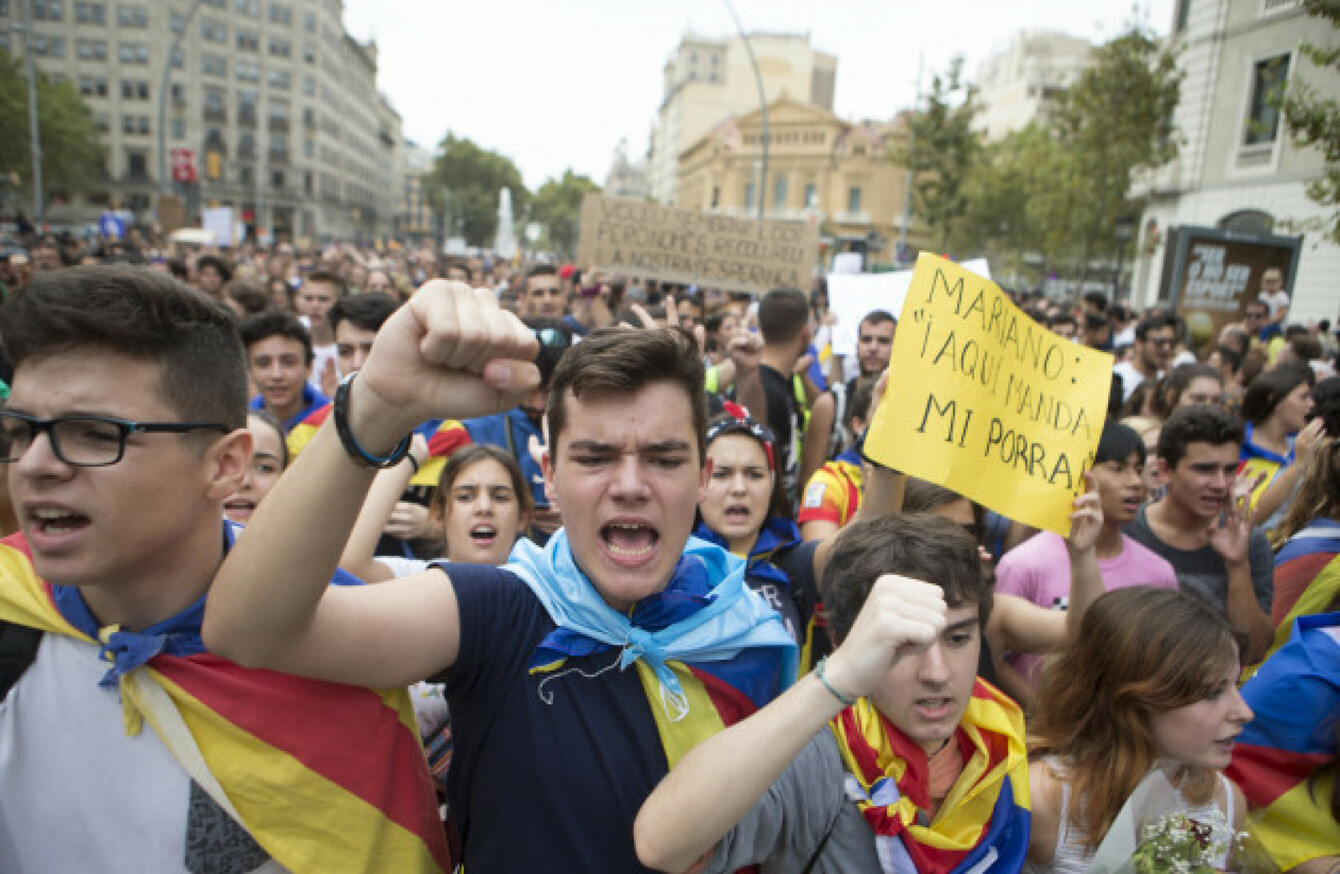 Image: NurPhoto/SIPA USA/PA Images
Image: NurPhoto/SIPA USA/PA Images
A SPANISH GOVERNMENT official has offered the first apology to Catalans injured by police during their outlawed independence vote as the sides showed tentative signs of seeking to defuse the crisis.
Catalan leaders had threatened to declare independence unilaterally and Prime Minister Mariano Rajoy vowed to stop them, rejecting calls for mediation.
Spain's deepest political crisis in decades has raised fears of further unrest in the northeastern region.
Today saw the first signs the sides may be willing to step back from the brink in a political conflict that risks destabilising Europe.
The central government has said it regretted the injuries and suggested Catalonia should hold a regional election to settle the crisis.
Catalan government minister Santi Vila, a close ally of regional president Carles Puigdemont, meanwhile told broadcaster Rac1 that his side could consider a "ceasefire" in the dispute, to avoid a further crackdown by Madrid.
'We deeply regret'
Making a number of statements today, Spain's central government apologised on behalf of police to people hurt in last Sunday's referendum disturbances.
"I can do nothing but regret it, apologise on behalf of the officers who intervened," said the government's representative in Catalonia, Enric Millo.
"I am very sad, very sorry, we deeply regret that we have arrived at this situation.
Speaking to Bloomberg, Millo said that the Spanish government is "profoundly sorry because this is not our wish".
"We didn't want a single person getting hurt, but we need to remind ourselves that the regional government of Catalonia should have explained to them that they were participating in an act deemed illegal by a court," Millo said.
Central government spokesman Ignacio Mendez de Vigo also said later he "regretted" the injuries.
"It would be good to start mending this fracture… through regional elections," he told a news conference.
'Sedition' claims
In Madrid meanwhile, Catalonia's police chief and two prominent separatist leaders avoided being remanded in custody at a court hearing over sedition accusations.
The court summons raised tensions, but despite the gravity of the accusations, the court did not issue a custodial order that could have further escalated the dispute.
Jordi Cuixart and Jordi Sanchez, leaders of Catalonia's two biggest pro-independence civil groups, and regional police chief Josep Lluis Trapero walked free from the preliminary hearing at the National Court in Madrid.
The two civil leaders were accused of sedition for their role in unrest during protests in Barcelona last month.
#Open journalism No news is bad news Support The Journal

Your contributions will help us continue to deliver the stories that are important to you

Support us now
Trapero's force was accused of failing to rein in the protesters.
Economic pressure
Spain's Constitutional Court yesterday ordered the suspension of a session scheduled for Monday in the Catalan parliament at which some leaders have called for an independence declaration.
If Catalonia declares independence, Spain could respond by suspending the region's existing autonomous status and imposing direct rule from Madrid.
On another front, the government in Madrid pushed ahead with a measure to pressure Catalonia economically.
It passed a decree to make it quicker for businesses to shift their legal domiciles away from one region to another.
Energy company Gas Natural and Catalonia's two biggest banks, Sabadell and CaixaBank, said they were shifting their legal headquarters out of Catalonia.
Sources who asked not to be named told AFP that some customers had been withdrawing money from their bank accounts over concerns for the political situation.
With its own language and cultural traditions, demands for independence in Catalonia date back centuries but have surged during recent years of economic crisis.