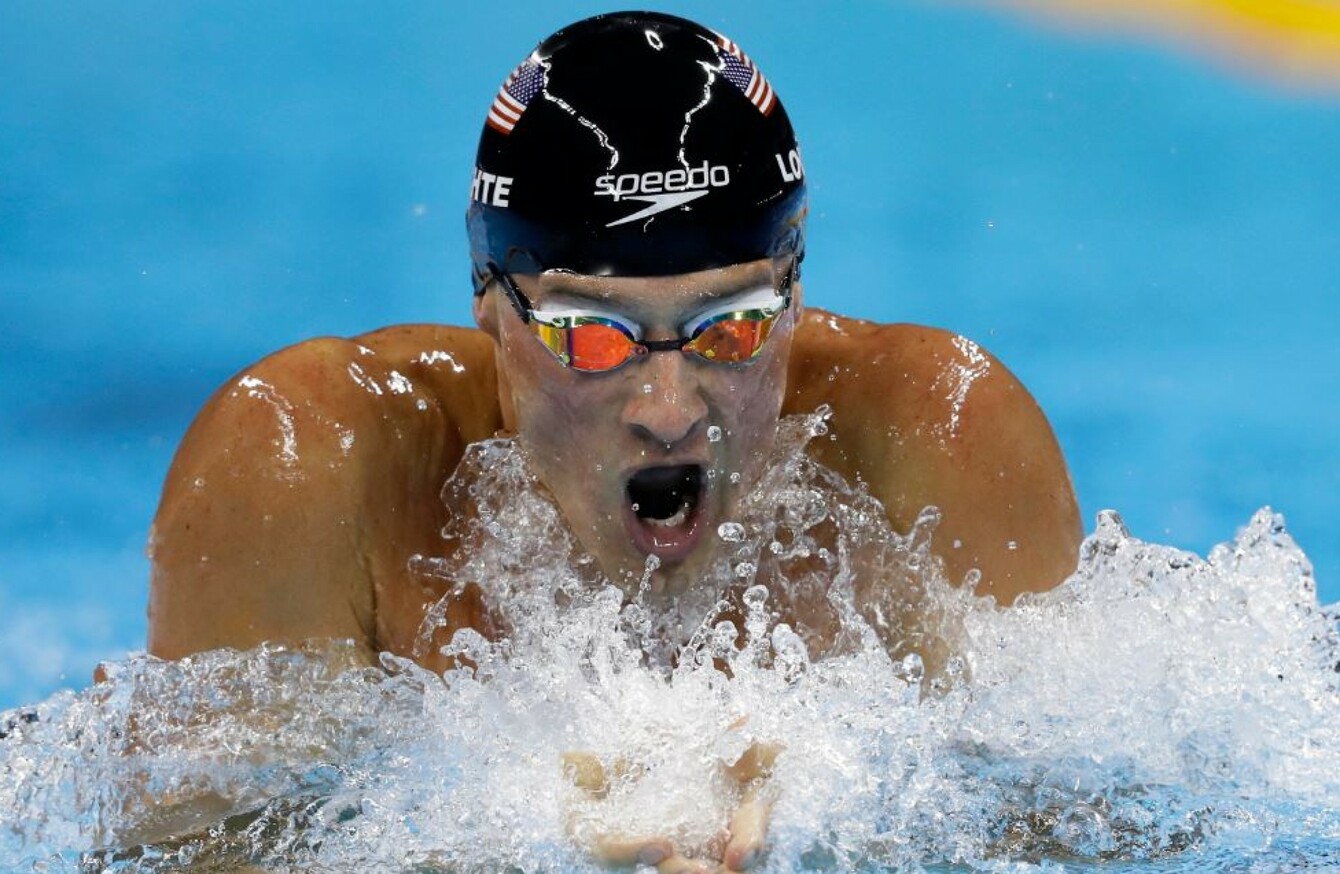 Lochte in action at the Olympics
Image: Michael Sohn/AP/Press Association Images
Lochte in action at the Olympics
Image: Michael Sohn/AP/Press Association Images
SPEEDO USA HAS announced it has ended its sponsorship of embattled star Olympic swimmer Ryan Lochte following his false claim that he had been robbed at gunpoint in Rio, a story he later admitted was "over-exaggerated".
The global swimwear brand will donate $50,000 (about €44,000) of Lochte's fees to Save the Children, to go towards helping Brazilian children.
"Speedo USA today announces the decision to end its sponsorship of Ryan Lochte," the company said in a statement.
"While we have enjoyed a winning relationship with Ryan for over a decade and he has been an important member of the Speedo team, we cannot condone behaviour that is counter to the values this brand has long stood for.
"We appreciate his many achievements and hope he moves forward and learns from this experience," the company said of Lochte, who has won a total of 12 medals in Olympic competition during his career, six of them gold.
Lochte, 32, claimed he and three of his teammates — all gold medal winners in Rio — were mugged by robbers pretending to be police after a night out.
But he quickly found himself embroiled in controversy when police said his account was untrue, and that the group had in fact been detained over the vandalisation of a gas station bathroom — apparently led by a drunken Lochte.
Lochte later admitted he had "left details out" and "over-exaggerated some parts of the story" — a major embarrassment for Team USA, an Olympic swimming powerhouse.
He also admitted he was still intoxicated when he gave his initial account of the incident, adding: "I let my team down."
CCTV footage
Following the incident, Lochte flew back to the United States, while the other three swimmers — Gunnar Bentz, Jack Conger and Jimmy Feigen — stayed in Brazil.
On Thursday, police released CCTV footage and other evidence about the events at the gas station.
The athletes, who appeared intoxicated, stopped in a taxi at the gas station to use the bathroom during the early hours of the morning.
Lochte and the others then vandalised the area near the bathroom and, according to the manager, urinated on the walls.
Confronted by a security guard, they tried to leave. When the confrontation escalated, the security guard took out his pistol and made them sit on the ground.
After paying about $50 (€44) in compensation for the damage to the station, they left unharmed and returned to the athletes' village.
"There was no robbery of the kind reported by the athletes," the head of Rio's civil police, Fernando Veloso, told a press conference.
Lochte's false claims caused the Olympic authorities huge embarrassment, highlighting security worries at the games, where Brazil had deployed 85,000 police and soldiers — double the number used at the 2012 London games.