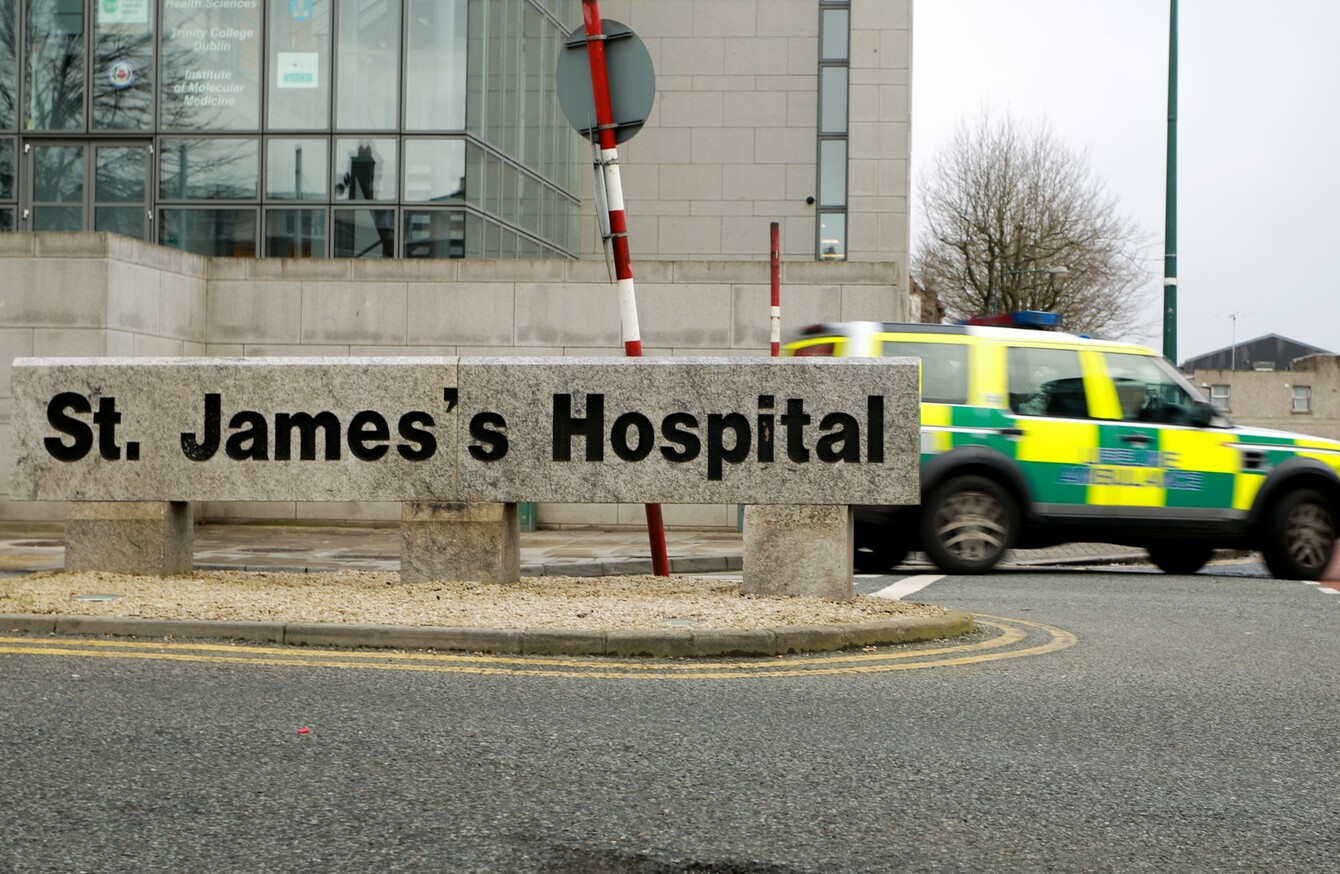 Image: Wanderley Massafelli/Photocall Ireland
Image: Wanderley Massafelli/Photocall Ireland
PATIENTS IN AT least one ward in St James's Hospital in Dublin were unable to have water while taking their tablets last night due to a leak in the system.
The problem with the water supply  began more than 24 hours ago, and there is still no drinking water available from taps for patients or staff in some parts of the hospital. The hospital has supplied bottled water to help deal with the problem.
Staff are currently being advised to limit showers and bathing for patients and that "special arrangements" should be made locally to facilitate hand washing and cleaning.
In an internal memo sent to staff today and seen by TheJournal.ie, staff were advised that a "significant" water leak was discovered at the hospital, and as a result the mains water pressure had to be reduced.
The leak was first reported at 6pm on Wednesday evening. The memo states that building engineering staff "have been investigating and planning repairs since then".
Staff are being told to "continue to be economical with water usage for the remainder of today.
This reduction in pressure is affecting all mains water connections and supplies and means that some drinking water outlets, dishwashers, etc, may appear to be about to shut down when being used. This is not the case and we ask you to be patient when filling kettles, cups, etc.
The memo advises that patient showers and bathing should "be limited".
"Limited quantities of bottled drinking water are being made available through Facilities Management," it reads
Frontline staff at the hospital informed TheJournal.ie that last night restrictions on water meant that patients in one ward of the hospital could not take water with their tablets.
The memo states that plans are being made to fix the leak.
We are making plans at this stage to carry out repairs to the leak and expect to issue more details later today.
In a statement to TheJournal.ie a spokesperson for St James's said there was a leak but there had been "no impact on the delivery of clinical services".
"The source of the leak is being investigated and the hospital is working quickly in order to return normal water pressure," the spokesperson  said.
There has been no impact on the delivery of any clinical service at St James's Hospital and the hospital has provided bottled water on-site where necessary.
"St. James's Hospital has storage capacity on site to deal with situations such as this."
Note: This article was amended at 11.50am on Saturday 8 October. It was originally stated that Dublin City Council had provided the bottled water. A spokesperson for St James's said that the water was provided by the hospital.