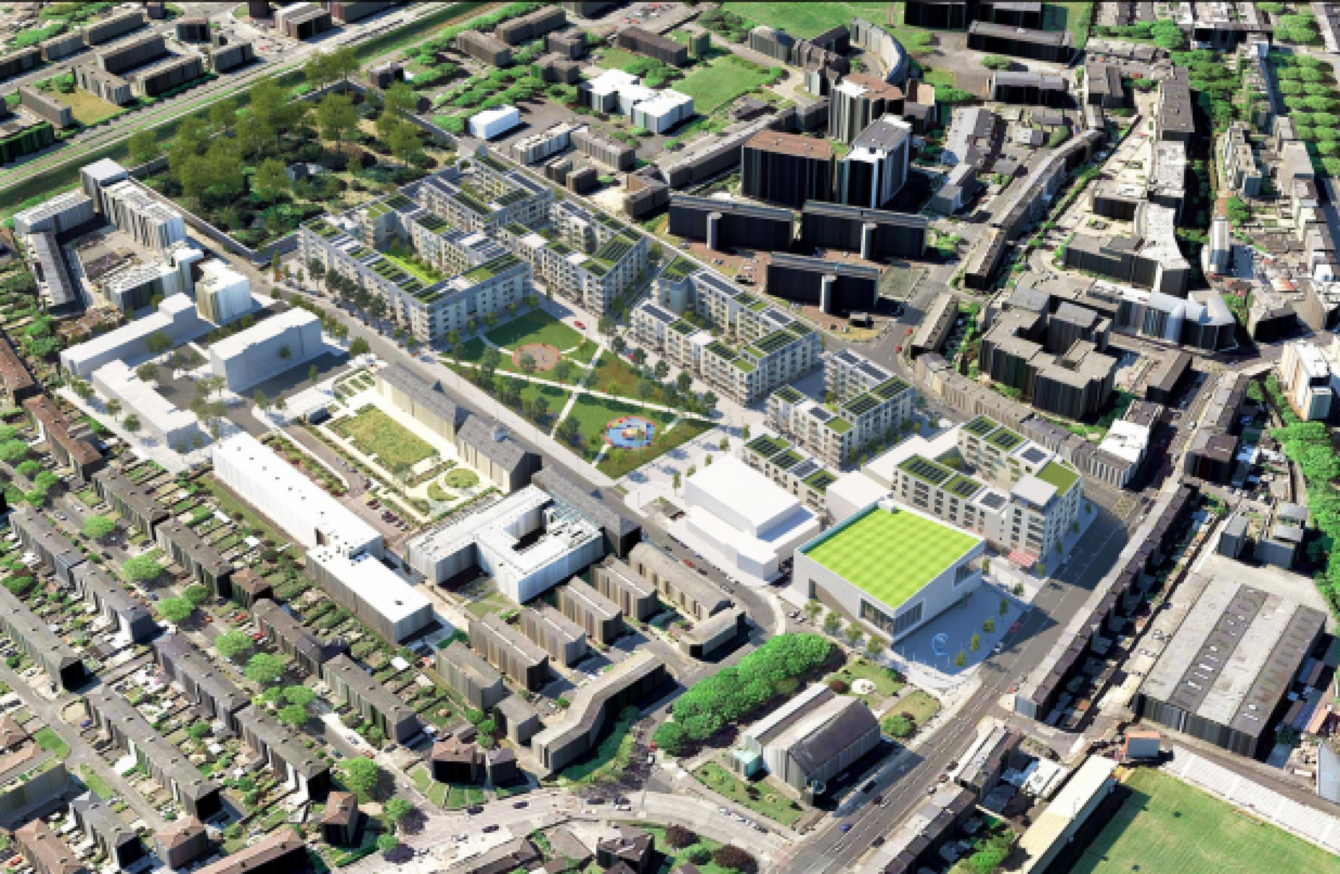 An artist's impression of the proposed development in Inchicore
Image: Department of Housing
An artist's impression of the proposed development in Inchicore
Image: Department of Housing
470 NEW HOMES are set to be built in Dublin as part of Ireland's first ever 'cost rental' housing scheme.
Plans for the development were unveiled today at St. Michael's Estate in Inchicore, where a new community will be constructed on land owned by Dublin City Council.
The announcement comes nearly a decade after a Public-Private Partnership with developer Bernard McNamara to build 720 new homes on the site collapsed.
It also means that plans by local League of Ireland club St Patrick's Athletic to build a new 12,000-seater stadium and 520 houses are almost certain not to go ahead.
The final mix of the new homes is yet to be decided, but is expected to include 140 homes classified as social housing and 330 other houses, mostly provided under a Cost Rental model.
Under the cost rental scheme, housing is built ensure that rents are based on the cost of providing, financing, building, and maintaining the development, rather than to maximise profit.
Rent covers the construction costs of building and maintaining the properties, which will be aimed at households on low to moderate incomes.
It is expected that the new homes will be rented out at up to 25% below market rates, although a Department of Housing spokesman told TheJournal.ie that the length of leases will be determined later.
A new library and other community facilities are also planned as part of the wider development of the area.
Speaking at the announcement this morning, Minister for Housing Eoghan Murphy said that cost rental was a "major government priority" which has cross-party support.
He added:
"I believe that there is significant stakeholder support for cost rental across the broad spectrum of political, academic, community and trade union groups.
It can contribute to maintaining competitiveness and attracting people to live, as well as work, in thriving cities like Dublin.
But President of St Patrick's Athletic, Tom O'Mahoney said he was "very disappointed" by the announcement, claiming the new plan represented a missed opportunity for Inchicore.
However, he welcomed the public consultation on the new development and expressed hope that the proposal could be expanded to deliver a better result for the community.
He said: "We have a responsibility to the local community to continue to pursue our proposal, which can be compatible with the housing objectives of today's announcement, and we will continue to do so."
A project management team for the site is expected to be appointed by Dublin City Council by October 2018, with a company to manage the estate to be procured at a later date.
It is not yet known when the public consultation process will begin, and TheJournal.ie has contacted a spokesperson for the council for comment.