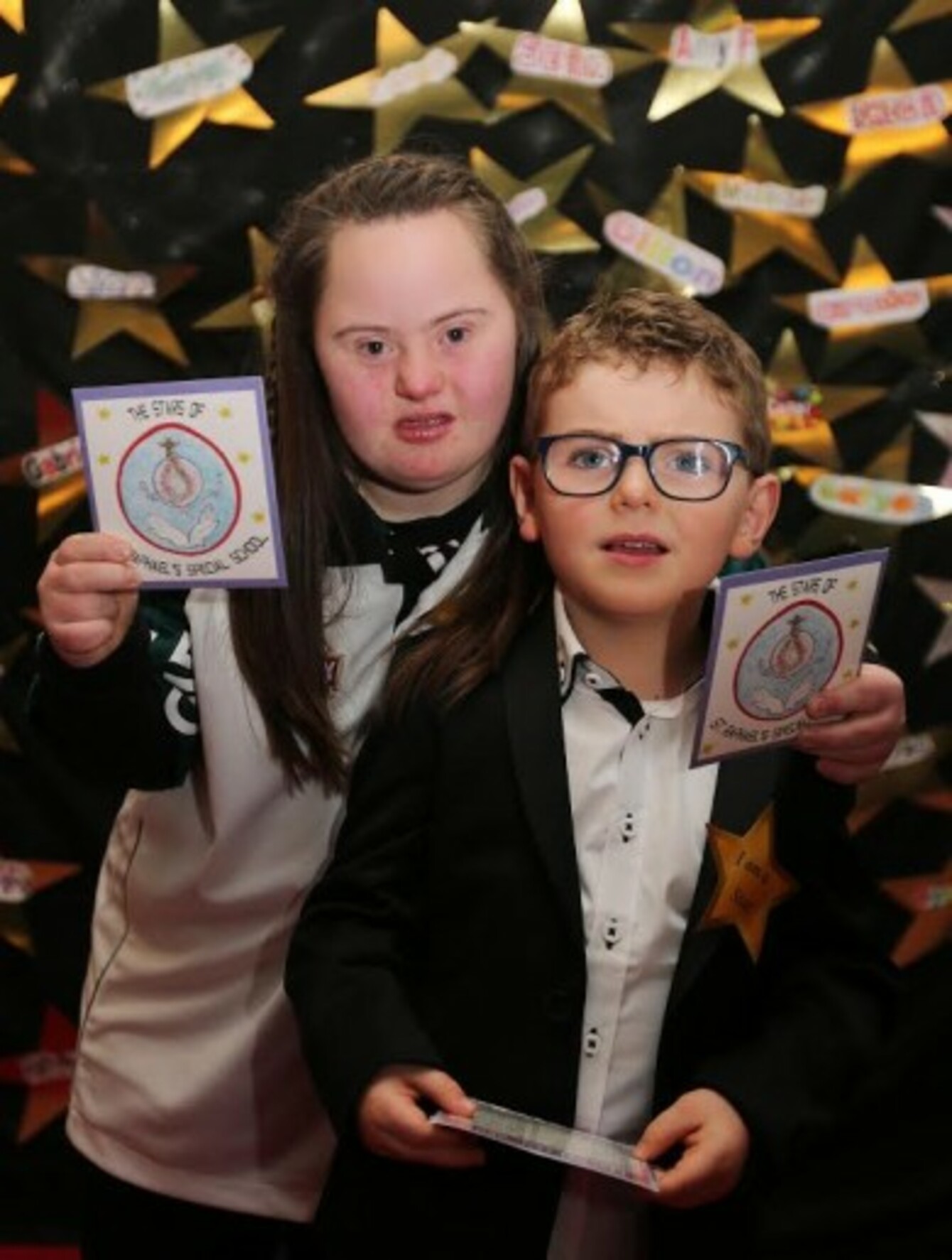 Matthew Gordon from Kilcock and Jennifer Malone from Clane at the launch of the St Raphael's Special Needs School CD.
Image: Lorraine O'Sullivan
Matthew Gordon from Kilcock and Jennifer Malone from Clane at the launch of the St Raphael's Special Needs School CD.
Image: Lorraine O'Sullivan
A KILDARE SCHOOL for children with special needs is hoping for a Christmas hit this year with a new CD showcasing its pupils' talents.
The 64 students, who are aged between five and 18, all either play musical instruments or sing in the album, which was launched this week to raise funds for St Raphael's Special School in Celbridge.
The children have a range of disabilities, some severe and others more moderate. Many of them have Down syndrome and some can't speak.
But having practiced since the start of the school year, they recorded their 27-track variety CD earlier this month with the help of parents and staff.
Organisers say they need to cover the €2,400 cost of producing the CDs, which are on sale in the local area.
The rest of the money raised will go towards buying new interactive whiteboards to allow non-verbal students take part in classroom lessons.
"Many of these children can't hold a pencil, never mind write. With these boards, they'll be able to touch the screen, and easily move shapes and words around as they learn," said Deirdre Kiernan, chair of the school's parents' association.
Here are just some of the album's stars.
Kate Kiernan, 11
Deirdre Kiernan's daughter, Kate, has Down syndrome, limited speech and sensory processing difficulties.
She spent two years in a mainstream school before being diagnosed with autism and transferring to St Raphael's in September 2011.
"Since work on the album began, she's been practicing her songs every day at home," Deirdre said.
"She might not have the speech or cognitive ability to describe what she does in school, but she knows 'Humpty Dumpty had a great fall' off by heart at this stage."
Sean Collins, 10
Sean Collins has high anxiety levels and global development delay with sensory processing disorder.
#Open journalism No news is bad news Support The Journal

Your contributions will help us continue to deliver the stories that are important to you

Support us now
Despite being pre-verbal, he's a sociable boy, always dancing and blowing kisses to his friends, his mother, Lorna, said.
Sean wasn't able to walk by himself when he first started school five years ago, but he's since grown in confidence and now runs into class most days, Lorna added.
"Things don't come easy to Sean or any of the children that attend St Raphael's, but they all try so hard and it is the little achievements that makes our day," she said.
Jack McNiffe, 10
Jack McNiffe has loved St Raphael's since starting there four years ago, his parents Michael and Aisling said.
He has Down syndrome as well as the very rare Cinca syndrome, which causes severe inflammation, joint problems and progressive hearing loss.
Because he requires 24-hour nursing care, he mightn't have been able to go to school were it not for St Raphael's, where he has constant access to nurses.
Cheques can be made payable to St Raphael's Special School. More information is available here.