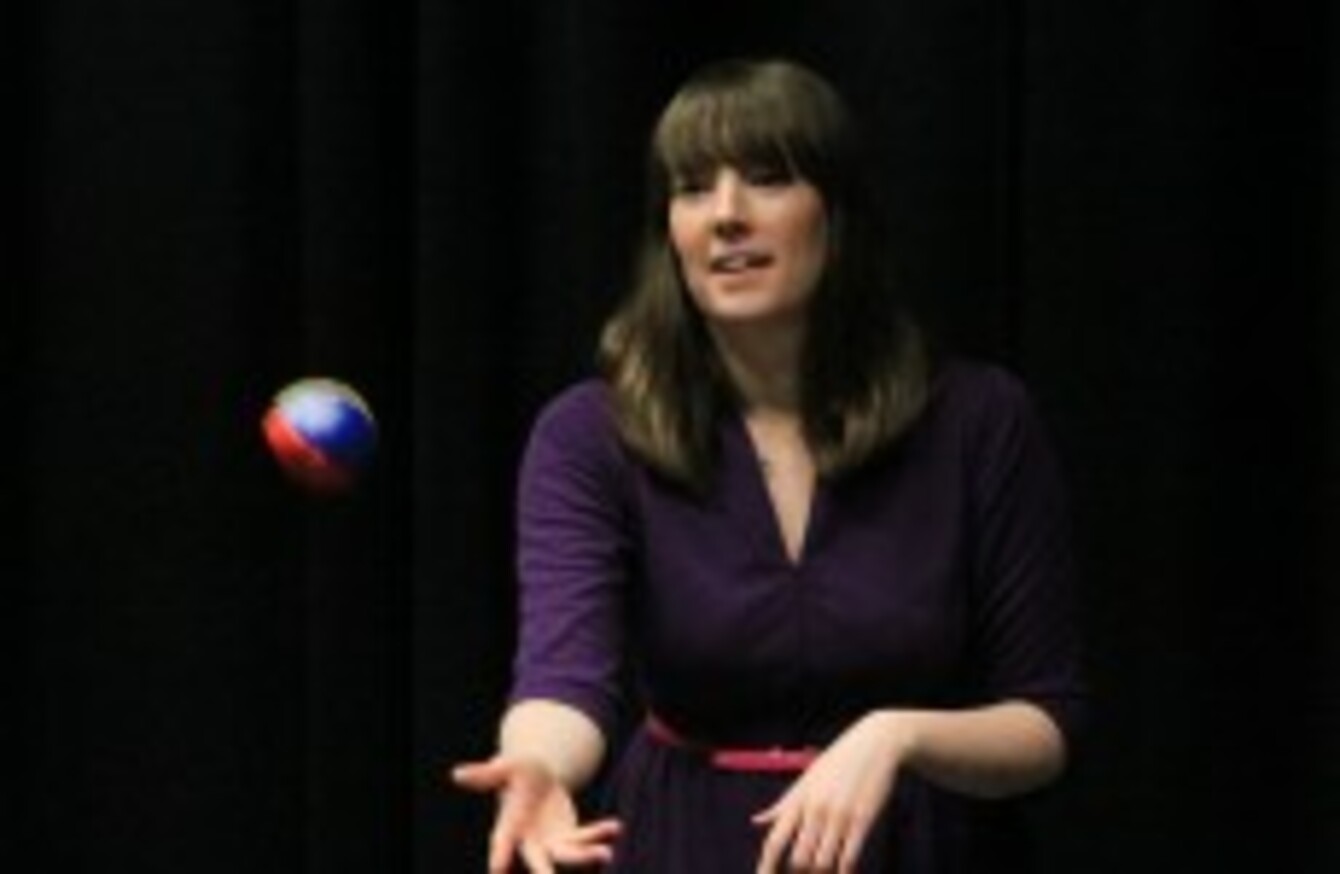 SOMETIMES, YOU NEED someone new to come into your life and shake things up a bit.
For all of us at the Gaiety School of Acting's stand-up class, that came in the form of a new (temporary) teacher last week. There to school us in the ways of comedy – in the absence of Sharon Mannion – was experienced improv comic Michelle Read.
A different style
After three previous classes with Sharon, us 15 wannabe stand-ups were just getting to grips with the course. Having someone new looking after our comedy training wheels made for quite an experiment.
At first, we were shy. Confidence levels weren't very high, and the warm-up exercises started off a little flat.
Then, slowly, ever so slowly, we started to come out of ourselves. That's not to say it didn't take a bit of pushing (both internal and external).
Michelle's style was a little different to Sharon's – not in a negative way, just that, like the new substitute teacher you get when Mrs Murphy is off sick, she had a different way of explaining mathematical equations, to take a metaphor to its extreme.
(Thankfully, given my grasp of maths, we weren't required to calculate anything for the two hours. Phew.)
Michelle introduced us to the concept of 'owning your space', which sounds new-agey idea but is essential for when you're on stage. Your audience will be able to feel it if you feel you don't belong there. You're on stage for a reason, so you have to own that fact.
Irish problems
That's not really an Irish concept, though, is it? I'd venture that the Irish – and, yes, this is generalising, and there are people from Germany and Spain in the class – are just not very good at 'owning our space'.
We can get hung up on what people think of us, fearful that we might look full of ourselves because we're too confident. It's no wonder that some comics rely on a drunken character for their stage shows. At least then they have something to blame if they appear to be a bit too confident.
The idea of owning your space can apply to elements of your life far beyond the stage. Owning your space in a meeting; in work; in a relationship. Knowing where you are and just being there.
But simple concepts aren't always simple to implement, and in our fourth stand-up class, some found owning our space harder than others.
Another concept that landed hard with us – and which was, again, so simple – was that there is to be a punchline in your set every 20 – 30 seconds.
"You want me to say something funny every half a minute?" was all I could think. Up to this point, I'd naively assumed that the laughs wouldn't have to be machine-gunned out at the audience. I was (mercifully for anyone who will watch my set in December) wrong.
Still, we ploughed on, and it was wonderful to watch as some people in particular blossomed during improvised work.
Michelle would shout 'edit' when she wanted someone to step in; or she'd gesture for someone to continue if she felt they had an idea worth expounding. The energy started to grow in the room.
The highlight was when Michelle asked us to pair off and work on short scripts with each other. I teamed up with a guy who's my opposite in many ways, and it was great to find humour in our differences.
Comedy and bravery
I didn't get to give my piece a go – that will come in two weeks, when we return to class after mid-term break – but after a few weeks of feeling it was impossible to put pen to paper, I feel like I can really get stuck into writing something.
By the end of class, I had realised that this whole 'stand-up thing' was even harder than I'd presumed. Writing a funny piece and getting enough laughs into it, while making it easy to understand, and keeping the audience engaged, while projecting your voice and owning your space… well, it's a challenge.
Some people have told me I'm 'brave' for doing a course like this. I'm not, but I do believe the real comics, the stand-ups and comedic writers who are dipping their entire body – not just a toe – into the world of comedy are brave. They have guts.
Hopefully, by the end of this course, we'll all be a bit gutsier, too. For now though, it's time to get stuck into writing part of a set. Wish me luck…
I'll be writing once a week about how I'm getting on… except next week, as it is mid-term break.
Have you any tips? Got a favourite comedian whose work you'd like to share? Just want to take the p**** out of me? That's what the comments section is for…