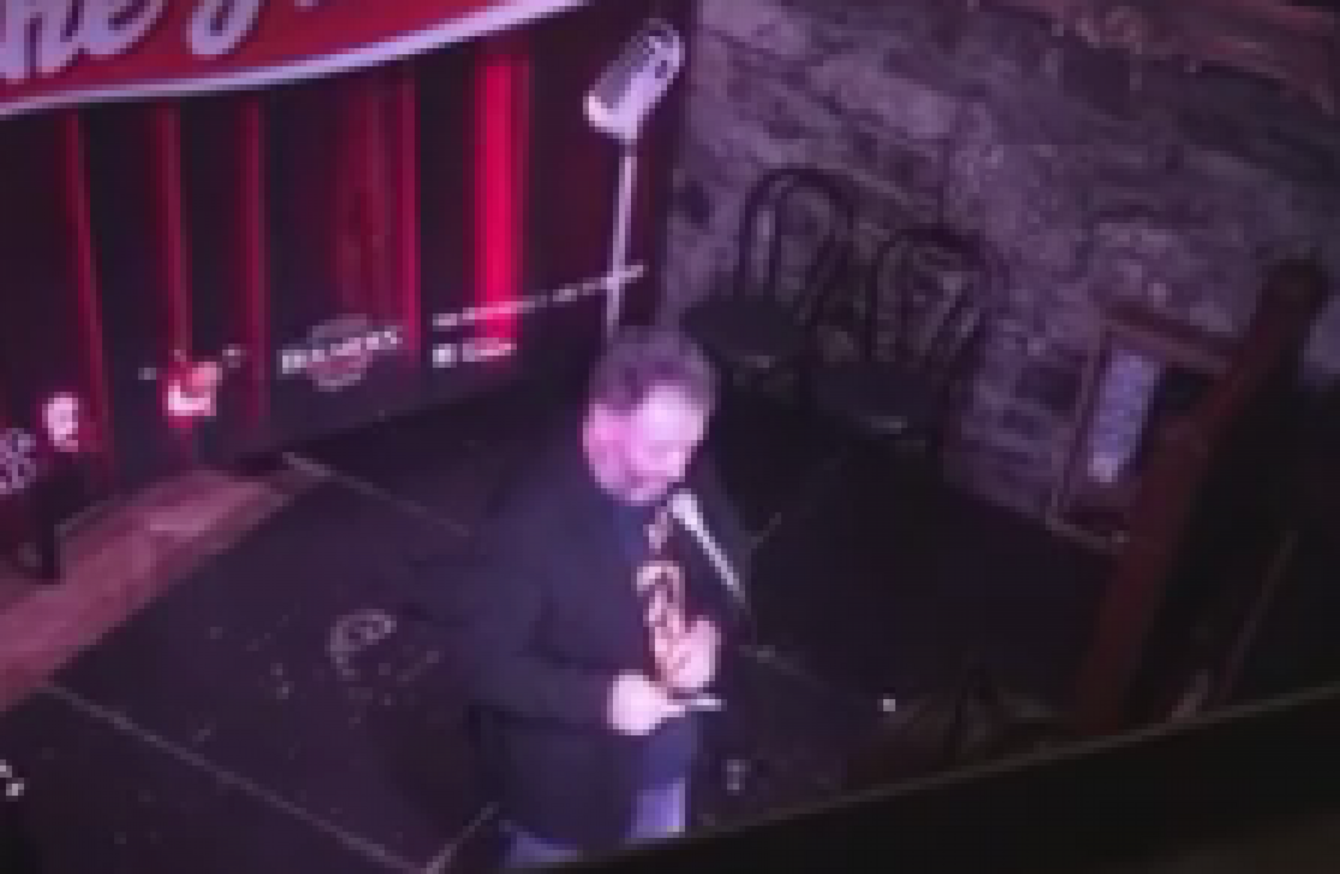 Gerry Mallon at the King's Head on Monday
Gerry Mallon at the King's Head on Monday
A NUMBER OF people have come forward with complaints about remarks made by the MC of a stand up comedy competition that was held in Galway on Monday night.
During the Show Me The Funny stand-up comedy event, which was being held at well-known pub The King's Head in Galway, the MC and event organiser Gerry Mallon made a number of remarks in relation to contestants, audience members and while he talked in between acts.
The event is a competition which runs heats each week for five weeks with comedians competing for a place in the final.
It is sponsored by Bulmers and is run in conjunction with Electric Picnic, with the eventual winner of the entire competition being rewarded with a performance in the Comedy Tent at the festival in Stradbally.
Mallon is long-time regular on the Irish comedy circuit and has also been involved with running the comedy tents at a number of Irish festivals in the past.
A number of audience members who were present at the show contacted TheJournal.ie after the event, complaining about the language used by Mallon.
In one instance near the end of the event, Mallon was introducing the final contestant when he referenced a piece of paper and told a separate story which ended with him saying:
The last act is a ni**er.
The final contestant was not black. Audience members said that Mallon was referring to another story as he introduced the contestant, and so was not referring to him.
"I don't know what he was going for," said one audience members, who requested anonymity.
It was even uncalled for it was just… genuinely shocking
In another instance, Mallon is said to have referred to a female contestant's breasts as she left the stage, saying "nice tits".
The third example involved Mallon interacting with a member of the crowd. During the interaction, audience members said he referred to hockey as a "f*g sport".
In response to queries from TheJournal.ie, Mallon defended the language he used and apologised if he had "inadvertently offended anyone".
"Everyone has an opinion on what can or cannot be said in a live comedy situation," he said.
"But everything has to be put into the context in which it was said. I'd be here all day trying to explain the different 'sentences' that offended the person in question.
Sure a sentence in cold print outside of a comedy situation will not read well if it's not put into the context in which it was said. Comedy is a subjective thing, but context is everything, in my and most people's opinion.
If I inadvertently offended anyone, then I apologise.
Stand up comedy
Following on from Monday's events, a number of comedians have come forward to speak out about the experience of women and others in the Irish comedy scene.
"I have a very strong belief that the Irish comedy scene is a toxic environment to many people and think that this behaviour has to be called out in the strongest terms possible," said one Irish comedian, who wasn't at Monday night's event.
Another person who came forward spoke about the current comedy scene in Ireland as run by older people despite a wealth of young talent coming up.
But that despite this "the comedy is still being run by old men".
Other comedians spoke of a culture where people don't speak out of things that have offended them in case they are not booked for gigs in the future.
Show Me the Funny 
The Show Me The Funny stand-up comedy competition has been held each year since 2011 in the King's Head.
The event is sponsored by Bulmers. Past winners have included Niamh Marron, with Al Porter being a finalist in 2015.
In a statement to TheJournal.ie, Bulmers said that it sponsored a number of shows around the country and was "disappointed to learn" about the language used at the event.
"Bulmers sponsors a number of local music and comedy events around the country including Show Me The Funny," the company said.
"We were disappointed to learn that inappropriate and unacceptable language and terms were used by the MC at a recent show.
They are not terms that are acceptable or that we want our brand associated with in any way.
"The ad-lib nature of stand-up does not allow for the vetting of content.
However, we do take this issue very seriously and will take steps, such as closer collaboration with the organisers and the selection of acts, to help ensure that offensive or inflammatory language is not used at future events that we sponsor.
The Electric Picnic festival organisers did not issue a comment.