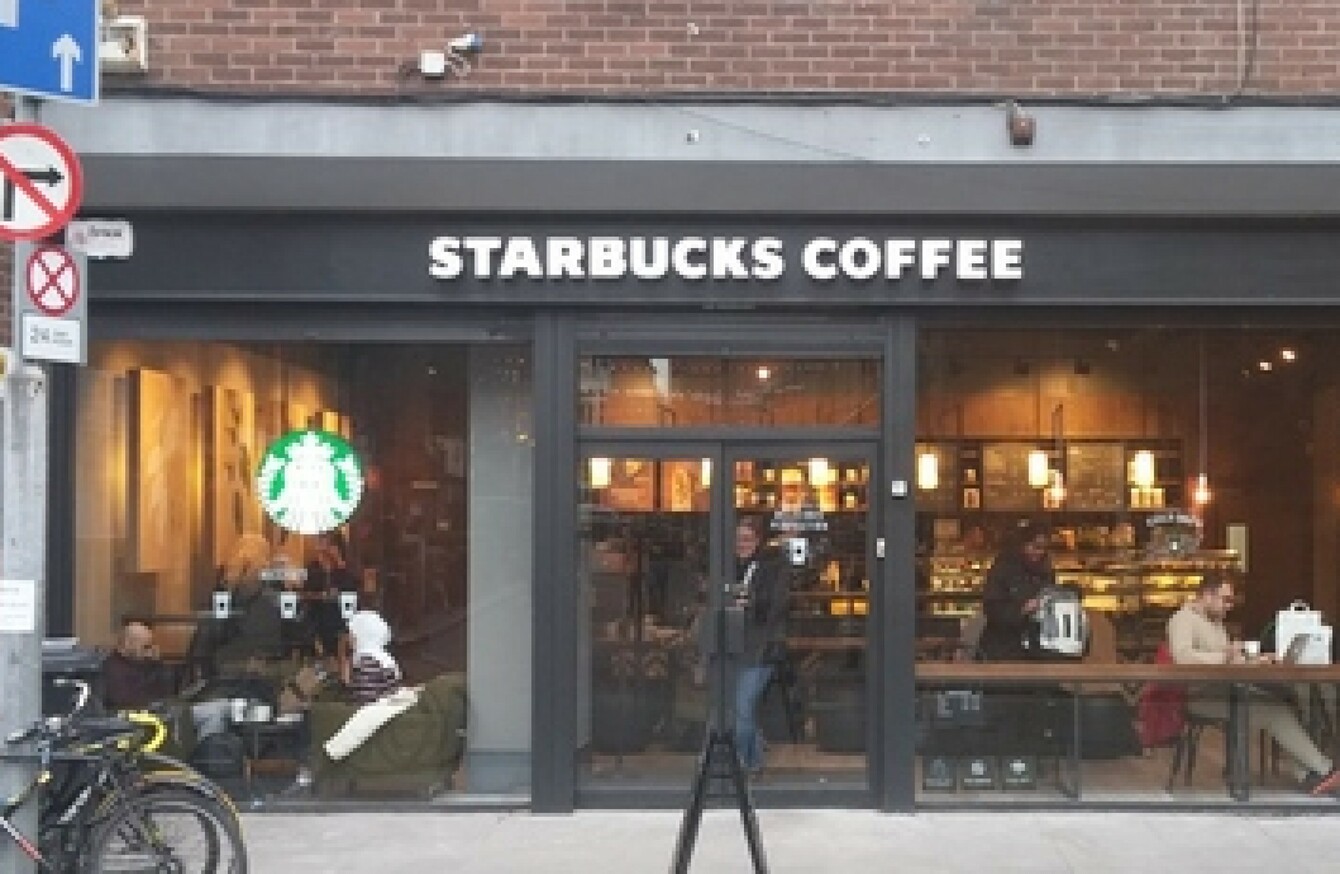 INTERNATIONAL COFFEE CHAIN Starbucks has opened new stores across Ireland without planning permission in recent months, raising the ire of local authority planning departments.
The multinational conglomerate opened its newest store in Waterford city this week.
It was opened without planning permission, prompting Waterford County Council to lodge an enforcement case.
It is just the latest in a series of actions being taken by local authorities against Starbucks cafés around the country.
Fingal County Council served a closure notice last month on the owners of a Starbucks outlet in Howth, giving them four weeks to discontinue service there or appeal the decision.
This follows on from a ruling in March by An Bord Pleanála which found that three Starbucks outlets in Cork had been opened without proper planning permission.
In response, the company applied for planning to retain permission for its Princes Street location, with a decision expected on 21 September.
A similar case is currently before An Bord Pleanála concerning a store at Airside Retail Store in Swords, north Dublin.
The outlet was converted from part of the Smyths Toystore and the case concerns whether planning permission should have been sought. A decision is expected on 20 September.
As well as this, TheJournal.ie reported in March that Dublin City Council is investigating a Starbucks on Drury Street in Dublin on foot of a planning complaint.
This brings the total number of complaints, enforcement notices and planning investigations against Starbucks to at least seven in recent months.
Why do they keep doing it?
Laws around planning in Ireland are dealt with in the Planning and Development Act (2000).
In general, planning permission must be sought when changing the use of a building from a shop or retail store to a restaurant or café.
Starbucks has argued in many of the above cases that its outlets didn't change the use of the buildings in question.
In Howth and the outlets in Cork, for example, the company said that the service provided in its store didn't constitute a restaurant or café and therefore planning permission didn't need to be sourced.
This claim was rejected by An Bord Pleanála in the case of the Cork outlets, which found that planning permission was required.
"The issue here is that everyone else has to go through planning," Labour county councillor for Fingal Brian McDonagh told TheJournal.ie.
There's an issue here where you can get a competitive advantage if you just plough ahead in lots of different locations.
McDonagh raised the issue of the Howth Starbucks in the council, saying that planning permission should have been sought as the scale of the outlet in Howth didn't constitute a shop.
"If you're going from a bike shop to being a multi-seater restaurant… it's reasonable that you would come in with planning permission," he said.
"My concern is that there may be more locations where… it's not being picked up on.
The scale that Starbucks are going at it, if they only get called on 10 out of 150 or whatever that gives them a significant advantage over locally run coffee shops.
The recent spate of cases concerning Starbucks had led for some to call for reform of planning enforcement laws.
According to Dublin-based architect Ciarán Ferrie, laws around planning in Ireland are quite comprehensive but problems arise when it comes to enforcing these.
"From their point of view, if they don't go through the proper planning process obviously they can get the café up and running quicker," he told TheJournal.ie.
"As far as I can make out there's nothing to stop them continuing to trade while proceedings are ongoing.
I suppose they're hedging their bets [and saying] 'if we can get this up and running quicker and then beg for forgiveness rather than permission it'll be better business for us' – it seems to be the way they're approaching it.
Once served with a planning enforcement notice by a local authority, the owners of a premises can cease trading and apply for planning permission, or seek a retention.
Applying for retention – which means that the outlet in question will continue to trade while it addresses the planning permission issues – costs significantly more than applying for planning permission in the first place.
"It costs more but I'm sure they make it back with the extra trading," said Ferrie.
"That's seems to be what they're doing here. Presumably then they respond to enforcement proceedings and take care of the situation afterward.
But essentially they've bypassed the planning laws.
Consequences
Ferrie said that failing to get planning permission is common when it comes to development, but that in many cases regulations are not enforced unless a formal complaint is made.
"It's not unique to Starbucks, this happens quite a lot," he said.
"It tends to be the case that nothing is done unless somebody complains about it.
People will do this because they don't have any fear of penalty.
Fingal County Council said in a statement that it had served a notice on the owners of the Starbucks premises in Howth on 19 August,  giving them four weeks to discontinue the unauthorised use.
"If the unauthorised use continues beyond that date, prosecution proceedings may be initiated in the District Court," a spokesperson said.
Penalties at the District Court can include a fine up to €5,000 for summary or minor matter, or daily fines up to €1,500 for each day on which offence is repeated – although this is rarely used by the courts.
Ferrie said that owners who refuse to respond to an enforcement notice can be found guilty of an offence and could face a maximum fine of €12 million and possible jail time.
However, he said to his knowledge this has never been enforced.
Starbucks paid €4,196 in Irish corporation tax in 2014, after two years of making no contribution to the State's coffers.
The coffee chain opened its first Irish outlet in Dublin in Dundrum Town Centre in August 2005.
The company's Irish operation was licensed to the Entertainment Enterprises in 2012, an Irish group ran by brothers Ciarán and Colum Butler, which also runs TGI Fridays and the chain of Mao restaurants.
In response to a query rom TheJournal.ie a spokesperson for Starbucks in the US said:
We expect our licensees to comply with local planning guidance and we will work closely with EE Group to achieve that.