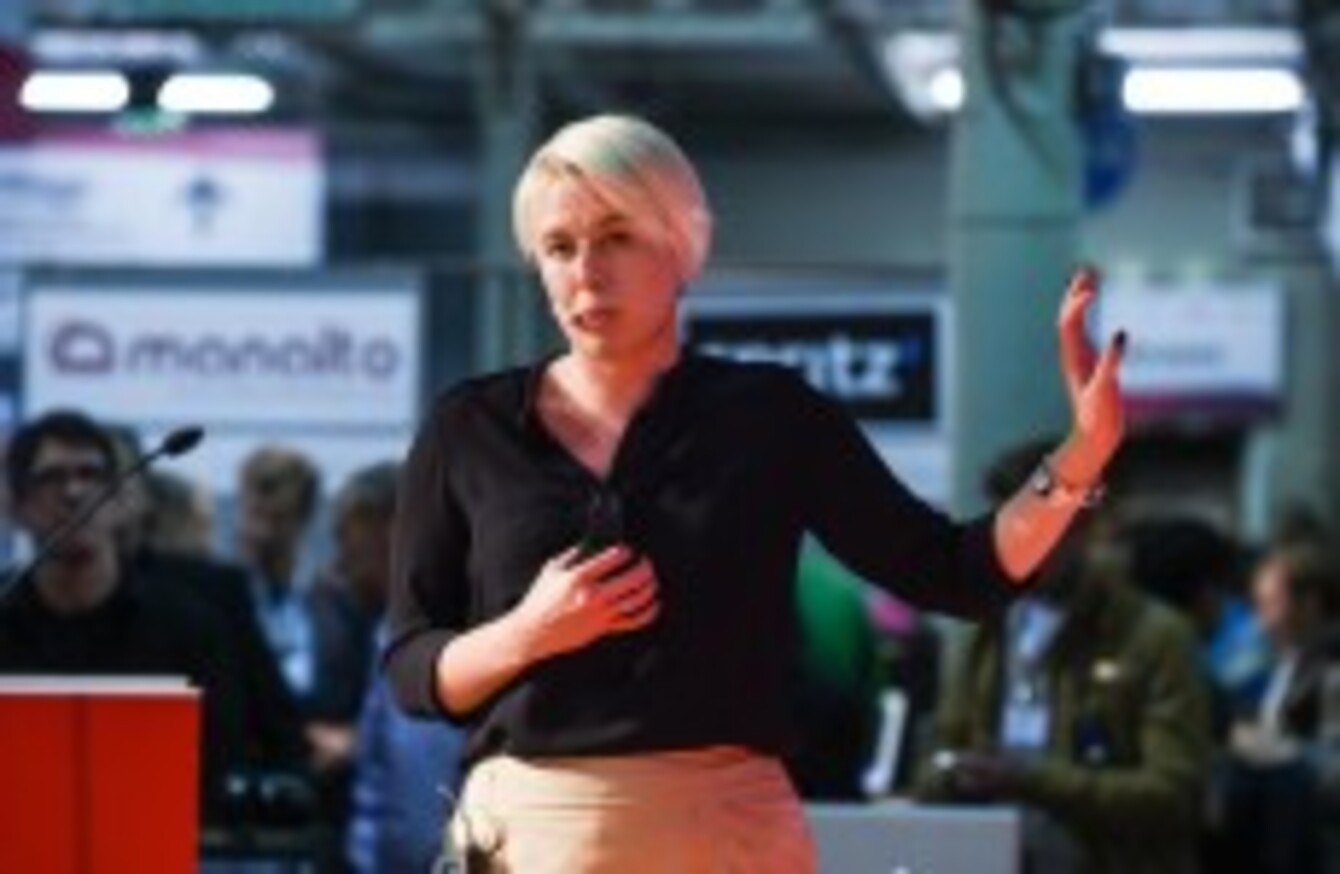 Restored Hearing's CTO Eimear O'Carroll pitching at this year's Web Summit.
Restored Hearing's CTO Eimear O'Carroll pitching at this year's Web Summit.
NOT MANY PEOPLE would be familiar with the term tinnitus, but would have experienced at some point after a night.
The ringing you get in your ears after being exposed to loud music might not seem like a big deal, but it can lead to loss in hearing, and affects 300 million people worldwide.
That's where Restored Hearing comes in. It originally started out as a Young Scientist project back in 2009, where its two co-founders, Eimear O'Carroll and Rhona Togher, finished as runner-ups in the overall competition.
After that, O'Carroll completed a masters in Physics at the University of Edinburgh, carrying out clinical trials with the British Tinnitus Association before moving back to the country to set up the company with Togher, who studied Physics at UCD.
According to Togher, the company's CEO, it's the lack of awareness of the condition that means many people don't notice it until it's too late.
"In one way, most people don't know that when you come home from a night out and your ears are ringing, you've actually caused damaged to your hearing," explains Togher. "One in five teenagers now have permanent ringing in their ears. That's a global health issue."
The company's main product is online sound therapy, provided you have a good pair of headphones, you can listen to and help reduce the impact. The subscription-based service is able to guarantee a 15% reduction in the severity of a person's tinnitus within the first month of treatment.
Togher says that while they have a solution, they have to educate people about the condition because of the lack of coverage it gets.
"One of the big things we found was we had to educate most of our customers about what the problem actually is and the damage it causes … there is permanent damage to your hearing, but there is something you can do about it, it's a very slow process."
While the product is mainly an online entity, the company is expanding into hardware, where it will release two new products.
The first is a wireless headset which basically its sound therapy in physical form and is expected to be released by the end of the year, while the other is a retrofit product for anyone who already uses hearing protection. By replacing the foam with their product, it claims that it will automatically work eight times better.
The aim for Togher is to take its "therapy offline and put it into a physical device so that older people will be able to use it [and] make it much more accessible to anyone."
The wireless headset will be trialled in pharmacies in the UK at the end of the month with the aim for a wider release to happen soon.