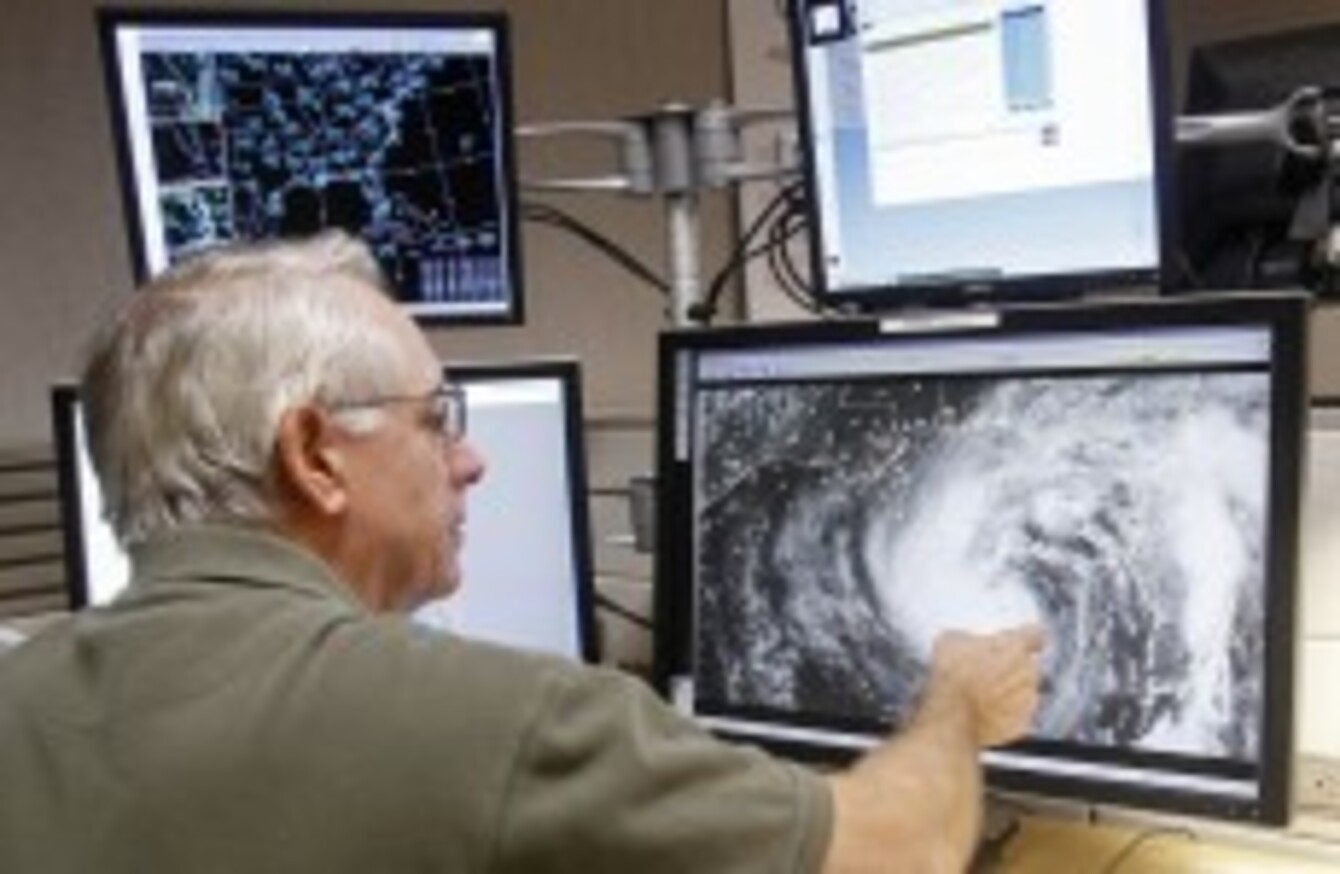 Senior hurricane specialist Stacy Stewart tracks Tropical Storm Isaac at the National Hurricane Center in Miami
Image: Alan Diaz/AP/Press Association Images
Senior hurricane specialist Stacy Stewart tracks Tropical Storm Isaac at the National Hurricane Center in Miami
Image: Alan Diaz/AP/Press Association Images
TROPICAL STORM ISAAC is on the verge of becoming a hurricane, the USA's National Hurricane Centre has said.
In an update published at 4AM US time, it said that there was "significant storm surge and freshwater flood threat to the Northern Gulf coast".
It said that a hurricane warning is in effect for east of Morgan City Lousiana to the Alabama-Florida border, including metropolitan New Orleans, Lake Pontchartrain and Lake Maurepas.
Hurricane watch is in effect for the intracoastal city to Morgan City Louisiana, while a tropical storm warning is in effect for the Alabama-Florida border to the Aucilla River and Morgan City to Cameron Louisiana.
Yesterday, US President Barack Obama declared a state of emergency in Louisiana ahead of Tropical Storm Isaac reaching the state.
Obama has asked the Federal Emergency Management Agency to coordinate the federal government's response and preparations in the areas that could be affected by the storm.
Emergency operations
FEMA said it has placed four incident management assistance teams and liaisons at emergency operations centres which have been set up in Gulf states. It said it has also moved two mobile emergency response support teams nearer to areas where Isaac may hit.
President Obama signed what is called a pre-disaster emergency declaration for the State of Louisiana yesterday, said FEMA, which means that federal support will be available to tackle the impact of the tropical storm.
After this, FEMA activated the national response coordination centre, which is in Washington DC and is used to coordinate the federal response to natural disasters and emergencies.
The White House said that supplies are being shipped to states that could be affected by the storm, such as bottled water, infant kits and food.
Tropical storm
According to the USA's National Weather Service and National Hurricane Centre, Isaac is expected to approach the coast of southeastern Louisiana and Missisippi this afternoon or tonight, with 70mph winds expected to strengthen and the tropical storm to move into a hurricane.
Here's the latest image of Isaac from the National Hurricane Centre's live video updates:
Tomorrow marks the seventh anniversary of Hurricane Katrina, which devastated New Orleans in 2005 and killed 1,800 people. The city has still not recovered from this disaster and New Orleans is one of the cities expected to be hit by Isaac.
FEMA has been warning that it is not just New Orleans that is at risk:
The storm caused 24 deaths in Haiti and the Dominican Republic, but caused little damage as it passed the Florida Keys yesterday.
Yesterday, Governor Bobby Jindal of the State of Louisiana told people living in the state:
Today is the day to take any precautions. If you are in low lying areas and are thinking about evacuating, today is the day to do that. If you plan on hunkering down at home, today is the day to get supplies. I strongly encourage people not to wait.
Shelters
Gov Jindal outlined the shelters available, which include a mega shelter on LSU Alexandria campus that can hold up to 2,700 people.
The state has had to move 2,000 prisoners, while some offenders are being tasked with assisting with sandbagging operations. One correctional centre has kennels to provide shelter to pets if needed.
In New Orleans, the inner harbour navigation canal was closed last night, while gates are to be installed in openings on the hurricane protection levee system protecting the city.
The greatest threat from Isaac will be flooding, an expert told Associated Press.

(AssociatedPress/Youtube)
Read: New Orleans braces for Isaac, seven years after Hurricane Katrina>