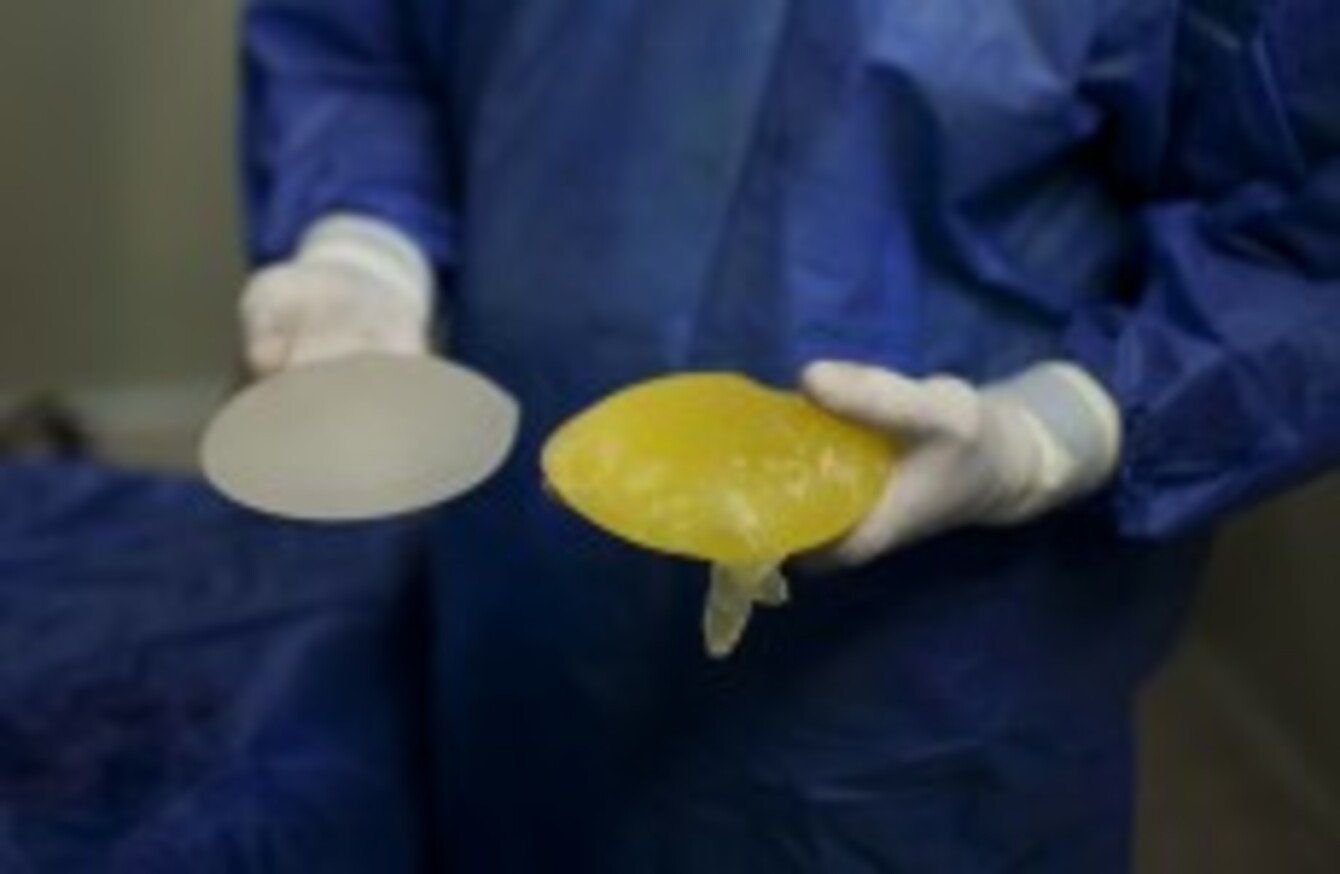 Image: Ariana Cubillos/AP/Press Association Images
Image: Ariana Cubillos/AP/Press Association Images
THE STATE SHOULD look after the removal of faulty breast implants manufactured by French company Poly Implant Prothese, a joint committee hearing was told today.
Pat O'Mahony of the Irish Medicines Board (IMB) and Dr Joan Gilvarry, director of Human Products Monitoring at the IMB, spoke to the Joint Committee on Health and Children today, where they discussed the recent PIP implants scandal.
Implant removal
It was suggested at the hearing by a number of TDs and senators that the State foot the bill if the women affected by the faulty implants want to get them removed. Senator John Crown said the women should have their implants removed if they want. He said the women have to be looked at "as victims of crime and tort". He suggested that the implants be removed on demand by an employee of the State or one contracted by the State.
Three private Irish clinics implanted women with the faulty implants: Harley Medical Group, which dealt with 1,100 women; Clane Hospital Cosmetic Surgery which dealt with 250 women; and Shandon St Hospital which dealt with 100 women.
Earlier this month, French authorities advised it was possible that PIP implants from before 2001 also contained the gel. It is believed around 50 Irish women could have had those implants before 2001. This means that approximately 1,550 Irish patients were implanted with these PIP implants.
When the IMB heard about the issues with the implants, it contacted all clinics that used the product and asked them to cease using it. The matter was kept under review and the IMB had repeated contact with clinics requesting them to contact women who had been implanted with the faulty silicone implants.
Harley Medical Group
The committee was told that the Harley Medical Group, following IMB's recommendation in October 2010, confirmed in writing to IMB that it had written to all patients regarding PIP.
However, the Committee heard, it transpired that this letter – a copy of which was sent to the IMB – was never sent to individual patients but was put on the HMG website.
The IMB said it was "extremely concerned" about this and asked for an explanation. It said it received a totally unacceptable explanation and so issued a public statement on that matter.
Legislation
EU directives on medical devices are being revised by the EU Commission and it is expected they will adopt two new regulations, subject to debate in parliament.
O'Mahony said that the IMB fully appreciates the anxiety and concern it has caused women and has been speaking with them to ensure they have all the info on this issue. It has urged clinics to realise they have a duty of care and and ensure all patients receive the appropriate review.
It advises women if they have concerns they should seek clinical advice from the implanting surgeon.
Deputy Billy Kelleher raised his concerns about the increased prevalence of cosmetic surgery happening in this country while there is no legislative oversight on it. Deputy Caoimhghin Ó Caolain said there are "women out there who are deeply distressed" but said that there are possibly Irish women who left this jurisdiction to access a similar procedure and may have received the faulty implants.
He added that though there is no evidence of toxicity, "with respect no evidence is not the same as saying there is no risk".
I thought we had seen and heard it all in relation to dreadful treatment of women in relation to health and practitioners across a whole rang of medical interventions. I find it incredible that women once again are being showed in a new generation the same lack of respect… I think it's absolutely outrageous.
Senator John Crown said he thought these women have been done an injustice and were given bad advice. He also had "strong concerns about way ethics were handled".
#Open journalism No news is bad news Support The Journal

Your contributions will help us continue to deliver the stories that are important to you

Support us now
Accountability
It emerged that IMB has no remit directly with those clinics and no statutory basis for having access to these clinics or files. O'Mahony said they are not accountable and they are not within any approval system. "In essence they can do what they want," he said. "Nobody finds that acceptable". The Chief Medical Officer has called each clinic into a meeting and invited the IMB to those meetings.
O'Mahony said HMG "have made very little effort" and the level of care required for the affected women such as direct access to their surgeon is not provided yet by HMG. Correspondence between the Chief Medical officer and the chief executive of HMG is "underway and progressing", he added.
Catherine Byrne TD said she was really disappointed by the lack of women participants at the committee but welcomed the women from the PIP support group who were in the gallery. She added the women involved "should be treated as human beings, not just numbers".
The question of insurance emerged, with the committee discussing the fact that the individual professionals have their own insurance, as does the clinic, but it depended on who the patient had the contract with as to how their insurance was paid.
Billy Kelleher TD said that he believed HMG have "at the very least abdicated any moral ethical obligations".
Deputy Byrne agree with everything that Senator Crown said, adding that she thinks it is ultimately the responsibility of the State to look after these women.