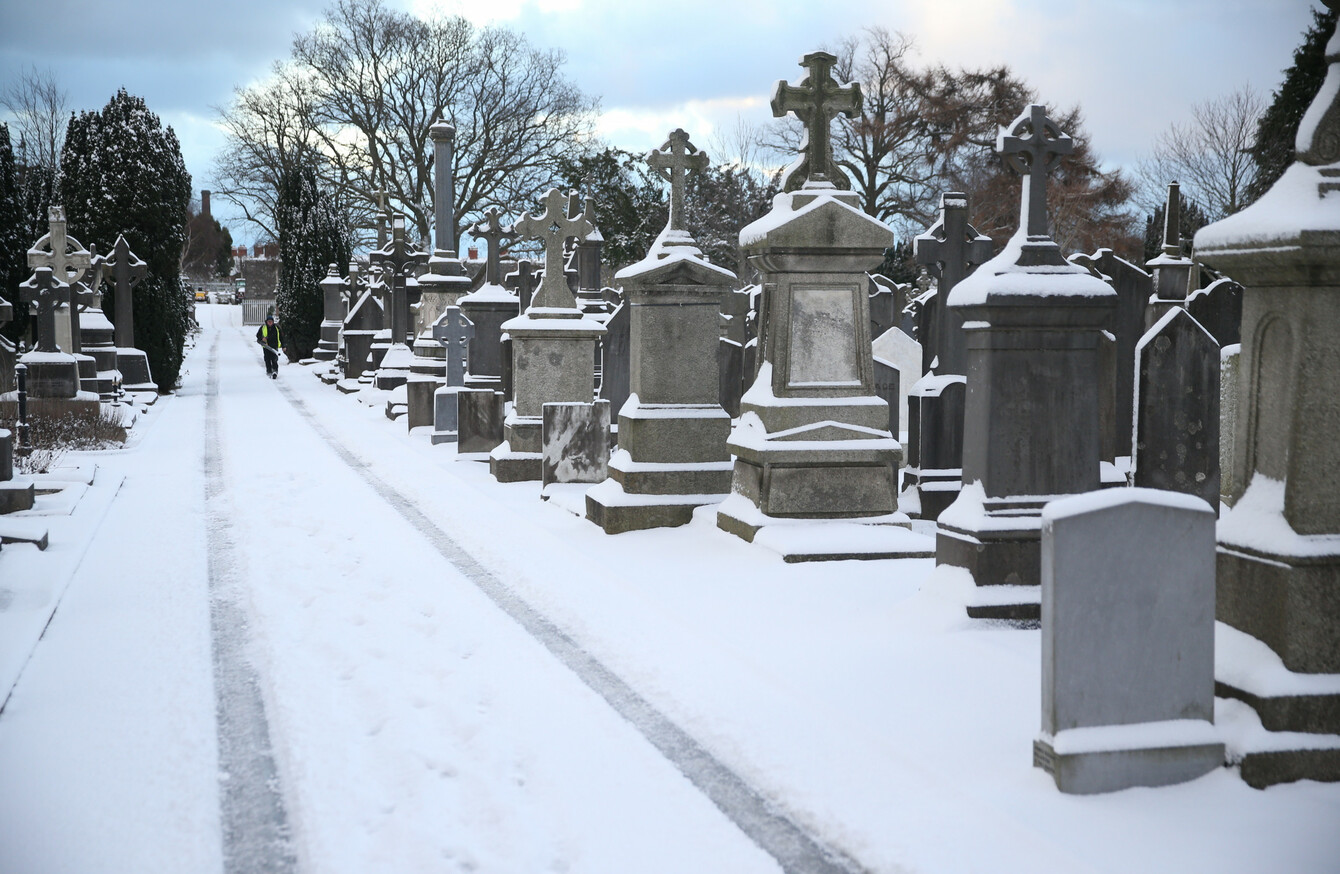 Glasnevin Cemetery, Dublin
Image: PA Archive/PA Images
Glasnevin Cemetery, Dublin
Image: PA Archive/PA Images
OVER THE PAST two years, the Department of Employment Affairs and Social Protection has paid out over €9.5 million in exceptional needs payments to help cover the cost of funerals and burials.
Figures released to TheJournal.ie show that 2,786 payments were made in 2017, totaling €5 million.
This year, 2, 438 payments have been made up until the end of October, at a total cost of €4.6 million.
Payments are made under the supplementary welfare allowance (SWA) scheme and the Department can make a single exceptional needs payment to help meet essential, once-off expenditure which a person could not reasonably be expected to meet out of their weekly income.
Funeral director David Fanagan says that these arrangements are "dignified, simple affairs".
"It shows that we are a caring country," says Fanagan. "We will not see someone discarded or a funeral not provided". 
State payments can help families who are unable to cover part – or all – of the cost of a funeral, says Fanagan. 
But payments can also be used by the State to cover the cost of funeral arrangements for those who die with no next of kin. 
"In any family, at the time of a death [family members] rally and chip in and look after the funeral costs. Or part of it."
"But if somebody has no next of kin, is very much on their own, it's comforting to know that the State will provide a dignified funeral."
Undertaker costs
From the late nineteenth and the twentieth century, there was an increase in the use of undertakers, according to Grave Matters, edited by Lisa Marie Griffith and Ciarán Wallace.
Naturally, there was also a financial element to this uptake as undertakers tailored their services to the financial needs of each family and were prepared to work on credit so that families could pay funeral and burial costs gradually.
According to the study, Dublin's two Poor Law Unions provided for the burial of those who could not cover the cost themselves. 
The Department has said that, where there is an inability to pay funeral or burials costs, grants are paid to family members organising services. 
The highest number of State-covered funerals and burials since January 2017 were in Dublin (2,135), followed by Cork (450) and Kildare (218). The counties with the lowest number were Leitrim (37), Cavan (48) and Clare (63).