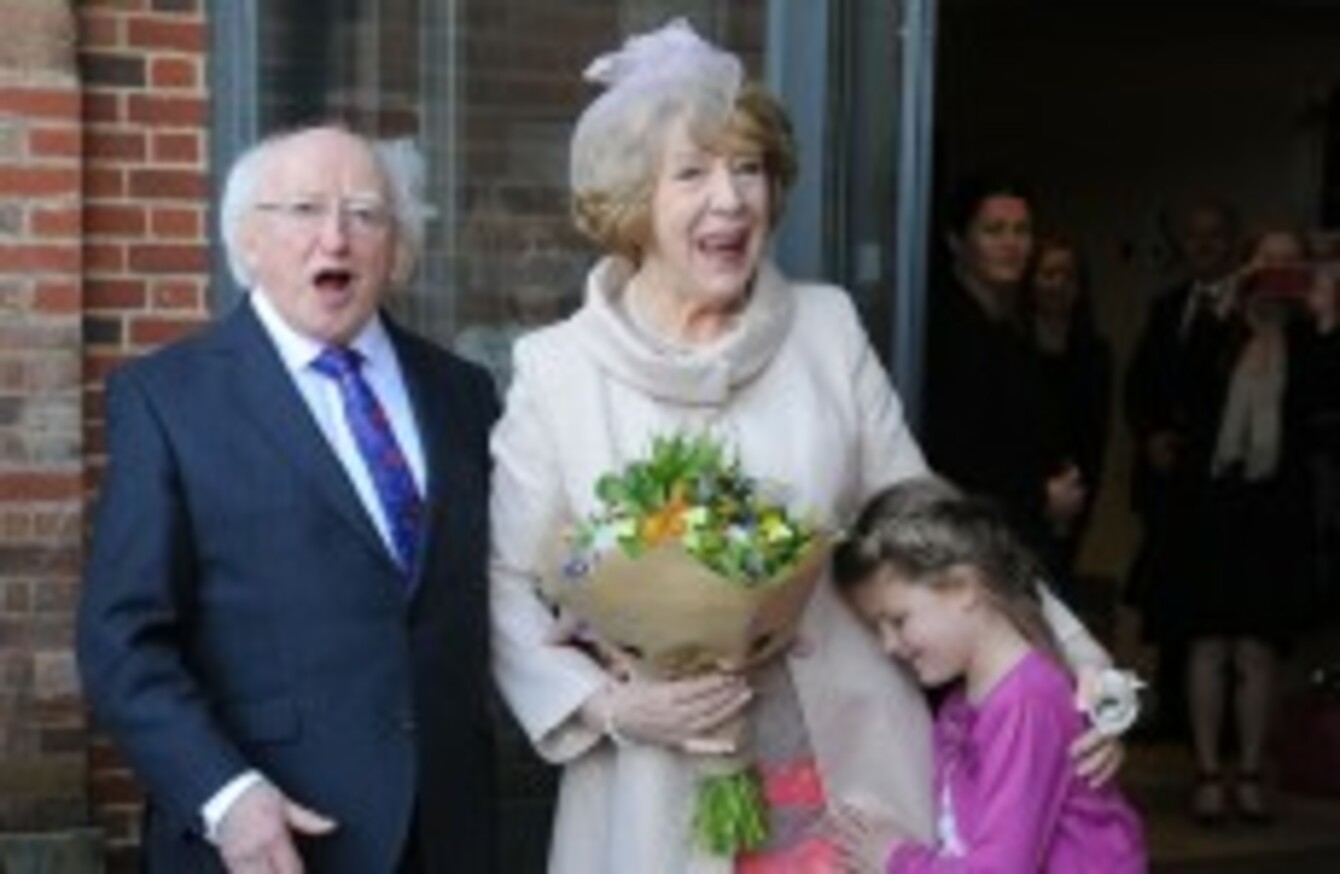 Martha Wainwright 6, presents flowers to Irish President Michael D. Higgins and his wife Sabina Higgins
Image: Joe Giddens
Martha Wainwright 6, presents flowers to Irish President Michael D. Higgins and his wife Sabina Higgins
Image: Joe Giddens
PRESIDENT MICHAEL D Higgins is back on Irish soil after his historic visit to the United Kingdom.
The President's plane touched down in Casement Aerodrome, Baldonnel shortly after 6pm this evening to conclude four-days of official events that marked the first trip by an Irish President to the UK.
President Higgins' final official event took place in Coventry this afternoon where he spoke to members of the Irish community in the west-midlands city and visited Coventry Cathedral.
Speaking before he left for Ireland this afternoon, the President said that he felt there was a certain honesty about shared history that shone through during the course of his visit.
"It confirmed to me that we weren't just going through the motions of a formal visit but that there was a great interest in carrying things forward. We discussed necessity of being continually vigilant."
Both sides emphasised a very honest version of the past. There was no attempt in any of the the speeches from either side to effect some kind of amnesia that wouldn't have authenticity. It was a facing up to the fact that you do have different versions of similar events.
"We're not required to be sentimental about each other all of the time. What we know is that we love having a laugh at each other but it's even more important to have a laugh at yourselves, " he added later when once again touching on the subject of openness.
The President was also asked about the invitation that was extended and accepted to members of the British Royal Family to participate in the commemorations of the 1916 Rising.
He said that he felt that shared grief is a part of the process.
"The presence of commemorations as organised by the Irish government are matters for the Irish Government but I haven't the slightest difficulty in recognising shared grief, in recognising the personal actions are based on ethics of the highest kind."
President Higgins also acknowledged the significance of the presence of Norther Ireland First Minister Martin McGuinness at the banquet at Windsor Castle on Tuesday:
It was very important that all of those who were invited by their hosts participated fully in all of the events. I think that we would only have to speculate, as your good selves would have in the media, of what it would have been like if we were here at the end of a visit and we were explaining absences rather than presences.