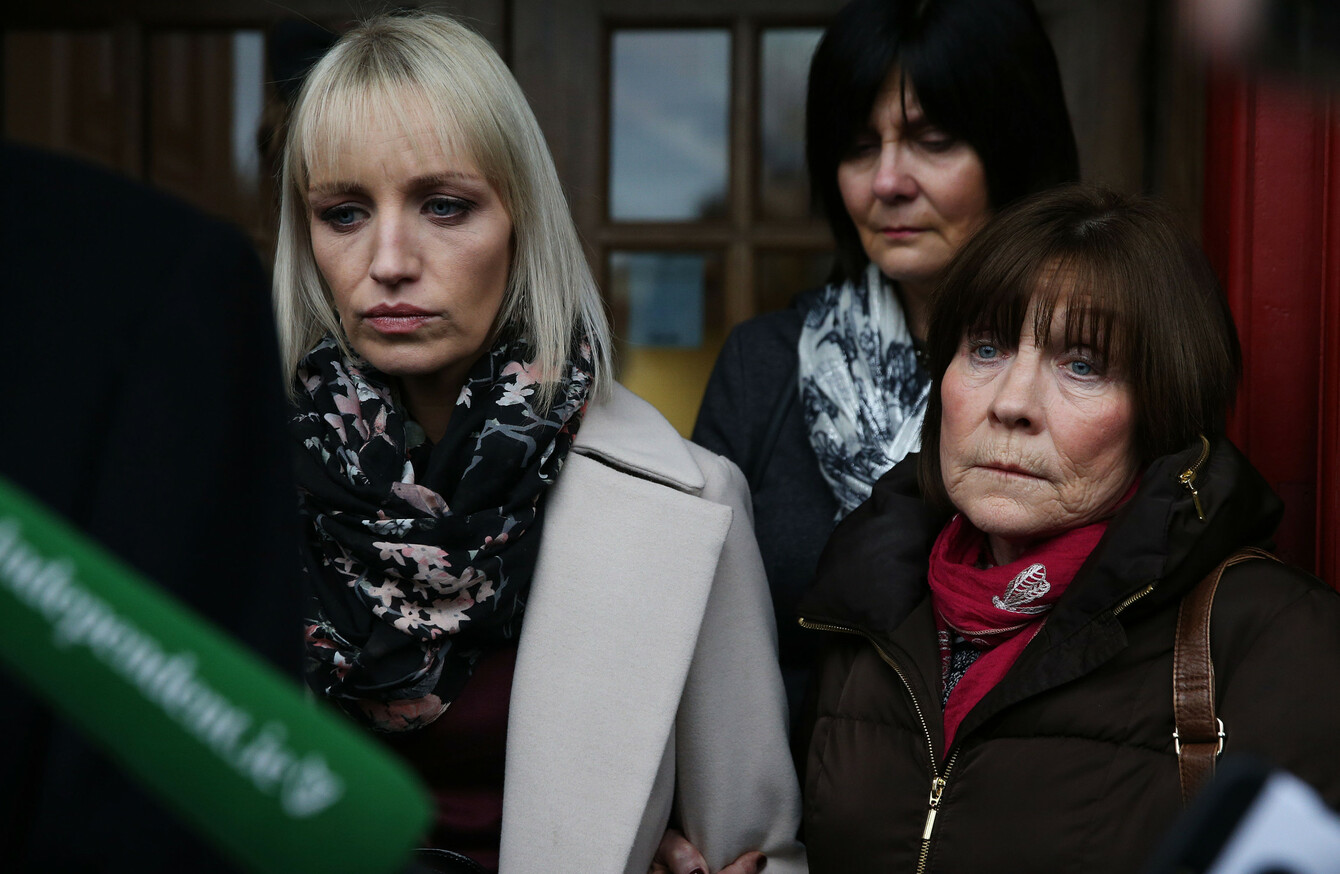 Clodagh Hawe's mother Mary Coll (right) and sister Jacqueline Connelly outside Cavan Courthouse today.
Image: PA Wire/PA Images
Clodagh Hawe's mother Mary Coll (right) and sister Jacqueline Connelly outside Cavan Courthouse today.
Image: PA Wire/PA Images
Updated at 6.30pm
THE SOLICITOR OF the family of Clodagh Hawe has said that that "they're people of extraordinary dignity" following the following the verdict at today's inquest into the Hawe family deaths.
This afternoon at Cavan courthouse the inquests into the deaths of Alan Hawe (40), Clodagh (39), Liam (13), Niall (11) and Ryan (6) at their home at Oakdene, Barcony, Ballyjamesduff on August 28, 2016, were concluded.
A jury recorded death by suicide for Alan Hawe and that of unlawful killing in regards to his wife and three children.
Speaking on RTÉ Radio One's Drivetime this evening, the Coll family solicitor, Liam Keane, said that the family has been through a "terrible ordeal" throughout the inquest.
"It's a terrible ordeal to have to go through, but they were aware that it had to be done. They're just glad it's over," Keane said.
"One can only imagine the horror that Mary Coll (mother of Clodagh) was faced with. They've coped as well as anyone could."
Mary Coll has said that she had a feeling something "terrible" had happened to the family when she arrived at the house that morning to find Alan's note saying not to enter the home.
Keane said, "this was probably a mother's instinct, coupled with things that her daughter had confided in her".
"[Alan] had explained to his counsellor that his position, as what he described as a pillar of the community, was under threat. That was a factor that the Coll's are aware off," Keane said.
"However, nobody could have foreseen anything like this, as professionals, we often deal with situations akin to this, but anybody listening to what transferred at the inquest could not but have been moved by the horror of what happened."
Coll family statement 
Following the verdict earlier today Keane, read out a statement on behalf of Clodagh Hawe's sister, Jacqueline Connolly and her mother Mary Coll:
On August 29, 2016, we lost our daughter and sister Clodagh and her lovely sons Liam, Niall and Ryan in the most horrific circumstances. They were savagely and brutally killed by Alan Hawe in a premeditated and calculated manner. We are aware that the inquest has a limited role in law in that its function is restricted to establishing how, where and when our loved ones died. However it is clear from the evidence presented that Clodagh and the boys were killed in a sequence that ensured that the eldest and most likely to provide effective resistance were killed first, and that they were executed in a manner which rendered them unable to cry out for help.
The inquest does not address why Alan Hawe committed this savagery but his counsellor has said that he was concerned about his position as 'a pillar of the community' and we are aware that he was concerned at his imminent fall from that position and the breakdown of his marriage.While the psychiatrist has attempted as best he could to create a retrospective diagnosis based on items and records, his GP who knew him for five years said he never displayed any signs of depression.
We want to thank Gardaí Ratcliffe and Walsh, the first gardaí at the scene, sergeant Arthur O'Connor from Ballyjamesduff, the investigating gardaí, Sergeant John Roddy, the garda family liaison officer, the other frontline responders, our family, friends and neighbours in Virginia County Cavan, Clodagh's friends, colleagues and the community in Oristown, Co Meath, where Clodagh worked.We are aware of all those affected by these killings, especially the friends of Liam, Niall and Ryan, and their parents.
And finally we ask the media and the public generally to respect our privacy and to allow us to grieve with dignity.
Hawe family
The parents of Alan Hawe issued the following statement after the conclusion of the inquest, through their solicitor, Michael Hannigan:
Statement by Stephen and Olive HaweLast August we received news no family should ever have to hear . In one night we lost three beautiful grandchildren, a beloved daughter-in-law and our son Alan. Death's dark door opened and we have struggled over the last 16 months to comprehend how this came to pass .
We have had some light shed upon that darkness with the insight gained from thorough examination of the report of Professor Harry Kennedy and his opinion that Alan suffered from severe depressive illness . It does not make the pain and loss any easier for us .We sincerely thank the Coroner Dr Flanagan for the extraordinary work she and her staff have put into this inquest.
We pay particular tribute to the members of an Garda Siochána under the leadership of Superintendent Leo McGinn and Detective Inspector James O'Leary. We extend our heartfelt thanks to the Garda first responders Gardai Alan Ratcliffe and Aisling Walsh and the paramedics who attended the tragic scene.We thank our Garda family liaison officers Garda Lisa Stephens and Sergeant Ted Hughes who have helped us through very dark days. We wish to thank Michael Lanigan our solicitor for his work and assistance throughout the last year.
We thank all those who have taken the time in the last year to contact us with messages of support and prayer from all parts of the country, they have brought us great solace.
If you need to talk, contact:
Samaritans: 116 123 or text 087 2609090
Aware: 1800 80 48 48 (for depression and anxiety)
Pieta House: 1800 247 247 or email mary@pieta.ie (for suicide and self-harm)
Teen-Line Ireland: 1800 833 634 (for ages 13 to 19)
Childline: 1800 66 66 66 (for under 18s)
Domestic violence support: Safe Ireland
You can contact Women's Aid on 1800 341 900.