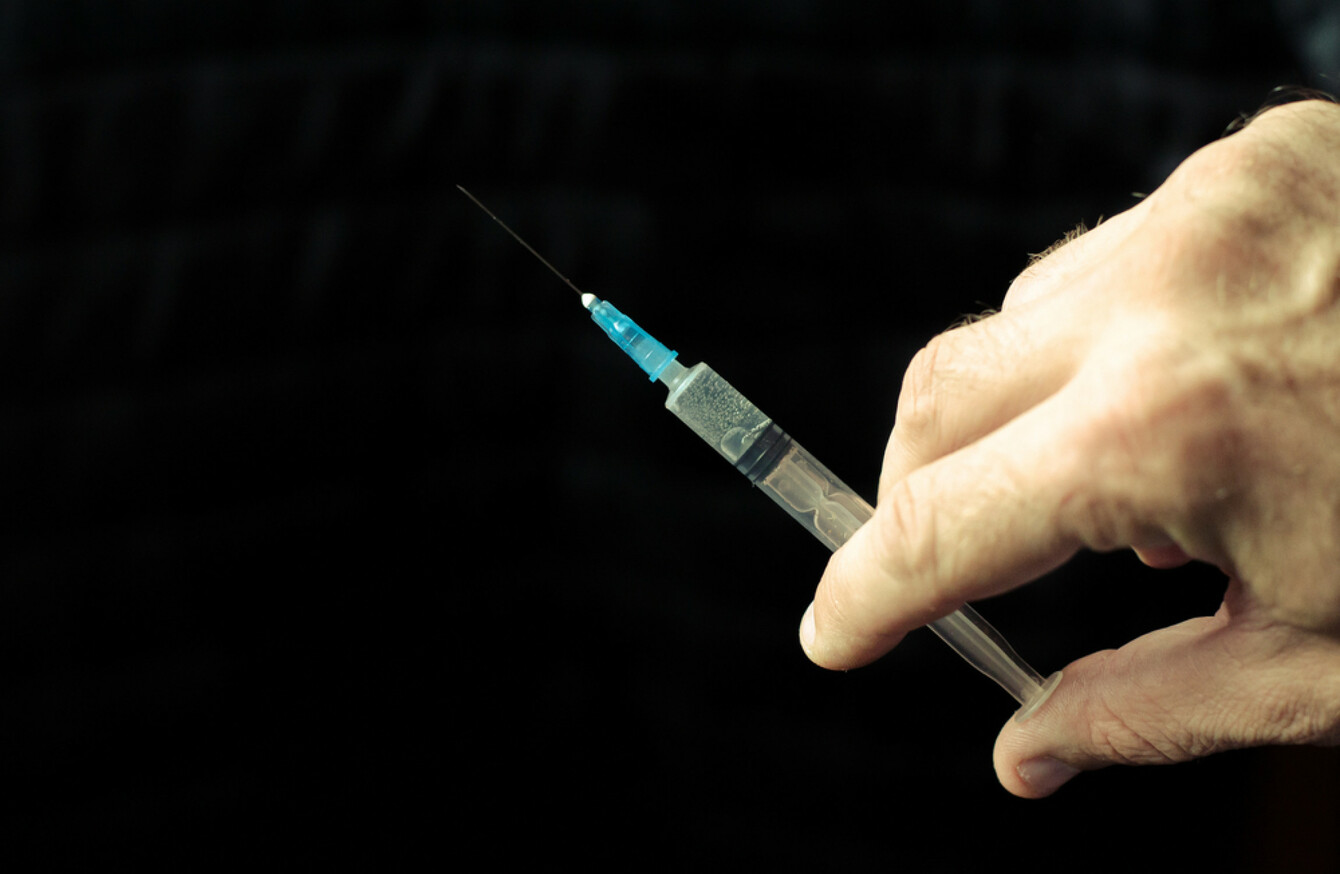 Image: Shutterstock/vandame
Image: Shutterstock/vandame
INCREASED NUMBERS OF steroid-users are seeking out needle exchange services in Limerick, according to an addiction service which offers outreach support in the city and surrounding counties.
The increase observed by Ana Liffey Drug Project Mid-West reflects a nationwide trend. A number of indicators point toward a rise in unregulated use of anabolic steroids across Ireland in recent years.
"We're definitely seeing more people – whether that's because of better education and better engagement because of that, or whether it's an increase in people using steroids I'm not sure," Rachel O'Donoghue, team leader of ALDP Mid-West, said.
The organisation, which has operated in Dublin since the early 80s, set up in Limerick six years ago. And while there had been a handful of steroid users who sought out the service for clean injecting equipment, there's been a steep rise in demand over the last two to three years – particularly from a younger age group.
Said O'Donoghue: "I think it's always been there – but I think that people weren't as open to engaging with the services for their needle exchanges. You always had a few people that were into the power-lifting and the competitions – people that were using them a long time. Definitely, recently, we're seeing more young people arrive for an exchange."
Around 20 different men who use the injecting equipment solely for steroids and body-enhancing drugs now engage with the outreach team regularly.
Some are in their early 20s and play GAA or rugby, while other regular users are weightlifters aged in their 30s or 40s. 
They would talk as well to us about younger people … and there is that whole image – that 'Instagram life' – a lot of the guys who are involved in the competitions would give out about people that are purely there for taking pictures.
There was also a steep increase in demand from young women, several years ago, for needles to inject Melanotan – a drug that prompts the body's production of melanin and increases tanning.
That kind of disappeared again – but it was a similar thing in that it was young people and it was all about their image.
Unsafe
Steroid-users often don't see themselves as an at-risk group, O'Donoghue said – and a lack of education in safe injecting practices has, in recent times, led to people developing abscesses and other infections.
Weightlifters, for instance, would sometimes keep one needle in their locker – reusing it until it became blunt and rusty.
"Our recommendation is you use a needle once and if it punctures your skin once – if it punctures anything once – it needs to be thrown away.
If you put it under a microscope you would see it turns into a little hook, so it would do damage straight away to your skin and create abscesses. We've heard of young people developing very serious abscesses and having to go to doctors, and picking up other infections from needles not being cleaned.
TheJournal.ie went along with an outreach team from ALDP Mid-West on one of their regular needle exchange circuits of the city this week.
Steroid-users are by no means the organisation's primary focus. Its aim is to help chaotic drug users who may be addicted to heroin, benzodiazepine-based sedatives or other psychoactive substances (there's been an increase in availability of crack-cocaine in the city in recent years, for instance). 
Last year, the Mid-West organisation engaged with over 250 people with addiction issues, including the 20 or so steroid-users. 
That smaller cohort tend to have a vastly different profile to that of other service-users, in that they generally have homes and full-time jobs.
One weightlifter, who arranged to meet with O'Donoghue and her team in a car park on the outskirts of the city, explained to us that he injected steroids as part of a 12 week programme coming up to competition time – twice per year. 
#Open journalism No news is bad news Support The Journal

Your contributions will help us continue to deliver the stories that are important to you

Support us now
He knew others who took them more regularly, and said many of them had experienced mood-shifts and other problems as a result of their steroid use. He asked for 200 needles – enough for injections every day of his 12 week plan.
"We mightn't see him for six months – that might be the way it goes," O'Donoghue explained.
It gets very busy before the summertime too. People getting ready for the holidays and things like that – but generally it's coming up to competitions you see more people.
Growing trend
The misuse of steroids has been linked to a range of side effects – including cardiac disease, blood clots, headaches, depression, aggression, irritability and stomach pain.
Nationally there's been a dramatic increase in seizures of illegally obtained steroids over the last three years – from 38,049 dosage units in 2015 to 449,411 last year. 
The situation in Limerick has been mirrored elsewhere in the country.
In 2016, the Dublin-based drugs and homelessness service Merchants Quay Ireland opened a dedicated service away from its main drop-in centre to accommodate steroid users who may have been wary of mixing with heroin and other drug users. 
The previous year, a review of the pharmacy-based needle exchange programme found that after heroin, steroids were the most common drug injected by clients.
Commenting earlier this year on the increased number of seizures, John Lynch, director of compliance with the Health Products Regulatory Authority (HPRA), warned that "the abuse and misuse of anabolic steroids can have serious consequences for the long-term health of the individuals who take them".
We would urge anyone using illegally sourced anabolic steroids to stop doing so and to seek advice from their healthcare professional if they have any concerns about their health.