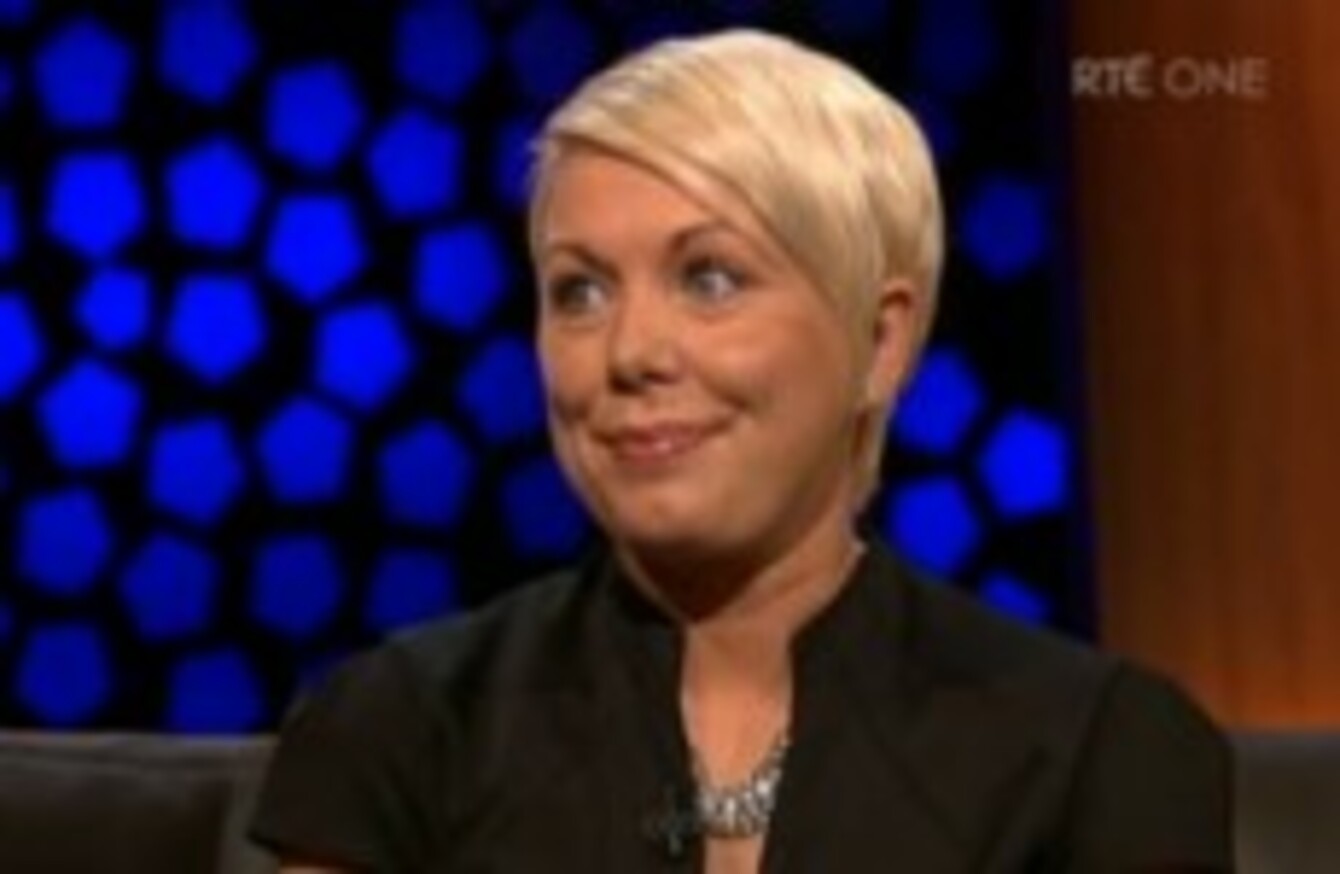 Stephanie Meehan
Image: RTÉ/screengrab
Stephanie Meehan
Image: RTÉ/screengrab
STEPHANIE MEEHAN, THE former Priory Hall resident whose husband died by suicide has said she doesn't want to comment publicly on remarks made about her partner by the developer of the north Dublin complex, Tom McFeely.
In a BBC interview broadcast last night, McFeely said he couldn't be blamed for for the death of Fiachra Daly, who took his life in July of last year — an action Stephanie attributed to the stress caused by the former residents' ordeal.
The former IRA man said he couldn't be held responsible in any way for the 37-year-old's death, adding:
"Why didn't everybody else not commit suicide in Priory Hall, what was the difference there?"
Speaking to Newstalk Breakfast this morning, residents' representative Graham Usher said those comments had been relayed to Stephanie. "I think in a quite a classy comment, she said she bore him no ill will," Usher said.
"I think people who saw the show will make up their minds about that."
McFeely's company built the infamous Donaghmede complex, which was evacuated due to fire safety concerns in 2011.
Public attention was refocused on the former residents' campaign for justice following Fiachra Daly's death, and his bereaved wife's public comments on the issue. The Government finally announced a scheme aimed at re-homing the Priory Hall mortgage-holders in October of last year.
McFeely — a former paramilitary gunman and hunger striker — spoke to BBC Spotlight for a series of interviews. The resulting programme was broadcast last night.
The unrepentant developer also said he didn't regard Priory Hall to be a 'shoddy' building and that he didn't think it was "any different than most of the other buildings in Dublin".
McFeely was also asked why he applied for bankruptcy in Britain rather than Ireland, and whether such a move was at odds with his republican militant past:
"Tell me something, if you were hungry tomorrow, which of the two passports would you eat to put the hunger off you?"
(Youtube: BBC English)
Asked by progamme-makers to explain the €200,000 in cash found at his former home on Dublin's Ailesbury Road, McFeely denied the money was his, and said that if it was he would have returned for it.
"Do you think for one moment [if] I left money behind me and I forgot about it, that even if the house was full of five or six or eight or ten security men, that I wouldn't have went in and took it out again?"
Helplines:
Samaritans 1850 60 90 90 or email jo@samaritans.org

Teen-Line Ireland 1800 833 634

Console 1800 201 890

Aware 1890 303 302

Pieta House 01 601 0000 or email mary@pieta.ie

Childline 1800 66 66 66