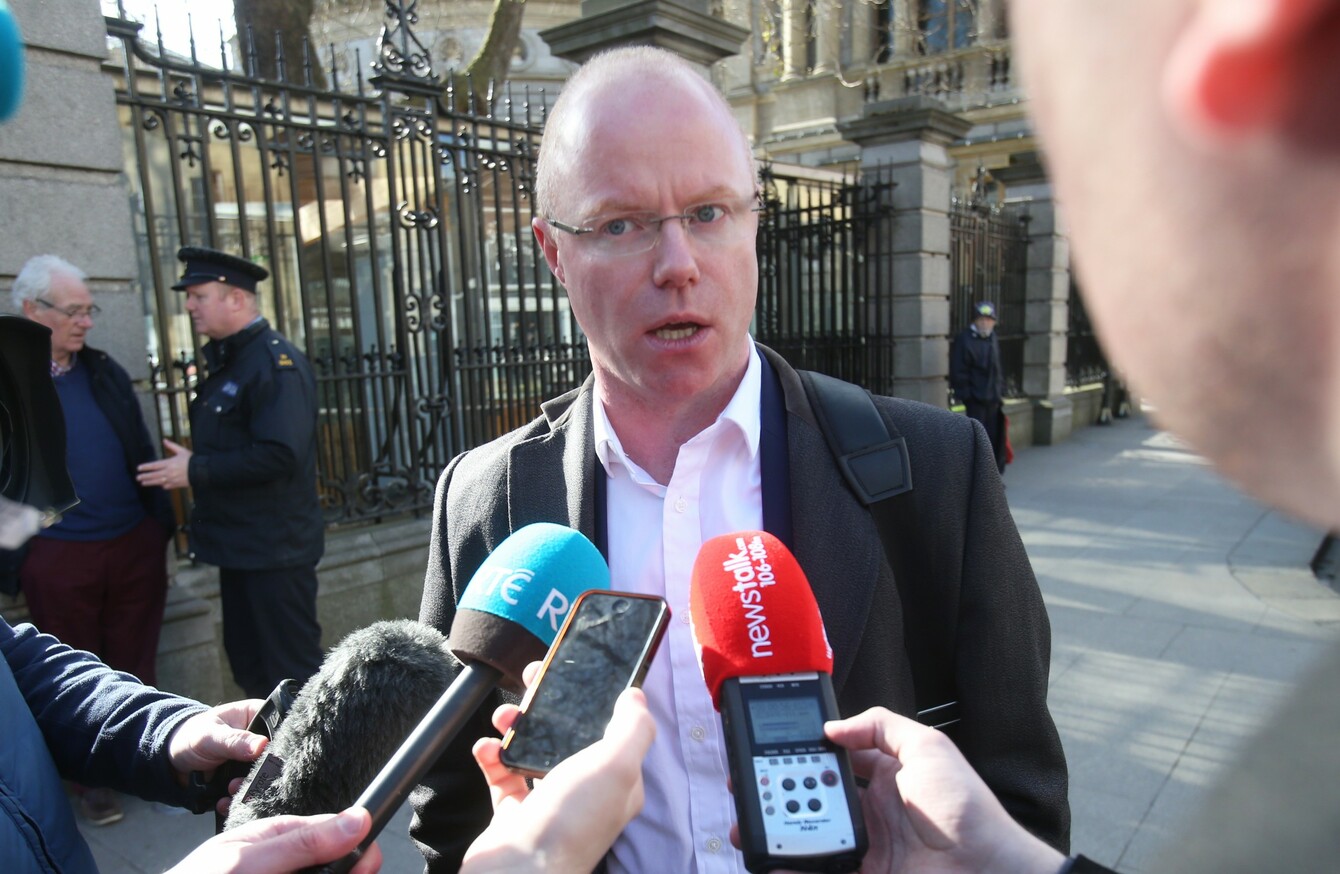 Donnelly was first elected as an independent TD in 2011.
Image: Leah Farrell
Donnelly was first elected as an independent TD in 2011.
Image: Leah Farrell
Updated 3.37pm 
STEPHEN DONNELLY TD has left the Social Democrats.
The party announced this afternoon that the Wicklow and East Carlow TD has left the party which was founded in July of 2015.
The TD has also confirmed that he is leaving the party.
In a statement, the party says that he has "walked away".
"We are disappointed that he has decided to walk away from the project, we undertook, to establish and build the party," the statement said.
Donnelly was one of the party's three elected TDs along with Catherine Murphy and Róisín Shortall. The three worked in partnership with the party having no single elected leader.
In the statement confirming his departure, Donnelly said that the three-person partnership was not working.
"It is a fact that some partnerships, in every walk of life, simply don't work no matter how hard all of the parties to that partnership try to make it succeed," Donnelly said in a statement.
My decision is based on the fact that for the Social Democrats to achieve its potential as a party of significant influence and scale, despite the many obstacles new parties face, one critical component is that the leadership team must function very well together as a team. In spite of everyone's best efforts, I have concluded that our partnership did not have that.
"I further believe that this would be the case whether the leadership had continued to be shared or was vested in one person, which was not something I or anyone else had sought," he added.
After the announcement that one of its most well-known voices was leaving, the party said in a statement that it remains "fully committed" to their project.
The project, it says, is not "dependent on one personality or politician":
This is a long term project which requires dedication, hard work, long hours and a major commitment from all involved including our elected representatives. The levels of dedication required for such a major undertaking can be overwhelming for some.
Speaking on Newstalk Lunchtime this afternoon Shortall expanded on his departure, saying that Donnelly has been "somewhat disengaged" from the party in the past few months and that his decision "hasn't come as a shock" within the party.
#Open journalism No news is bad news Support The Journal

Your contributions will help us continue to deliver the stories that are important to you

Support us now
"It's not an easy task taking on setting up a party and we were set up just over 12 months ago, and obviously there's a lot of groundwork to be done building a party from scratch, building it brick by brick,"she said.
A huge number of people are involved in that and I think it's the case that involvement in our party hasn't suited Stephen. It's a very different thing being a party member than being an independent.
Shortall said that his opinion on the Apple tax issue was "slightly nuanced" compared to some members but "not fundementally different".
On Friday, the Social Democrats said it was opposed to the government's decision to appeal the Apple ruling.
Donnelly has said that he "remains committed" to the principles he has worked for since he entered politics in 2011. He says he will now be consulting with his supporters "on the best way forward".
The Social Democrats ran a total of 11 candidates in the February general election and secured 3% of first preference votes nationally.
Its three leaders were re-elected, topping the poll in each of their constituencies, but no new candidates were elected.
The party also has 11 councillors nationally.