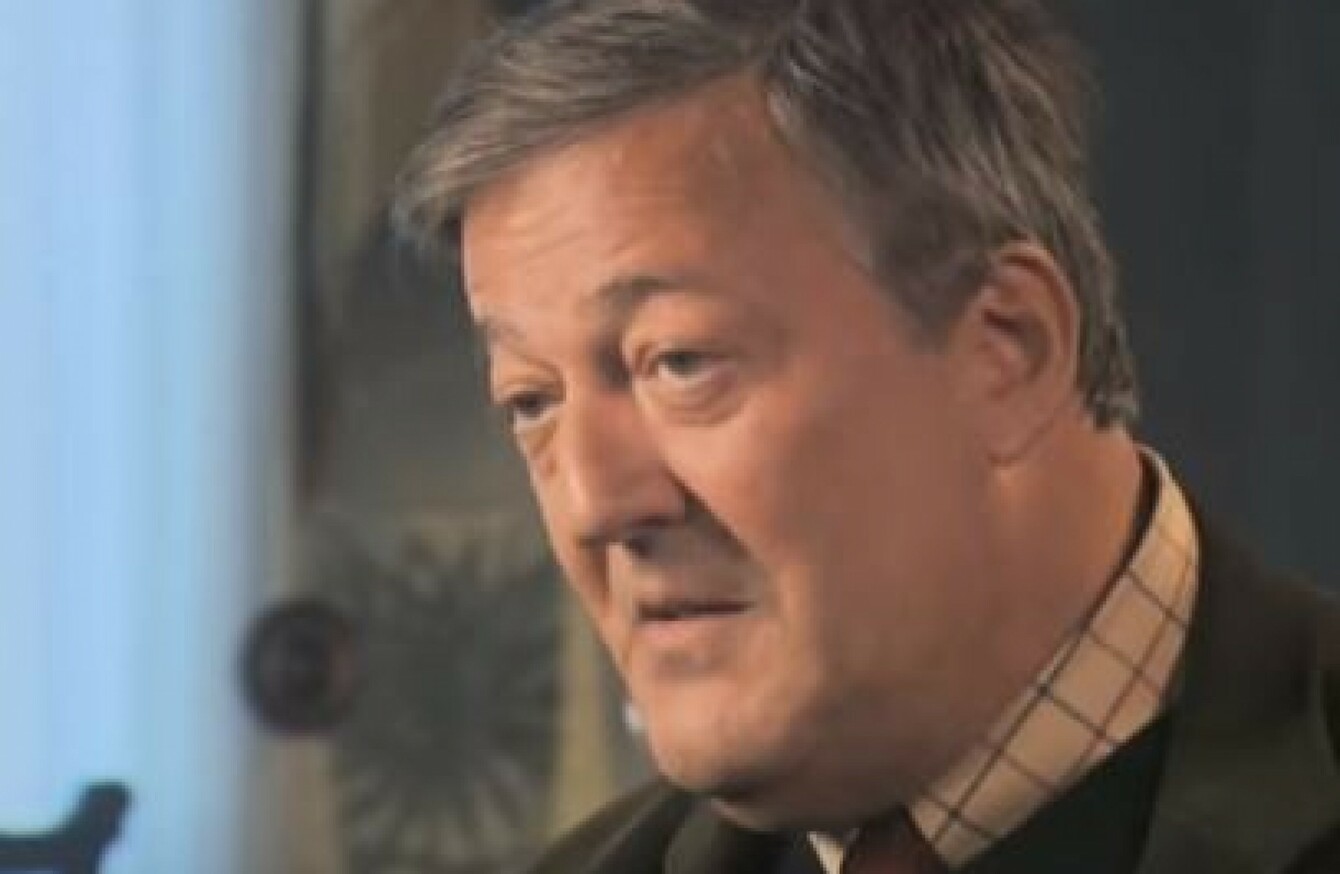 Image: Screengrab/YouTube
Image: Screengrab/YouTube
AN INTERVIEW WHERE Stephen Fry told Gay Byrne God was evil has been nominated for a religious broadcasting award.
The British actor and TV presenter appeared on an episode of RTÉ One's The Meaning of Life in February 2015.
The interview sparked a discussion about religious beliefs and has now been nominated for Interview of the Year at the Sandford St Martin Trust Awards.
The organisation was founded in the UK in 1978 by Sir David Wills, and lists its aim as "to promote the highest standards of broadcast activity dealing with religion, ethics and morality".
In the interview Byrne asked Fry, an atheist, what he would say to God if he met him at the "pearly gates" when he died.
"I'll say: bone cancer in children, what's that about?
How dare you. How dare you create a world in which there is such misery that is not our fault. It's not right. It's utterly, utterly evil.
"Why should I respect a capricious, mean-minded, stupid God who creates a world which is so full of injustice and pain? That's what I would say."
Byrne did not seem impressed, asking Fry:
"And you think you're going to get in [to heaven] on that?
"No, but I wouldn't want to get in on his terms, they're wrong," Fry replied.
He then said that if there is a God he must be an "utter maniac" and "totally selfish".
The interview got a huge reaction at the time, with millions of people watching the clip online.
You can watch part of their exchange below.
Source: RTÉ - IRELAND'S NATIONAL PUBLIC SERVICE MEDIA/YouTube
After it aired on TV, Fry told BBC Radio 4: "I don't think I mentioned once any particular religion and I certainly didn't intend – I know I didn't – to say anything offensive towards any particular religion.
"I was astonished that it caused so viral an explosion on Twitter and elsewhere. I'm most pleased I think that it's got people talking. I'd never wish to offend anybody who is individually devout or pious and goes about their religious ways."
Winners of the awards will be announced at a ceremony in London in June.