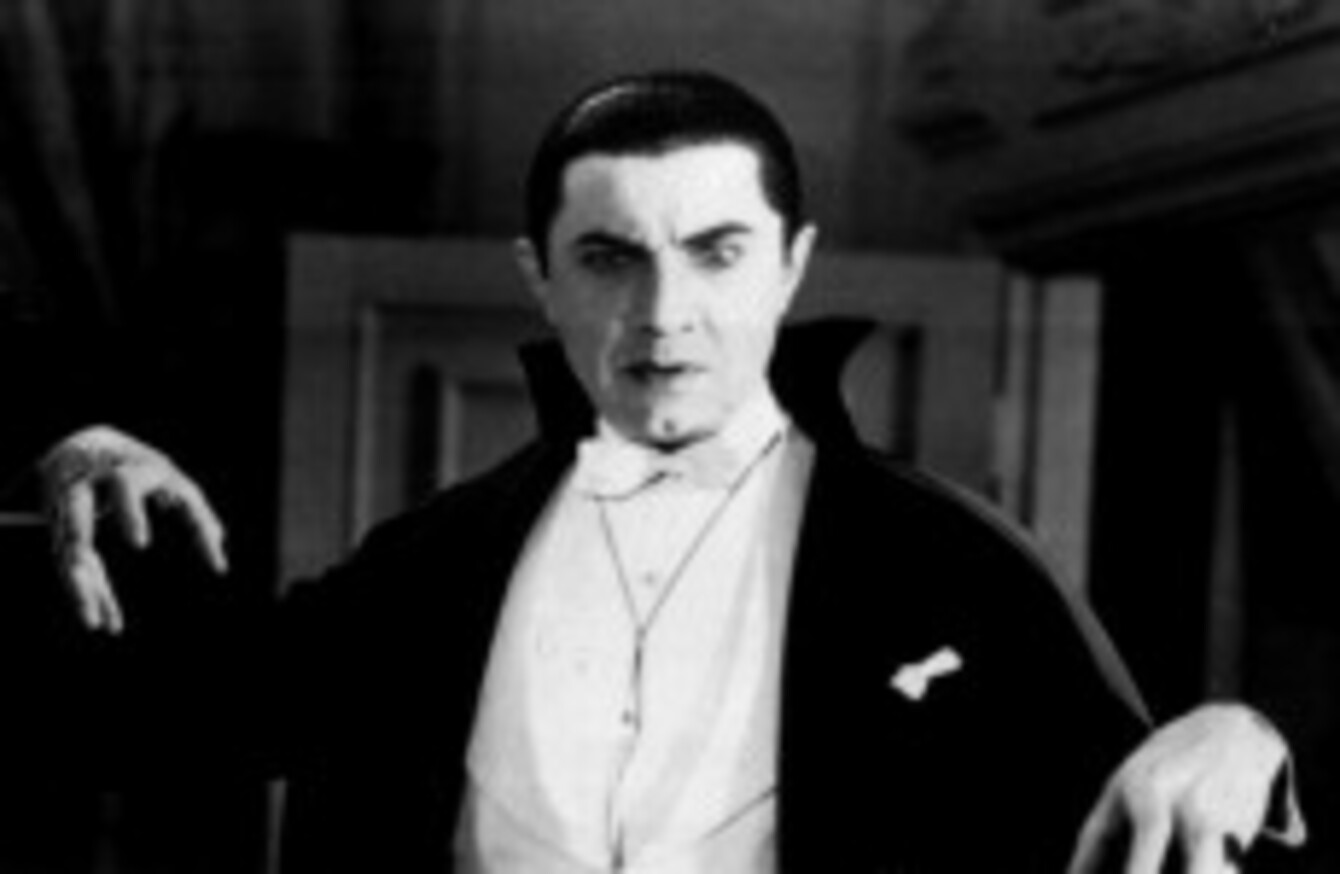 Bela Lugosi as Dracula
Image: Press Association images
Bela Lugosi as Dracula
Image: Press Association images
IF YOU HEAR the name 'Dracula', you probably picture a tall, lean man, with slicked-back dark hair and ghostly complexion, clad in a cape.
The popular image of the character is one that has been created through the work of people like Bela Lugosi, but of course Dracula was first born in Dublin, created in 1897 by Irish author Bram Stoker.
This weekend will see the Bram Stoker Festival taking place in Dublin, celebrating all things vampiric.
Dracula obsession
Author and journalist Kim Newman grew up obsessed with Dracula, first becoming intrigued when he saw the 1931 Bela Lugosi movie Dracula as a child, and today writes the Anno Dracula series of books.
This weekend, he has curated a series of Dracula movies for Stoker on the Square in Dublin. The event isn't just aimed at Dracula obsessives, and there are even a few films selected for children.
Why does he think Dracula is such an enduring character?
"Of all the monsters I can see why Dracula is the most often done, because there's the most possible variations," said Newman.
A werewolf doesn't really have any choice – he's just an animal. Whereas Dracula, you have a sense he's made a decision to be, which is scary. He's also chatty, you can talk to him. He's got a dress style, he's got a castle – that's good. He's got modus operandi, big plans. He's sort of a formidable baddie.
Dracula the book wasn't an instant bestseller.
"It didn't really take off as a book until Stoker was dead," pointed out Newman. "It was adapted for the stage in the 1920s, it was big in the West End of London and Bela Lugosi brought it to Broadway. Then touring companies took it all over the place and it was a really popular stage show, and then that was made into a movie."
It wasn't until Nosferatu that Dracula the book really took off, said Newman. "When Bram Stoker died, his obituaries barely mentioned he was a novelist," he added.
Because Dracula was the first big horror film of the 'talkies' era, "it was like before Dracula there wasn't such thing as a horror film, and afterwards there was," said Newman.
It sparked a spate of horror releases – like Frankenstein and the Mummy. "All the other studios said 'get me a film like Dracula'…"
The image of Bela Lugosi, with glowing eyes, and widows peak, "became what Dracula looked like".
"That meant that Dracula escaped from the book and then became something you could do [something with] Dracula stories that didn't even refer to the book."
Newman began to write books featuring Dracula as he "felt that it was open source by now", but says in some ways he wanted to bring it back to Stoker.
"I wanted to make him a bastard again, I wanted to make him really evil, but also in a world where there are lot of vampires I wanted to make sure he was the worst one," laughed Newman.
There is much folklore around the idea of vampires – including obsessive counting, which perhaps unintentionally echoes the Count in Sesame St. "If vampire is chasing you, you can save yourself by throwing pumpkin seeds on the ground and he will be compelled to stop and count them."
Dracula's legacy

(oldhollywoodtrailers/YouTube)
While Newman finds Stoker an interesting man, he said: "He's not a great writer, but he wrote a great book."
"Stoker didn't seem to have any sense of his own influence," said Newman. "I don't know what he would think of Dracula movies. He did want to adapt it to the stage, and did a rough script."
Today, a world without imaginary vampires is hard to fathom, particularly given the success of tween movies and books like Twilight.
Newman suspects Stoker would be astonished at his own success, and says there is room "for sparkly romantic vampires".
It's not what I would pick, it's not what I would write. But no, I think there's room from the Count of Sesame St, Blackula – all the other versions I'm happy to live with.
For Stoker on the Square, Newman has selected: Dracula (1931), The Brides of Dracula (1960), Blood for Dracula (1974), Dracula Pages from a Virgin's Diary (2002), The Monster Squad (1987), and  Hotel Transylvania (2012).
Stoker on the Square will be screened at Meeting House Square from 26 to 28 October. Tickets available at: www.bramstokerfestival.com
Have you read the book Dracula, or have a favourite Dracula film? Tell us more in the comments.