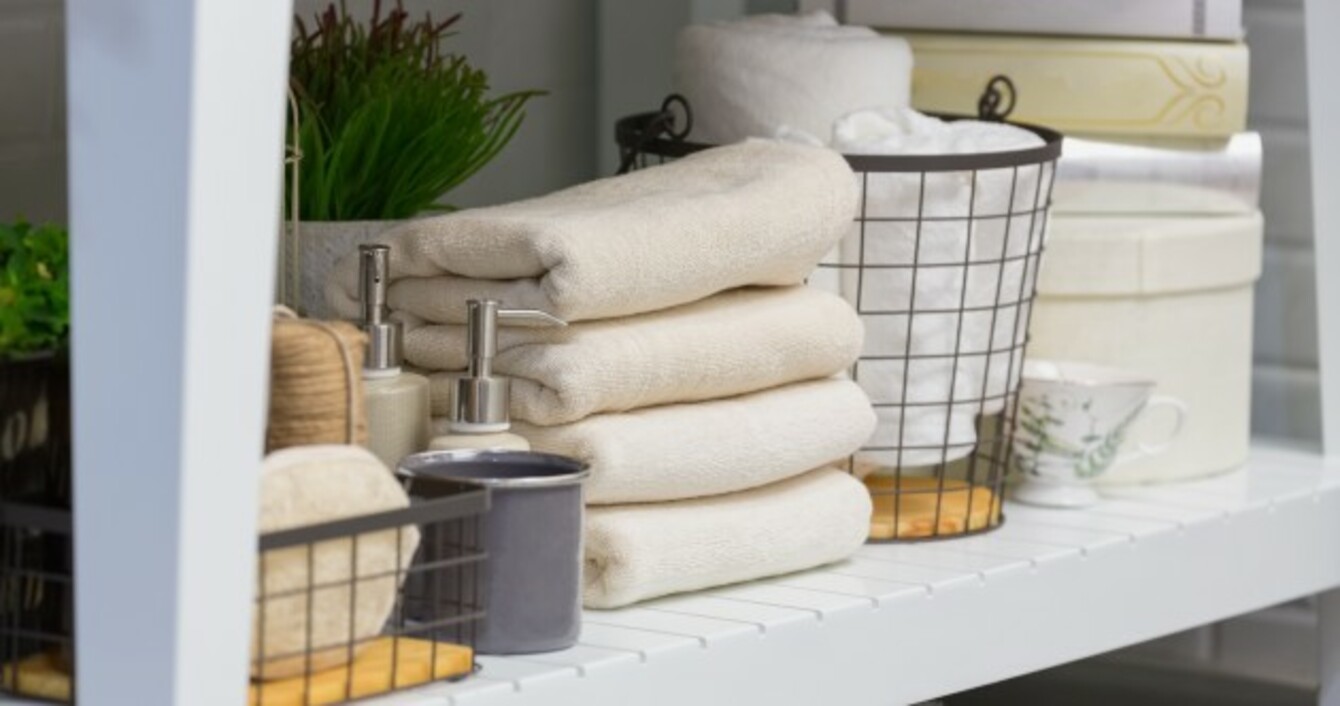 Image: Shutterstock/WichitS
Image: Shutterstock/WichitS
BOUNDLESS LIVING SPACE – where everything has its own cupboard – is the dream. But for most regular homeowners, it's not the reality.
Even in a fairly spacious family home, people and their things take up a lot of room, plain and simple. Every square inch counts, meaning you have no choice but to think strategically.
It might feel like an inconvenience not to have all the space you need, but limited space can lead to a more streamlined home. Figuring out smart storage and organisation solutions is incredibly satisfying, as if  you've unlocked a secret: creating more living space where it didn't seem to exist before.
Thankfully, with the likes of IKEA and The Organised Store leading the charge on smart solutions, they've taken a lot of the thinking out of the equation for us. Here are six storage tricks you might not have thought of that will transform the way you live…
1. Fit more hangers in your wardrobe
It's likely that you've seen mentions vertical multi-hangers like these ones in Instagram ads or on Amazon, and unlike many of the products popping up on your social media feed, these cheap and cheerful game changers are certainly worth engaging with. Quite simply, they come as one hanger with several sub-hangers. You hang your shirts or trousers on each individual hanger as it's sitting horizontally – and then when you're done you adjust the main hanger and your clothing will fall vertically, meaning what would have taken the space of five shirts or pairs of trousers across your wardrobe rail, will now only take the space of one. You just need to ensure your rail is high enough so that nothing is touching the floor.
2. Use the back of your doors
Shift your thinking away from boxes and cupboards and look at every space in your house as having the potential to turn into a storage solution. One thing often overlooked is doors. For the bedroom or bathroom, hang a shallow multi-compartment storage hanger from a hook (some of them don't require a hook at all as they can slot in over the top of the door) allowing you to free up crammed vanity units or to organise your accessories in a way that means you'll never lose them. Shoes work here too. For the kitchen, I love Elfa's range of storage solutions (available online or at The Organised Store) where you can easily store spices, utensils – anything that's not too bulky but would otherwise take up much needed shelf space.
3. Store bulky items above kitchen cabinets
This is a space you don't need to buy another piece for. Most kitchens with wall mounted cabinets will have a little depth on top where you can hide things like pots and pans that are too big to fit in a cupboard, or things you need in the kitchen but aren't likely to use that often. Be sure to avoid storing anything near your extractor fan as it may impede its function and also get your items a little greasy. Check out the space that's available up there – while ensuring your safety – and see what you could hide away to be kept out of sight. An overflow of cookbooks can work up here.
4. Add shelving to high-up locations
We tend not to make use of the full height of our walls but where storage space is limited, it's wise to look up. A sturdy deep shelf over your bathroom door will allow you to store your stock of toilet roll (hello, COVID-19 panic-buying), or perhaps your guest towels. As with the storage above your kitchen cabinets, this kind of solution is good for products or items you won't need to reach every single day. In the living room, high shelving allows you to maximise your bookshelf storage be mindful of aesthetics here. If you're a fan of pared back minimalism, one high shelf will allow you to store items while keeping the rest of your walls free, or if you liked the busy but organised look, choose one wall and continue the shelving from floor up to ceiling.
5. Re-doing your living areas? Opt for seats with built-in storage
This requires a bit more work – and perhaps a carpenter to make something that fits perfectly to your space. If there's a dedicated corner in your kitchen/living/dining room area that you are happy to dedicate to your dining table and seating, consider building bench or banquette-style seating (which you can have upholstered or simply cover with cushions). Not only will this maximise your space, allowing you to go right up against a wall or in a corner, you will be able to get far more people around the table with less need for chairs. Most of all, you can ask the carpenter to build it in such a way that the seat parts lift up allowing you to access a considerable amount of storage inside. Great for excess tableware, candles, tablecloths, bulkier items that won't fit in cabinets.
6. Add a radiator cover for extra shelving space
Despite advances in design, radiators still aren't the prettiest thing you can have in your home, but of course they are essential. Radiator covers dramatically improve the aesthetic – you can continue your wall colour over the wood that covers the radiator to create a more seamless look. Storage wise, radiator covers give shelving space where it did not exist before. Suddenly you have an extra mantlepiece in the living room or book storage in your bedroom where perhaps bedside tables are too bulky. Be careful about what you store above your radiator cover – because of the heat – and ensure the radiator can still do its job and circulate air (best to have a carpenter look at this for you).