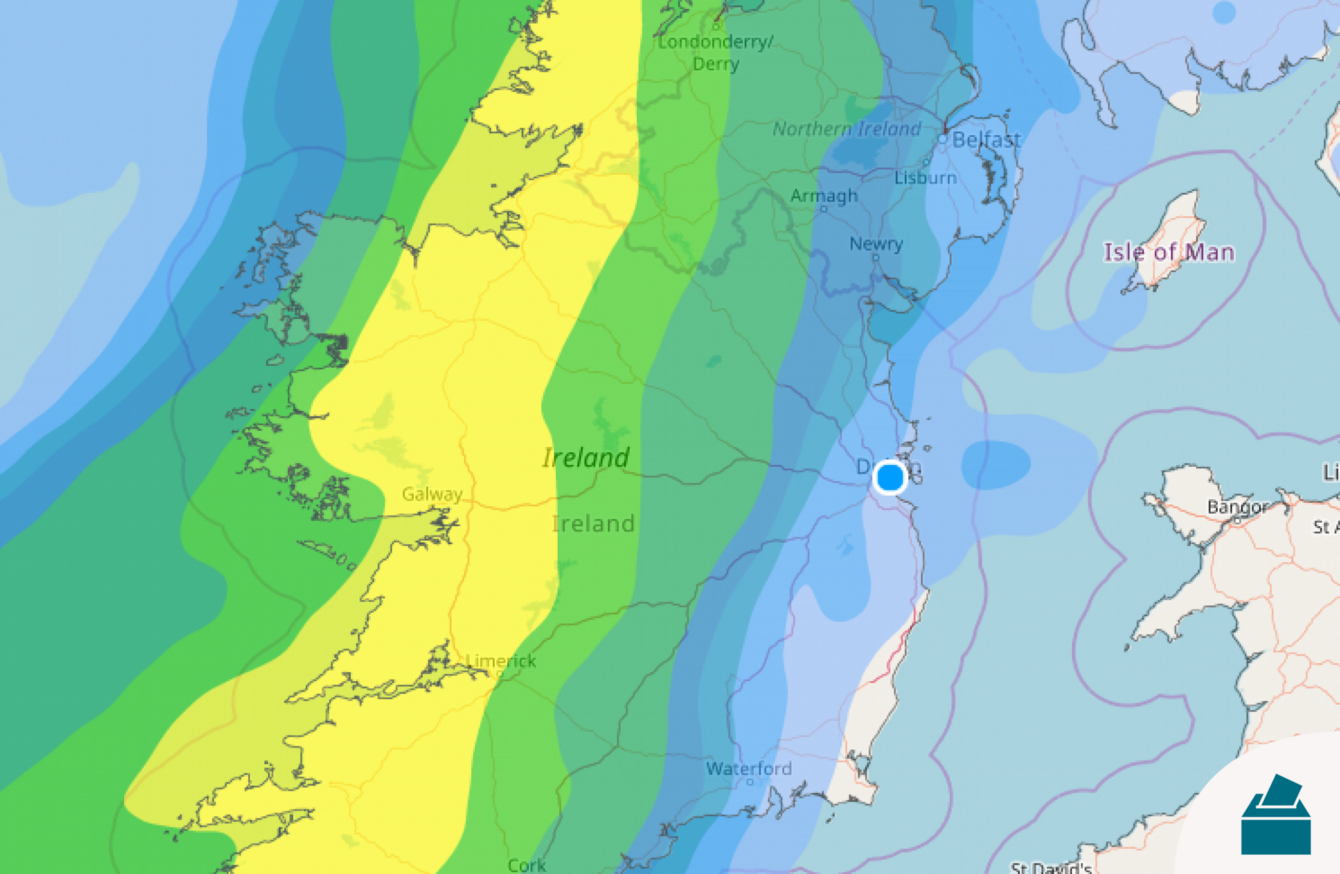 Met Éireann's rainfall forecast for Saturday afternoon.
Image: Met Éireann
Met Éireann's rainfall forecast for Saturday afternoon.
Image: Met Éireann
Updated Feb 5th 2020, 6:35 PM
STORM CIARA WILL bring a weekend of unsettled weather, including heavy rain and strong winds on election day this Saturday.
The storm was officially named by the UK's Met Office, and is expected to bring unsettled weather this weekend. 
Met Éireann says that after a mostly dry start on Saturday morning, heavy rain and strong winds will move eastwards over the country. The forecaster says this will bring the risk of "very strong squally winds for a time in the afternoon".
Voting in Saturday's general election begins at 7am and continues until 10pm.
The rain will ease on Saturday evening and turn showery but strong winds will return on Sunday when the counting of ballots will also begin.
"Current indications suggest a very strong and squally southwest wind will develop on Sunday along with heavy rain as Storm Ciara moves eastwards to the north of the country," Met Éirean says in its latest forecast.
"The rain will clear to showers and squally westerly winds later in the day."
Wind warnings are in place for the UK on Saturday and Sunday but Met Éireann has yet to issue any warnings for Ireland.
In a meteorologist's commentary on Storm Ciara, Met Éireann's Evelyn Cusack said unsettled weather would continue into next week, when cold air from Canada and the North Atlantic brings low pressure towards Ireland.
"Next week, conditions will remain very disturbed across Ireland and the UK," she said.
"It will remain very windy and turn much colder with the chance of wintry showers and ice in some parts."
Cusack also warned of possible flooding in coastal areas arising from windy and stormy conditions next week, which will coincide with high seas as a result of spring tides.
She also advised members of the public to keep an eye on forecasts as predictions improve over the next few days, in order to be up to date if any warnings are issued by Met Éireann.