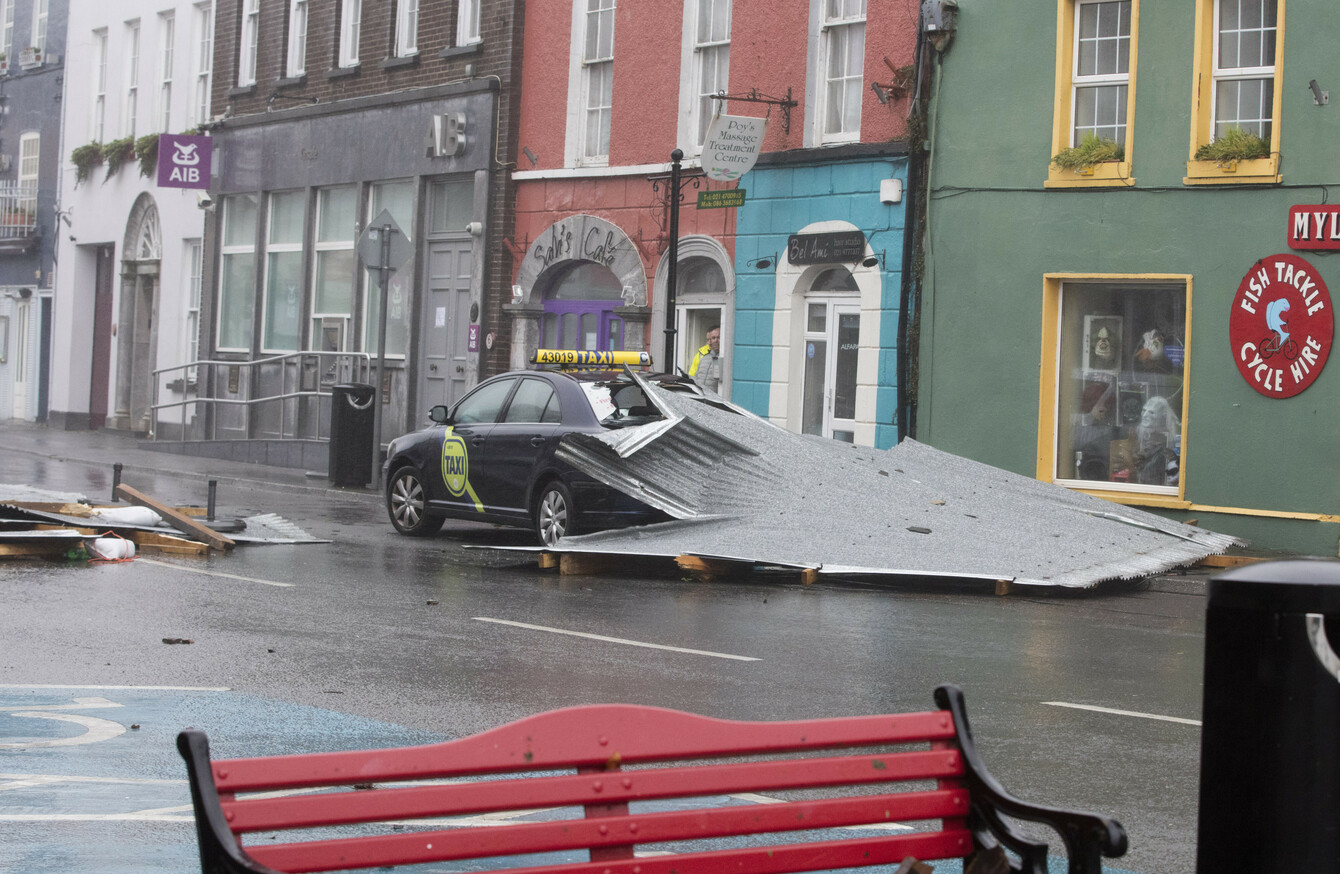 Image: Eamonn Farrell
Image: Eamonn Farrell
AS STORM OPHELIA swept across Ireland on Monday, killing three people, much of the country sat glued to the rolling coverage.
As the storm worsened, video clips of roofs flying off and coasts being battered were posted across the internet.
While most were taken from safely indoors, a small number of professionals were out trying to capture photos and video of the storm in full force.
But how do you balance the desire to get a photo and personal safety?
Eamonn Farrell of RollingNews.ie is one photographer whose work you will have seen on this site and nearly every paper in the country. He was on a holiday in Kinsale, Co Cork when the storm hit.
Having his cameras on him, he ventured into the rain on the south coast.
Farrell told TheJournal.ie that while it wasn't the most difficult or dangerous assignment he has faced personally, there are still ethical questions at play.
"The issue is when you have something new or unprecedented, what right do you have to do to get other people to cover it?
It comes down to the question, what is our role? It's not just another job, being a journalist, despite what some people think.
"You have an obligation to let the people know exactly what's happening."
But how is that managed? How did Farrell, in a coastal town facing hurricane-strength winds, make that call? As the owner of his business, he alone could make the call about what was necessary to capture and how safe he felt.
In the first instance you have to put your safety first. Can I show what needs to be shown and withdraw from danger?
"This is your job, but you don't want to lose your lives.
"With my staff, you're asking them to do it by using longer lenses, find shelter or stay back. Bus shelters and corners of buildings are very handy."
Does that mean that no risks are taken? Absolutely not. Irish photojournalists have been injured in the course of their work – in 2011, Press Association snapper Niall Carson was shot covering a riot in the North.
How as an editor, do you balance that danger against not just your obligation to the public, but your business?
For Farrell, experience helps. As does a dose of cop on.
It's all about common sense. There is a certain extent that adrenaline takes over and you do take risks, but you have to take control of that adrenaline.
"If you look at the images people are seeing from warzones or natural disasters – it is physically being recorded by humans who are there."
To that extent – the extent that risk is unavoidable is certain situations – Farrell knows that the loss of two cameras to Ophelia's rain isn't the highest price he could
"During the storm, I decided that I needed to get from a to b. In the process, the water was pouring in a flood down the street, but I needed to get to the other side.
"I had to get across the street and try to get the other side of the harbour. In that five minutes I was soaked to the skin and lost two cameras.
But you have to try to accurately reflect the situation. You know how they say 'the camera never lies'? The camera lies all the time.
"The image without interpretation it can be misleading. That's our job – top get an accurate reflection of what's actually happening."