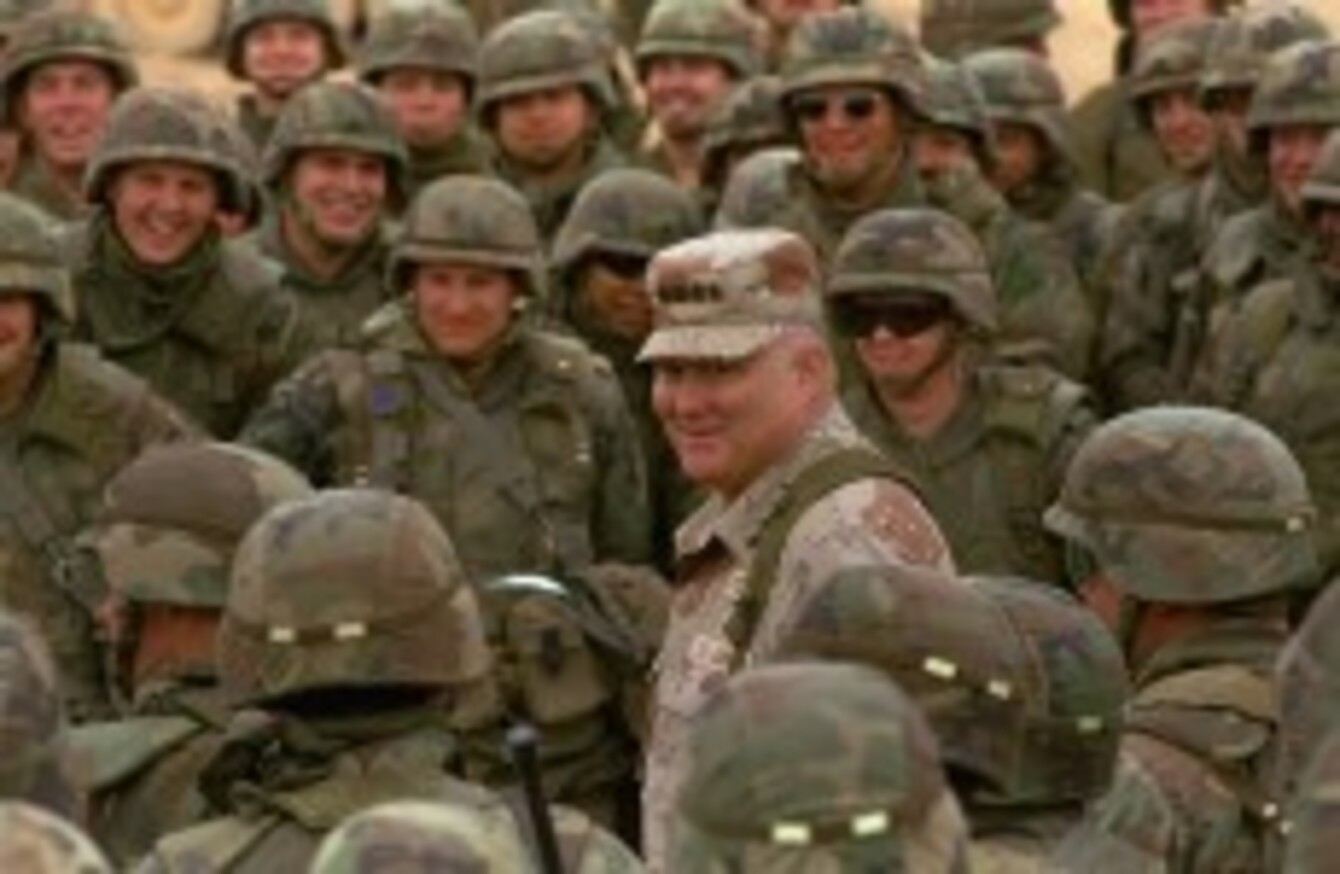 Norman Schwarzkopf among troops in the Saudi Arabian desert in 1991
Image: AP Photo
Norman Schwarzkopf among troops in the Saudi Arabian desert in 1991
Image: AP Photo
NORMAN SCHWARZKOPF, THE US general who drove Saddam Hussein's forces from Kuwait in 1991 as commander of the lightning campaign known as Operation Desert Storm, died on Thursday at the age of 78.
Schwarzkopf, an American hero known popularly as "Stormin' Norman," died in Tampa, where he retired after his last posting as head of US Central Command, which controls operations in the Middle East and South Asia.
"We've lost an American original," US President Barack Obama said.
"From his decorated service in Vietnam to the historic liberation of Kuwait and his leadership of United States Central Command, General Schwarzkopf stood tall for the country and Army he loved," he said in a statement.
Defence Secretary Leon Panetta said Schwarzkopf  -  a hulking bruiser of a commander with an explosive temper – had in "35 years of service in uniform left an indelible imprint on the United States military and the country."
Former president George H. W. Bush, himself sick in intensive care in Texas, was among the first to issue a statement mourning the loss of the man he chose to lead the war that came to define both of their careers.
"Barbara and I mourn the loss of a true American patriot and one of the great military leaders of his generation," his statement said.
"General Norm Schwarzkopf, to me, epitomised the 'duty, service, country' creed that has defended our freedom and seen this great nation through our most trying international crises," Bush said.
"More than that, he was a good and decent man – and a dear friend. Barbara and I send our condolences to his wife Brenda and his wonderful family."
The New York Times quoted Schwarzkopf's sister as saying he died from complications related to a recent bout with pneumonia.
In a major test of the post-Cold War order, Saddam Hussein's million-man army invaded Kuwait in 1990 and looked set to roll into Saudi Arabia, which would have given him more than 40 percent of the world's oil reserves.
Bush assembled a coalition of 32 nations and Schwarzkopf was given command of 425,000 US and 118,000 allied soldiers, a force which decimated Saddam's military machine and drove it from Kuwait with minimal allied casualties.
Norman Schwarzkopf with President George HW Bush at the US victory parade after the 1991 Gulf War (AP Photo/Ron Edmonds)
His background
Born in Trenton, New Jersey in 1934, Schwarzkopf's connection with the Gulf began when he was just 12 and he went to Iran to join his father, another decorated general, who had been posted there.
Educated in Tehran, Geneva and Frankfurt before returning to the United States to pursue a military career, Schwarzkopf specialized in mechanical engineering at the renowned West Point military college.
He also attended the University of Southern California and the US Army War College.
Schwarzkopf served briefly as an instructor at West Point before heading to Vietnam to join the fast-swelling numbers of US military advisers to the South Vietnamese army.
Quickly promoted up through the ranks, his reputation for bravery was confirmed during his second tour in Vietnam in 1970, when he rescued men from his battalion who were trapped in a minefield in the Batangan Peninsula.
After rushing to the scene in a helicopter, he crawled across the minefield, held a severely wounded man down until a splint could be put on his leg, and then led survivors to safety by ordering mines to be marked with shaving cream.
Unlike some of the generals that succeeded him in America's more recent wars, Schwarzkopf was a combat veteran, earning three silver stars and the coveted Combat Infantryman Badge for those who personally fought in battle.
His brusque and bold style was also the stuff of legend.
"When you get on that plane to go home, if the last thing you think about me is 'I hate that son of a bitch', then that is fine because you're going home alive," he is reported to have said.
#Open journalism No news is bad news Support The Journal

Your contributions will help us continue to deliver the stories that are important to you

Support us now
Norman Schwarzkopf with King Fahd of Saudi Arabia in January 1991 (AP Photo/Bob Daugherty)
"He was like a rock star"
Schwarzkopf's infamous temper spawned the nickname "Stormin' Norman," which became tabloid headline fodder during the 1991 Gulf War. His troops, however, knew him as "The Bear."
"He was like a rock star. We all wanted to have our picture taken with him," wrote Mike Glenn, a Houston Chronicle reporter who served as an Army lieutenant in the Gulf War.
In 1983 Schwarzkopf led troops in battle during the US invasion of Grenada and in 1988 was appointed head of the Central Command, responsible for operations in the Horn of Africa, the Middle East and South Asia.
As commander, Schwarzkopf had studied the eight-year Iran-Iraq war and concocted a plan for the defence of Gulf oil fields against a possible Iraqi invasion of US-allied Arab states.
After the US had engaged in a six-week air assault on Iraqi forces in January 1991, this became part of the strategy credited with bringing the ground war to a close in just four days.
He was also a public face of the campaign, appearing regularly in faded fatigues and a field soldier's patrol cap to brief the world's media.
"In the aftermath of that war, General Schwarzkopf was justly recognized as a brilliant strategist and inspiring leader," Panetta said.
"Today, we recall that enduring legacy and remember him as one of the great military giants of the 20th century."
After the war, Schwarzkopf turned down the position of army chief of staff and retired from active service in August 1991. He was successfully treated for prostate cancer in 1993.