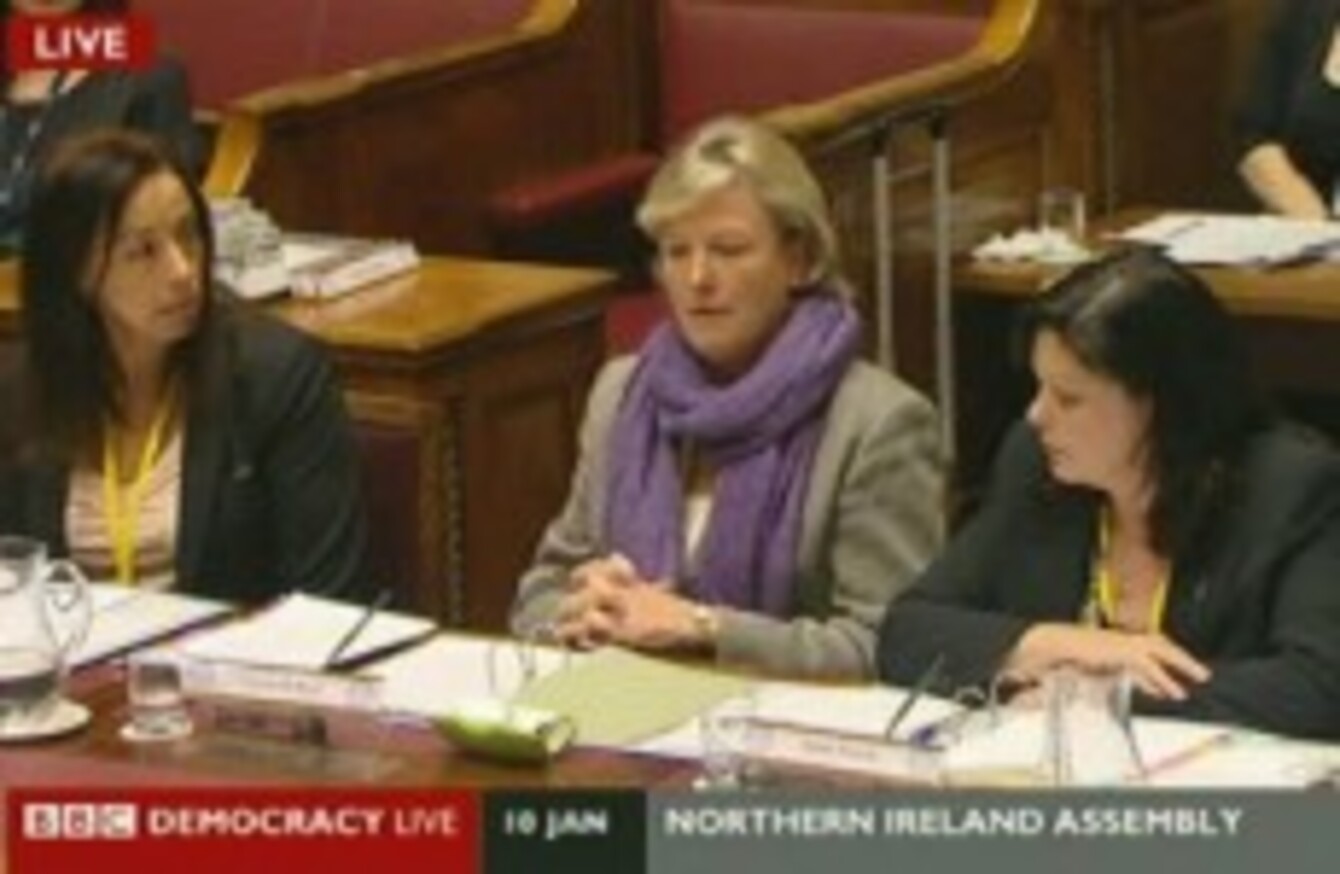 Image: Screengrab via BBC
Image: Screengrab via BBC
THE JUSTICE COMMITTEE at Stormont  met yesterday with representative from family planning and private sexual health clinic Marie Stopes to discuss the legality of the services they offer at their Northern Ireland clinic.
It was a tense committee meeting as members grilled the representatives about the medical abortions that are offered in their clinic, which was opened in Belfast last year.
Terminations at the Marie Stopes clinic are only provided when the life of the pregnant women is at risk and/or if there is a long term or permanent risk to her physical or mental health. The medical abortions are only available up to nine weeks' gestation.
Representatives from the clinic defended their services which they assured the committee operated within the legal framework in Northern Ireland and told members that they were regulated by the Regulation and Quality Improvement Authority (RQIA).
"What became very clear when we opened clinic, I was surprised that we didn't need to be regulated by RQIA. If we could be, it would give people confidence that we are operating within the legal framework," said Tracey McNeill UK and Europe director of of Marie Stopes International.
"Cleary the RQIA don't make the regulations but they can check that doctors and medical professionals are suitably qualified."
Numbers
Though several committee members asked for figures on the number of women who had terminations since the clinic opened, McNeill said the clinic would not be releasing statistics on the women and men they treated. However she said the number of women going to their clinics for abortions was very small.
"We will not betray the men and women who come to us," she said. "If the department of health had a way to guarantee the complete protection of patient's identity then we would enter into dialogue."
Representatives also assured the committee that all women attending the clinic for terminations were required to provide photo ID and that they did not treat anyone under the age of 15. If young girls attend the clinic, they are usually referred to the FPA, a sexual health charity, for counselling and support.
Jim Wells, who is a DUP MLA, asked if the clinic in Belfast had been located across the road from a train station to encourage women from the Republic to travel there for abortions.
Dawn Purvis, Northern Ireland Programme Director said that making the location easily accessible was paramount with good transport, parking and disabled access but that the business model was based in Northern Ireland.
She also said that "any clients that came from the Republic of Ireland or elsewhere have to be assessed within the legal framework".
Paul Givan, Chair of the committee asked representatives if they were sure that, by providing information to women about options outside of Northern Ireland, they were staying within the law.
"We don't make referrals to other clinics in the UK," Purvis said. "We give clients all of the information they need if they don't meet the criteria in Northern Ireland."
She said staff at Marie Stopes did not make any travel arrangements or appointments in other clinics for women who could not be provided with a termination within the legal framework.
Mental health
As with the recent discussions in the Republic, committee members in Stormont were interested in how the mental health of the women attending the clinics was assessed.
""If a young woman comes in and is upset about her pregnancy, how do you distinguish between people who are just upset and those who have mental health issues?" asked Alex Easton, a DUP MLA.
Alban McGuinness also asked if it was possible to determine with pregnancies that have advanced no further than 9 weeks whether the mother's life and longterm health is in danger.
Dr Paula Franklin Global Medical Director at Marie Stopes said "Like in all areas of medicine we take a history of the patient, their family history and a medical exam to see if mental health is considered to be a contributing factor."
"Financially driven"
Givan asked the representative is the organisation is "financially driven", are they sure that they are covered to carry out the service within the law.
Equally, Easton suggested that it was in their interest to "encourage as many people to come into your clinics as possible."
"I think it's important to remember that we're not just providing abortion but other sexual health services," McNeill said.
As the session finished up, McNeill told the story of a woman who came on the day they opened with a bouquet of flowers for the staff to pay tribute to a friend who had travelled to the UK for an abortion at the age of 15.
"When she returned to Ireland she had no support from friends, family from the church and she ended up committing suicide," a tearful McNeill told the committee. "If we prevent one 15-year-old girl feeling alone, I feel we'll have done a good job."
In response, Givan said "we could all come up with stories that people would find emotive" and that he would not "tell the hundreds of thousands of stories of those who never had a voice."
He concluded the session by saying that he was "far from reassured" and he thought that the people of Northern Ireland would feel the same.