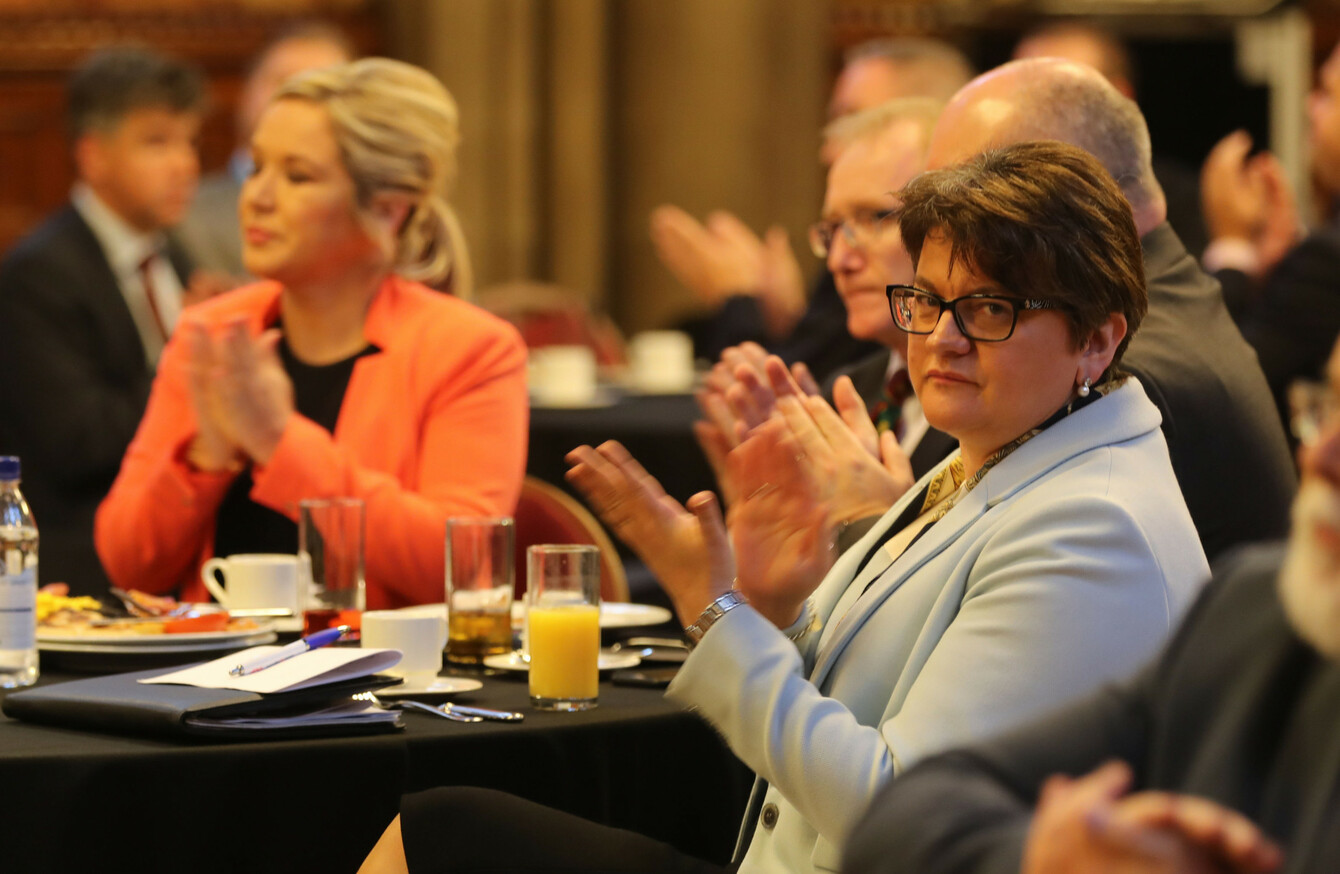 DUP leader Arlene Foster and Sinn Féin's NI leader Michelle O'Neill.
Image: PA Images
DUP leader Arlene Foster and Sinn Féin's NI leader Michelle O'Neill.
Image: PA Images
IN AN EPISODE of the UK satirical show 'Yes, Minister', civil servant Bernard mentions that it's been "difficult" to run the Department while the minister has been away.
His superior, permanent secretary Sir Humphrey Appleby tells him: "A minister's absence is a godsend! You can do the job properly for once."
That might be the assessment of some after a year's stalemate at Stormont, but legislation has been stalled and public services are now being funded by a Westminster-approved budget.
Both the DUP and Sinn Féin have been blaming each other's lacking appetite for compromise for the absence of an Assembly, while both the UK and Irish governments remain hopeful that these two sides can end the "hamster wheel of talks" in the next two weeks.
Yesterday, the newly appointed Northern Ireland Secretary Karen Bradley repeated Tánaiste Simon Coveney's comments last week when he said that there were few differences between the parties and that "we're talking weeks, not months" as the timeframe to restore the Assembly.
The Northern Ireland secretary told Morning Ireland yesterday that "the differences between the parties are narrow" and "can be bridged".
To be clear we're talking weeks not months and there is an urgency about this… I am determined to make a success of these talks and getting devolved government up and running. I really do sense a willingness from all parties they know they need to deliver for the people who elected them.
But one political commentator said that of the party members that she's been speaking to, none of them are overly optimistic that there will be a deal.
"I feel like [Simon Coveney and Karen Bradley] have to make those kinds of statements," Allison Morris, political columnist with The Irish News told TheJournal.ie.
During 2017, rounds of talks between the main parties were held, and then collapsed. Four separate deadlines for a resolution were set, and all four passed without a positive result. After talks caved in mid-November, Westminster was forced to pass a budget for the North, a move that was labelled one step closer to direct rule from the United Kingdom.
A quick reminder of how we got here
In January 2017, Martin McGuinness resigned from politics, and announced he would not seek re-election amid the 'cash for ash' scandal. This collapsed the Stormont Assembly, and triggered a snap election in the North.
In March, the DUP won 28 seats and Sinn Féin won 27 out of a total of 90, in what was hailed as a significant gain for Sinn Féin.
One of the bones of contention for forming a new Assembly in the aftermath of the vote was the aforementioned 'cash-for-ash' scandal. Sinn Féin members were calling for the resignation of DUP leader Arlene Foster, who headed up the Department that was overseeing the Renewable Heat Incentive (RHI) scheme.
The cash for ash scandal resulted in at least €500 million in taxpayers' money being wasted as part of the RHI. Homes and businesses could apply for a grant if they used renewable energy to heat their homes and premises, but some wasted energy – leaving windows open and the heating on all day – to avail of the grants.
One politician, Jonathan Bell, alleged that Foster knew about the loophole in the scheme – that there was no upper limit to the grant – while in the Department but didn't do anything about it.
During the past year, Sinn Féin has repeatedly called on Foster to step aside or resign as First Minister until the inquiry into the controversy has been completed. She has steadfastly refused, saying that it would be an admission of guilt when she has done nothing wrong.
In June, the UK's snap election was held. Theresa May, who was hoping to increase her Conservative party's majority instead lost it, resulting in her forming a coalition government with the DUP, giving the party significantly more leverage.
According to Morris, added to the fact that elections in Northern Ireland are very "polarising", the DUP entering government with the Tories then "completely changed the political landscape of Northern Ireland".
Sinn Féin and the SDLP then accused the UK government's representatives of being unfit to chair the talks, and unable of being impartial.
On 14 November, Westminster was forced to approve a budget for Northern Ireland after talks broke down again and public services in the North were on the brink of running out of funds.
The leader of the SDLP Colum Eastwood says that both the Irish and UK governments have indulged both parties for far too long, and need to pressure them to make a final agreement for the sake of those they represent in Northern Ireland.
"We need to get a deal. We need people to take decisions about the crisis in the healthcare service, in education… This is something that's not easily solved – civil servants can't make those decisions," he told TheJournal.ie.
Although the details of what has and hasn't been agreed yet haven't been disclosed, the issues that remain unresolved between the main parties are understood to include the Irish Language Act; same-sex marriage; and the fallout from the cash-for-ash scandal.
"In November we were told that we were very close to a deal, but we didn't get it," Morris says, adding that although there were a series of deadlines, there was a lack of repercussions attached to them, meaning the stalemate was allowed to run on.
The sticking point seems to be the Irish Language Act… I think [Sinn Féin have] backed themselves into a corner on it. The DUP are becoming more and more against it and they're in a difficult position now with no wriggle room.
Northern Ireland-based journalist and commentator Amanda Ferguson believes the DUP has already lost the debate on same-sex marriage.
"Several commentators have pointed out that the key to unlocking much of this is reforming the Stormont 'petition of concern' mechanism which has, for example, given the DUP a veto on marriage equality.
The Irish in the North are denied the rights enjoyed by people on the rest of the island, and British people in Northern Ireland are denied rights enjoyed in the rest of the UK.
"It's not a sustainable position and is hugely damaging to the LGBT community."
The next round of talks are scheduled to start today and run for two weeks until 6 February, when we're expected to hear whether we'll see a return of the Stormont Assembly.
If the talks continue without a resolution, direct rule is the next stage. During her Morning Ireland interview yesterday, Bradley refused to say when the deadline for direct rule might be.
"I am pragmatic and I want these talks to succeed," she said.
Eastwood says he understands that all politicians and political parties have issues they won't compromise on.
#Open journalism No news is bad news Support The Journal

Your contributions will help us continue to deliver the stories that are important to you

Support us now
"But none of those are served by a never-ending stalemate," he says.
And if we return to direct rule because the parties couldn't agree on a deal, then that would be a very strange place for Sinn Féin to have led us.
So what's likely to happen next?
Absence is becoming infectious, it seems.
The DUP's Edwin Poots, who is a former minister at Stormont, has said he's considering "looking at other [work] options" after the past year.
"Limbo is not a good place to be," he told BBC News Northern Ireland.
The last year has not been a year that has had much fulfilment for any politician.
I think it's something most wise politicians would be looking at now that the future is uncertain.
The SDLP's Daniel McCrossan also told the BBC previously that he might return to a career in the law.
Elsewhere, politicians have been occupying themselves with other political duties.
Morris says that during the past year, the balance of power has shifted to Westminster for the DUP, where 10 of their members hold seats in the House of Commons, and to Leinster House for Sinn Féin.
"The DUP are keen to get the Assembly up and running, Arlene Foster was the First Minister but as such doesn't have much power – she's not an MP," she adds.
"Sinn Féin would happily return to the Assembly if they can get what they want, but that's not how politics works."
Ferguson says that a Stormont deal seems "as far away now as it did last time".
"I could be wrong but given the severely damaged relationships between the parties involved, combined with all the other factors, I very much doubt government in the north will be restored any time soon, and certainly not on the basis that it operated previously."
She added:
Masses of people are not marching to the steps of Stormont because they miss what has gone before.
And now that we've had a year of political inaction in the North, even if they were to strike a deal in the coming weeks or months, how likely is it that it will stay?
"You've got two parties who are in opposite sides when it comes to the constitution," Morris says. "It's hard to see how they can form a long-term agreement. If they were to get a deal, it would be a sticking plaster."
Three or four out of ten, is her score on how likely a resolution is from this fresh round of talks.