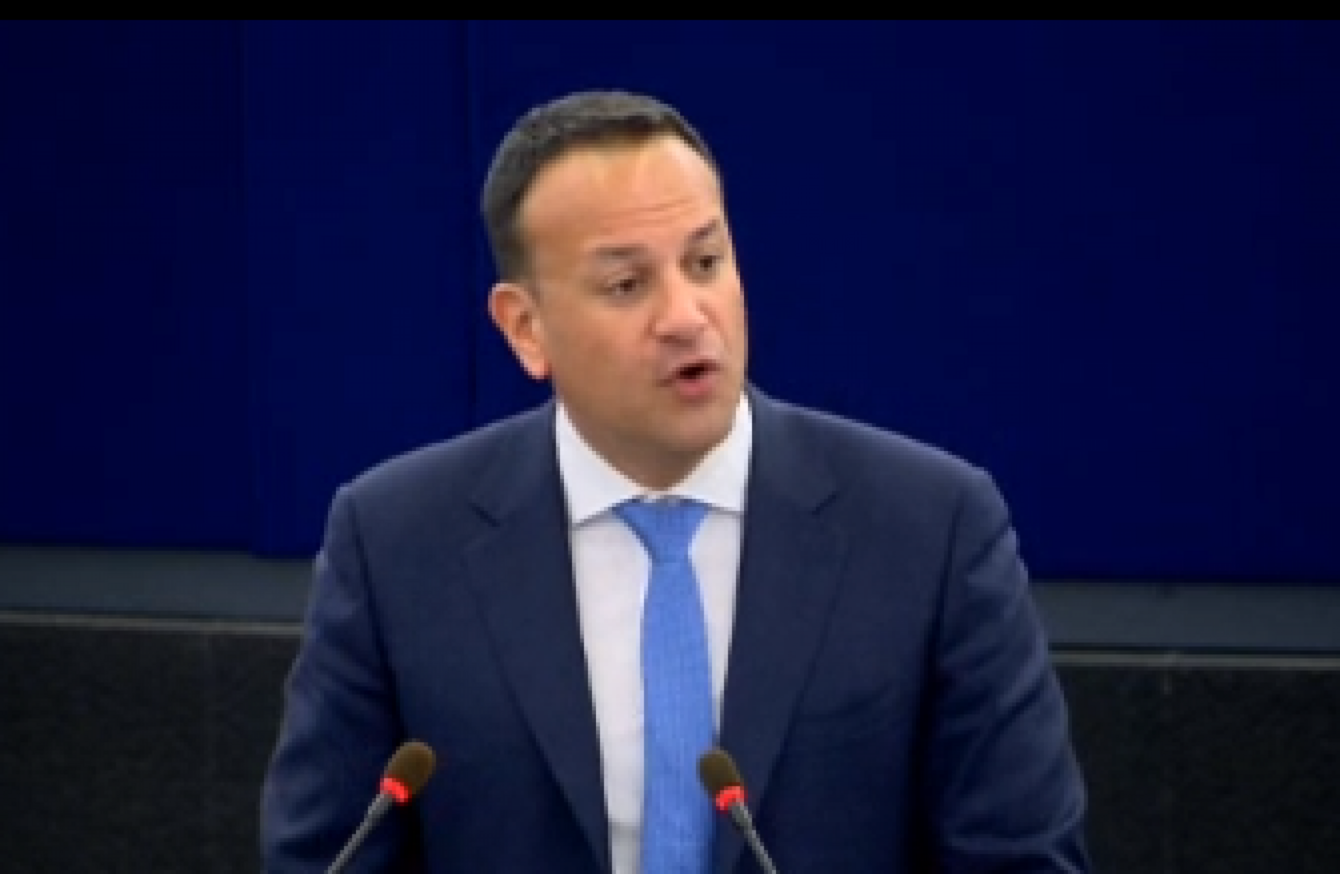 Image: EU Parliament TV
Image: EU Parliament TV
TAOISEACH LEO VARADKAR has addressed the EU parliament in Strasbourg this morning and discussed Brexit, corporation tax and the North's unique status.
Varadkar was the first leader to give his speech in the first debate on the future of Europe.
In his 15 minute address, Varadkar spoke in English, Irish, French and German as he heralded the advances Ireland had made due to the nation joining the union.
Varadkar thanked those EU negotiators who helped him and his party during the 'hard border' Brexit negotiations at the end of last year.
He said:
"The Irish people are profoundly grateful for the unswerving support of this parliament.
In particular, I want to thank your President, Antonio Tajani; your Brexit coordinator, Guy Verhofstadt; the leader of the EPP, Manfred Weber, the head of my own political family in Europe; and all the other political groups who have been so supportive.
Varadkar described the unique position the North finds itself with regards to Brexit – how the majority in the six counties voted to remain and that the majority of the then-elected MLAs in Stormont wanted to remain in the customs union.
He said that it is likely that the majority of people living in the North will remain European citizens after Brexit, because of their "unique status as dual Irish/British citizens under the Good Friday Agreement".
He said the Brexit breakthrough achieved before Christmas means that the United Kingdom has guaranteed that, whatever its future relationship with the European Union, a hard border on the island of Ireland will be avoided.
Varadkar added:
As the negotiations move forward, we will continue to rely on your support and solidarity as we work to ensure that what has been promised in theory is delivered in practice.  There can be no backsliding.
His wide-ranging speech to the parliament also took in aspects of Irish policy which have been controversial to EU partners – namely corporation tax.
However, he did make the point that countries which generate tax should be able to spend that tax in their own national interest.
He said: "My strong view is that national taxes that fund national budgets should be determined by national parliaments and governments.
"Equally strong is my view that corporations should pay their fair share of tax. We cannot tolerate a situation where large companies can avoid paying any taxes anywhere.
That's as true for American tech companies as it is for European car manufacturers, or for international aerospace and defence companies.