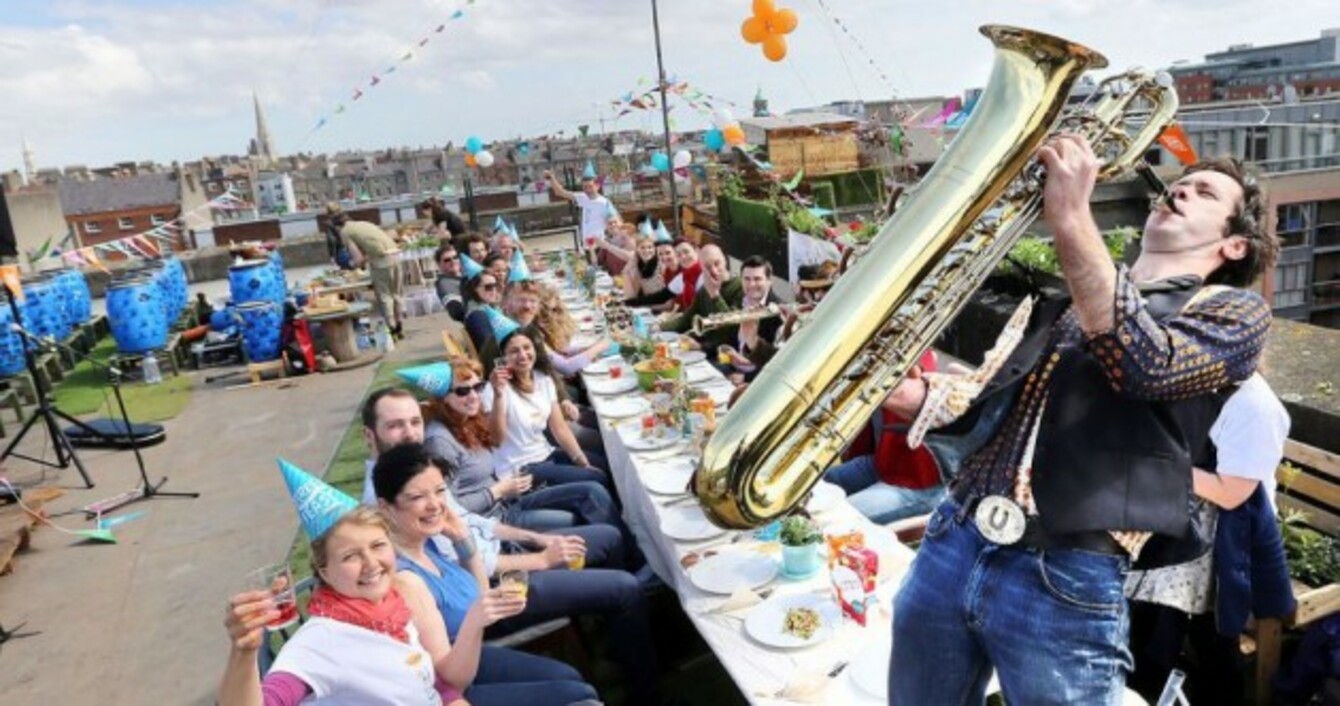 'Street Feast' 2013 - on a Dublin rooftop.
Image: Marc O'Sullivan
'Street Feast' 2013 - on a Dublin rooftop.
Image: Marc O'Sullivan
SOME 20,000 PEOPLE are expected to take part in the sixth annual 'Street Feast' today.
Happening at locations all over the country, between mid-morning and early-evening – the 'local lunch' initiative aims to help neighbours get to know each other.
It started out with around 30 events back in 2010 – and over 200 are set to take place later, up from 175 last year when more than 17,000 people sat down to dine with their community.
"The aim is to get as many people as possible across Ireland to sit down to a fun, pot-luck lunch which they have organised themselves with their neighbours, in their local area," according to Sam Bishop, one of the organisers.
It's a non-commercial event, which means that participants contribute to their event by bringing food, providing tables and chairs, or putting up bunting or gazebos.
The Street Feast team have been providing party packs of bunting, flyers and posters to organisers of local events in recent weeks – while Dublin City Council and the city and county councils in Cork are also rowing in behind the project.
Is one happening near you?
Some of the organisers have asked for RSVPs for their events, and the deadlines have obviously long passed by now. However, if you're a local in any these areas, it might be worth taking a gander at some of the day's main offerings…
Dublin: There's a Rooftop Feast at Pembroke Square in Dublin 4, from 3 to 7pm; the Chapelizod Community Festival happens at 2pm in the west Dublin suburb; the Dublin Food Co-Op has an early start for its event, at 11am, and people are being advised to 'bring a blanket' for a Street Feast in the Irish National War Memorial Gardens at 2. 
Note: As we mentioned – some of the events require RSVPs, and some are way more informal, but you can find the full list of 'feasts' here >