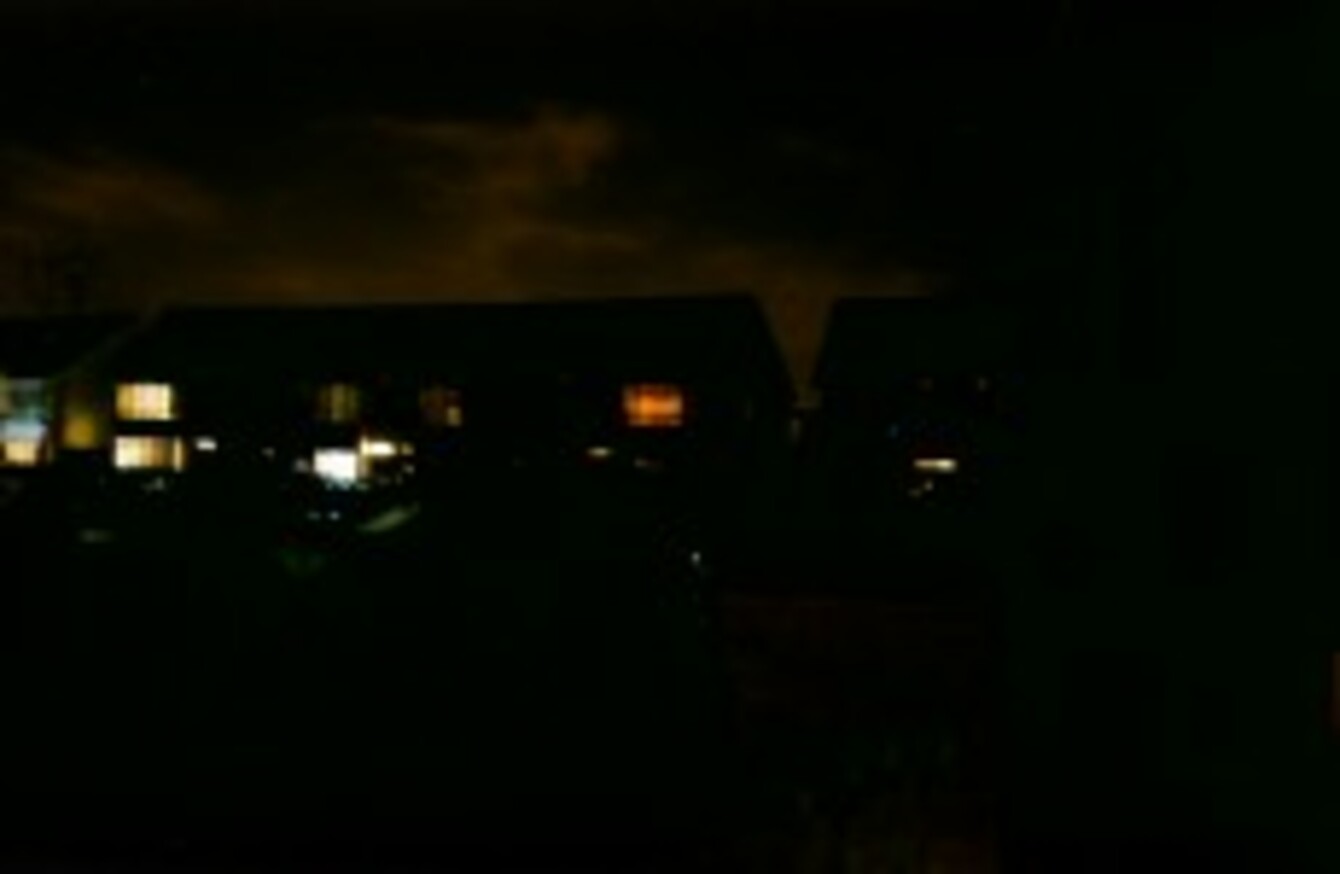 Chambers Park, Kilcock
Image: Pat McGarry
Chambers Park, Kilcock
Image: Pat McGarry
A WEEK AFTER the street lights were switched off at a Kilcock housing estate, Minister Howlin said he might take action to "remind" Electric Ireland of its "social responsibility".
The situation at Chambers Park, an unfinished housing estate whose developers have gone into liquidation, has been reflected in two more estates in Kildare who have also received letters saying their public lighting might be turned off.
The lighting has been switched back on at Chambers Park tonight, exactly a week after the estates's residents found their street in darkness.
Chambers Park
Today, Minister Howlin, who is Minister for Public Expenditure, said to KFM radio in Kildare of  Chambers Park residents committee chair Pat McGarry "it seems to me that he has very good reason indeed to be annoyed".
Howlin said that where there will be instances of builders going into receivership:
there is a social responsibility to ensure that innocent bystanders who are the household in an estate like that are not adversely affected by arbitrary decisions.
He said that people should not be left in the dark over a dispute, and he will talk to both Kildare Labour TDs Emmet Stagg and Jack Wall to see if there are actions they need to take "to remind Electric Ireland of their social responsibility in this regard".
Howlin continued:
everybody has to understand that there will be difficulties that arise and not exacerbate those, like Electric Ireland apparently has done by blacking out estates and leaving people vulnerable.
On the topic of the letter Electric Ireland sent to three estates in Kildare about their public lighting, he said he is "not sure whether they can simply in a letter absolve themselves of any responsibility for consequences of those actions".
He is also to see if Electric Ireland needs to be contacted to ensure that there are not repeats of what occurred.
Lighting issues
The issue stems from the non-payment of bills for the lighting. Electric Ireland, as supplier, is paid for the electricity use.
When Kildare County Council (KCC) said it would not be paying for the lighting at Chambers Park, Electric Ireland sent letters to it and the Chambers Park residents committee saying that the lights would be turned off if nobody registered to put the supply in their name.
The residents committee said they never received the letter.
The lights were turned off a week ago, and earlier this week KCC said it was engaging with its electricity supplier, Energia, to get the lights switched back on again by ESB Networks.