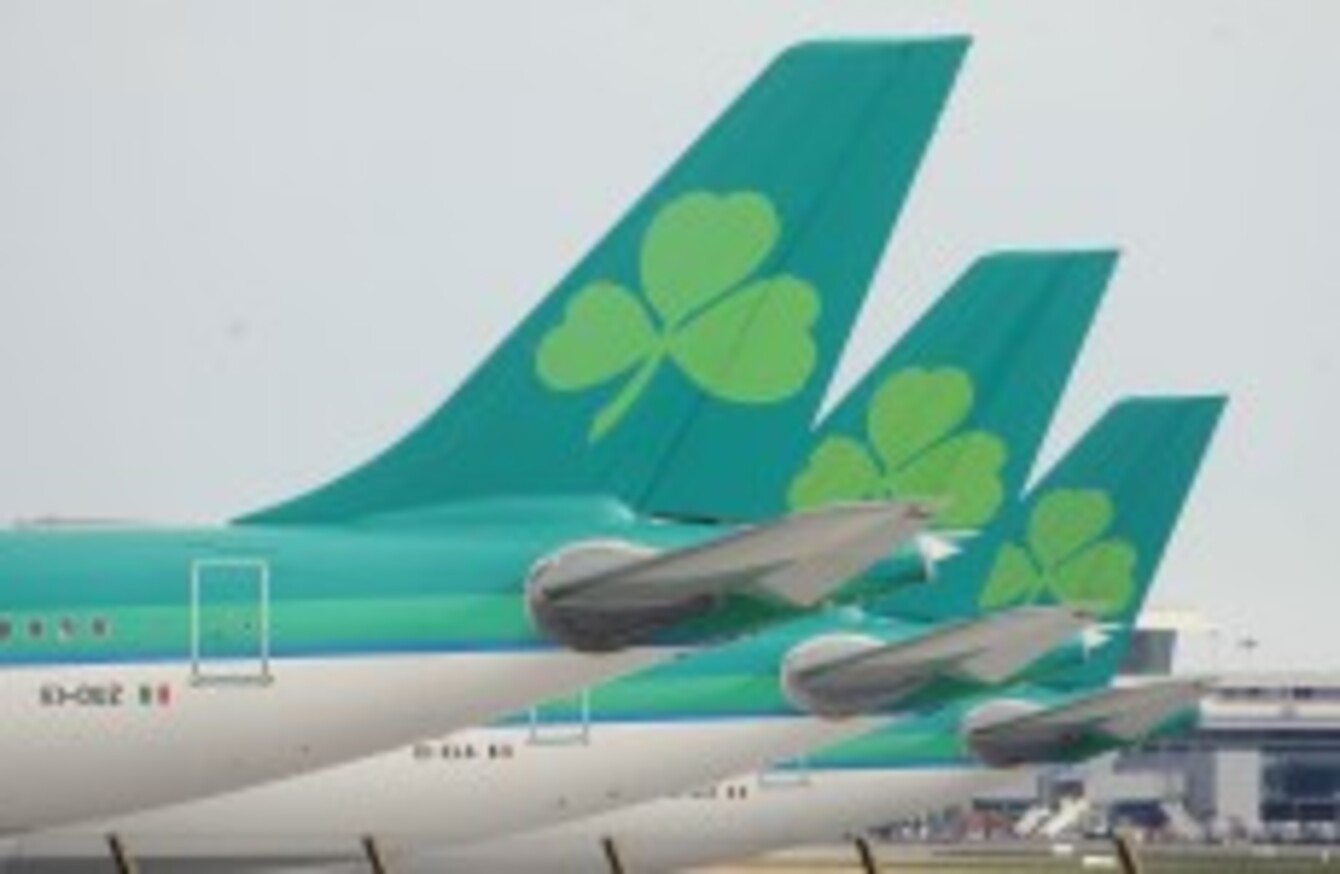 Image: Niall Carson/PA Archive/Press Association Images
Image: Niall Carson/PA Archive/Press Association Images
Updated at 8.25pm
AER LINGUS HAS said this evening it will now begin re-accommodating and rebooking customers in order to give them certainty about their travel arrangements during the impending air strike over the St Patrick's weekend.
Earlier today, SIPTU said it was not in a position as yet to call off the work stoppage planned at Aer Lingus and the country's three main airports. The union confirmed last week it was planning work stoppages at Dublin, Cork and Shannon airports following a breakdown of talks aimed at resolving a long-running row over a €700 million deficit in the fund.
The comments today came in spite of the announcement of an expert group to examine problems relating to the pensions scheme at the centre of the dispute.
A joint statement was released this lunchtime from the Department of Transport, Department of Jobs, employers group IBEC and the Irish Congress of Trade Unions. It confirms that an expert panel will be established "to carry out an urgent investigation of how a final resolution of the industrial relations issues relating to the Irish Airlines Superannuation Scheme (IASS) can be secured".
A spokesperson for SIPTU said the union's position was unchanged as yet, and that representatives were considering the statement. This evening Aer Lingus said in a statement that it is willing to engage with the expert panel "on a voluntary and non-binding basis". It also encouraged all other parties to engage with the panel with a view to the full implementation of Labour Court Recommendations.
The airline said the notice of industrial action has already caused "significant commercial damage to the company and has inconvenienced and distressed customers".
Experts
IBEC and ICTU have each nominated an industrial relations expert and a financial expert to the panel. The members will be Brendan McGinty (IBEC) and Laura Gallagher (KPMG); and Peter McLoone (Congress) and Eugene McMahon (Mazers).
They've been asked to report back with recommendations in four week's time.
According to this afternoon's statement:
The potential consequences for all parties are stark should the employers and unions not be able to resolve their differences.

The Government, Ibec and Congress are of the view that a final effort should be made to resolve this dispute without recourse to industrial action, which would be very disruptive for the travelling public and could have very serious consequences for the companies concerned, their employees, members of the IASS and for the economy.

The parties are invited to confirm to the Secretary General of the Department of Transport, Tourism and Sport that they are willing to engage on this basis.
SIPTU announced the action last Thursday, citing "the refusal of the companies to engage in meaningful talks or to present reasonable or fair proposals during discussions in recent days".
- With additional reporting by Michelle Hennessy.
First posted at 1.48pm