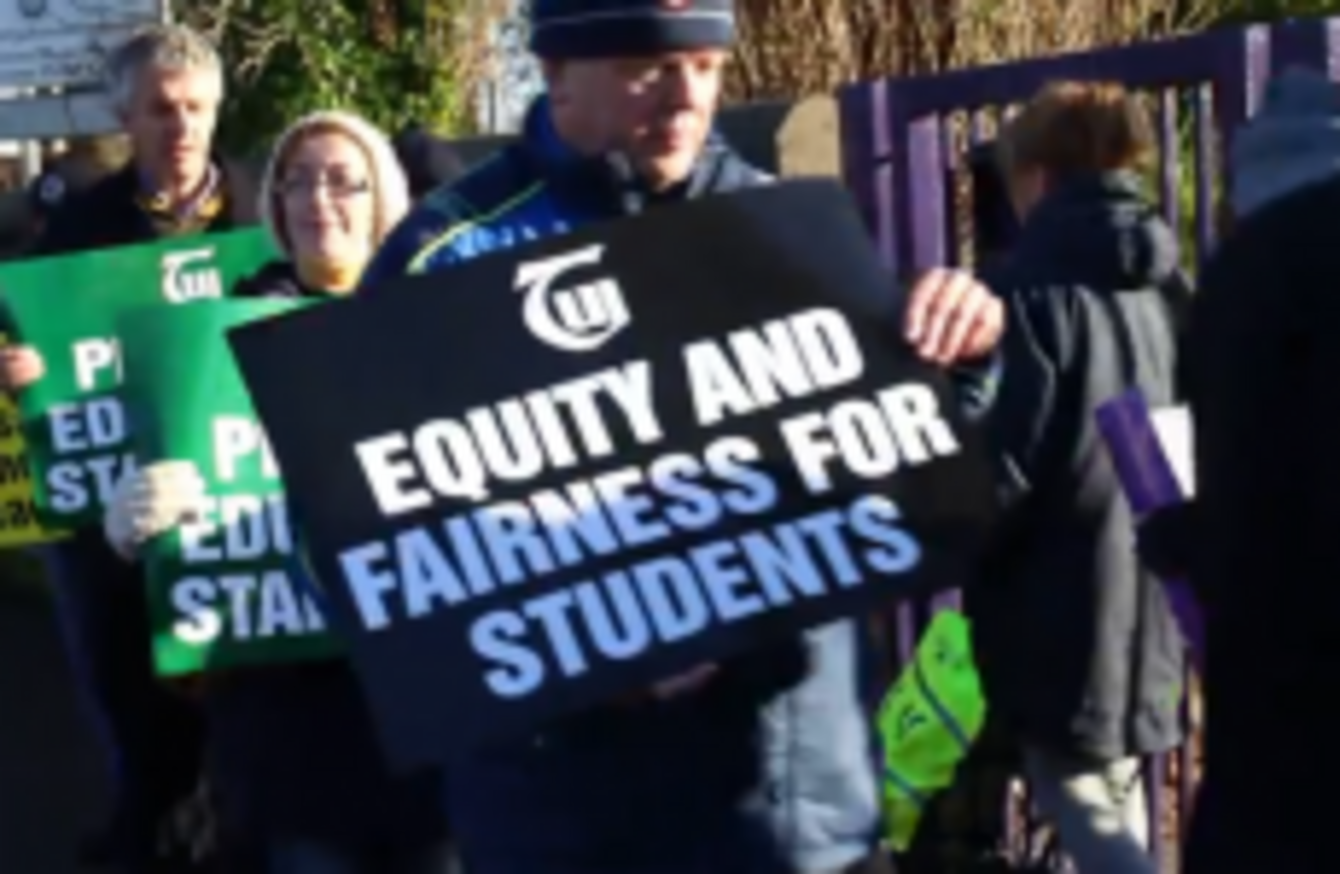 Teachers' strike at Rosmini Community School last month
Image: TheJournal.ie
Teachers' strike at Rosmini Community School last month
Image: TheJournal.ie
Updated at 9.13am
A GROUP REPRESENTING some second level students has issued an 11th hour appeal to teachers, as pickets begin at schools around the country.
Members of the ASTI and the TUI are striking today, after the latest round of talks aimed at ended the long-running dispute over Junior Cycle reform collapsed last week.
"I respect the teacher unions and their concerns in relation to the Junior Certificate reforms. However, as a Leaving Certificate student I am only ten days away from sitting my mock exams," Irish Second-Level Students' Union Education Officer Joanna Siewierska said in a statement.
This second day of strike action is disrupting mine and my fellow students' education at a very crucial and important point in time.
"It is adding unnecessary confusion to the JCSA discussion and it is equally unfair to all students in second-level school.
"The closing of secondary schools needs to stop.
Again, we respectfully ask teachers to return to talks with the Minister for Education and Skills.
Teachers
In a joint statement this morning, the ASTI and TUI reiterated that they are willing to engage in talks without preconditions in a bid to resolve the dispute.
Teachers had "no option" but to proceed with today's action, the statement said.
"We already have an independent, objective, transparent and rigorous State examinations model which maintains public trust, and teachers fully support a move away from an excessive reliance on final written examinations.
"However, we believe that the introduction of school-based assessment for certification poses a serious threat to the credibility of the examination process," TUI President Gerry Quinn said.
ASTI President Philip Irwin said there were "serious and justified concerns over the capacity and school and system level to deal with the current proposals".
Union bosses will meet in the coming weeks to consider further industrial action.
The changes
Under the new proposals, teachers would be required to grade 40 per cent of their students' work internally. It had initially been proposed that teachers mark 100 per cent of their students' exam work.
The changes have been defended by the Department of Education as giving pupils a more balanced educational experience that places less emphasis on an end of course examination.
Some 27,000 teachers also went on strike last month over the issue — resulting in a day off school for around 330,000 students.
Speaking to RTÉ News yesterday, Education Minister Jan O'Sullivan said teachers assessing their students at exam-level was "practised widely" abroad.
The [union] leadership needs to go back and look at why they are so entrenched in their view and cannot move at all.