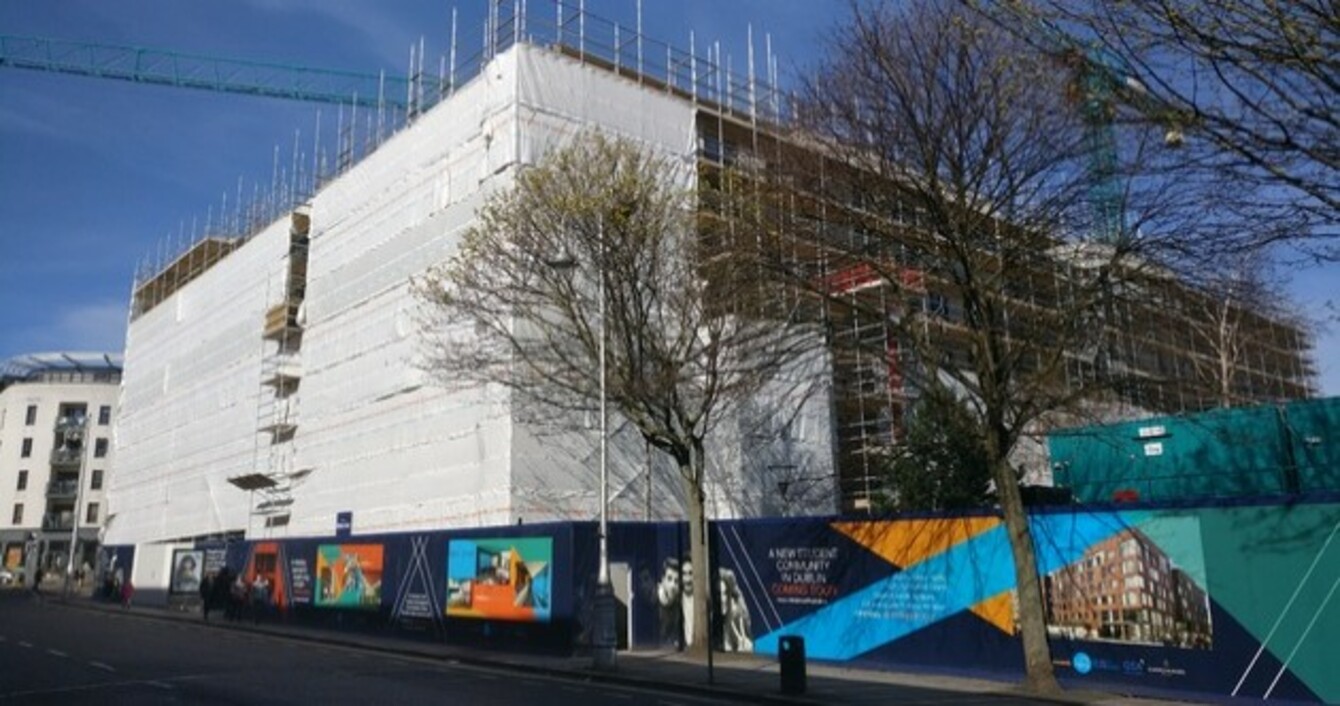 A student accommodation development on Gardiner Street.
Image: Cormac Fitzgerald/TheJournal.ie
A student accommodation development on Gardiner Street.
Image: Cormac Fitzgerald/TheJournal.ie
TOMMY GRAHAM HAS lived In Palmerston Place on the outskirts of Dublin's north inner city for the past 15 years.
As editor of the History Ireland magazine and one of the people behind Historical Walking Tours of Dublin, Graham knows his street and surrounding area well.
He is also involved with the local MPM Residents Association.
MPM is made up of residents from Mountjoy Street, Palmerston Place and Mountjoy Street Middle – which form a sort of 'S' shape together skirting the edges of the inner city.
This area – along with many others around Dublin's north and south inner cities – is in the process of significant change as huge construction is ongoing across Dublin.
Among the new buildings being built or in the planning stages of being built are thousands of new, privately-run purpose-built student accommodation units.
"There's two ways this can go," says Graham.
"On the one hand we welcome any development that gets rid of vacant sites in the area.
"But obviously we're concerned if there is an over-development of a particular type of accommodation.
We don't want our neighbourhood to become a student ghetto.
Student accommodation boom 
There is a boom of purpose-built student accommodation in Dublin city centre.
In 2015, the Higher Education Authority called for an additional 25,000 beds in Ireland for students to meet the current and growing demand.
Between 2015 and 2020, the HEA said there will be in the region of an additional 10,500 student-dedicated beds in Ireland (about 8,000 of these in Dublin).
A large number of these units will feed into DIT's new Grangegorman campus, with hundreds of new student beds planned for there and the surrounding areas like Stoneybatter.
It's expected that 20,000 students will be based in the Grangegorman campus by about 2020/2021, which will radically alter the demographics of the area.
Former Labour Party TD for Dublin Central Joe Costello said in January that the scale of new units planned for the area would:
Create a huge imbalance with the existing residential population, place pressure on local services and give rise to a host of problems in local neighbourhoods.
Following on from Costello's comments, current Independent TD for Dublin Central Maureen O'Sullivan said local residents in the north inner city are concerned about the number of dwelling units being built.
O'Sullivan raised the issue with Minister of State for Housing and Urban Renewal Damien English in the Dáil in February.
"At community meetings concerns have been raised about the social implications," she said.
Students are entitled to their parties etc., but when they come in such numbers to areas with families and senior citizen complexes, it will create difficulties.
Across the city
English roundly rejected O'Sullivan's statements about the potential negative effects an influx of students would have on the city centre.
"It is unfair to just assume that because an area has student accommodation, it will suffer all these difficulties. That is a little unfair and the wrong view, as it is not borne out by facts," he told the Dáil.
Further east from Stoneybatter, more student units are being built on Dorset Street, Gardiner Street and Summerhill. These areas will see about 1,500 news student beds over the next two years.
Local Dublin City Councillor Gary Gannon said that there are some concerns in the area about large numbers, but he didn't see any problems with students coming to the area, as long as the units were affordable.
"There has been some residents kicking up a fuss about it… but I don't have a problem," he said.
People saying they don't want student accommodation need to realise that there is a housing crisis.
Meanwhile, south across the River Liffey, in the Liberties area of Dublin 8, there are significant developments underway, which will bring over 1,000 student beds to the area.
One development  - the New Binary Hub off Thomas Street – has already opened, with 471 beds filled since September.
Stephen Coyne, programme co-ordinator with The Liberties Business Area Improvement Initiative (a DCC run programme), said that the experience in the area had been largely positive so far.
"Initial feelings have been very positive [in relation to the Binary Hub]," said Coyne.
"Residents are feeling positive and the [nearby] Digital Hub are happy with how it worked out."
In general, Coyne said it was too early to tell what effect the large influx will have on the area. However, with the Liberties College and National College of Art and Design present there for years, the area is no stranger to student life.
He said that increasing numbers will help the local industry and bring a "new dynamic" to the area.
"Students do bring a good buzz to the area," he said.
"They are already a vital part of life around Thomas Street so it's really just a matter of how they are accommodated.
It is possible to over egg the pudding, but it will be interesting to see how this new type of accommodation may overcome people's initial fears of over-concentration.
Time will tell 
The main players in the student accommodation boom all gathered this week at the Wood Quay Venue on Thursday for a conference on the plans and future of such accommodation in Ireland.
The event was organised by The Class of 2020, a student accommodation group, that works to advance the sector in Europe.
Tops representatives from international investment giants Hines, GSA and the Atelier Property Group – who are all building or planning to build thousands of new student accommodation units in Ireland over the coming years – sat on a panel and spoke about their plans for Dublin and Ireland.
When questioned by TheJournal.ie over concerns about the large influx of students in the north inner city, the panel all had similar answers.
"It's better to have 2/3,000 beds of purpose-built student accommodation surrounding the new Grangegorman campus where the students can be housed in a managed environment," said Matthew McAdden, CEO of Atelier
"Rather than 20,000 people by 2020 or 2021 studying on that campus and living in the surrounding houses in an uncontrolled manner.
What we would say to any person who lives around that campus is that a student who is living in a managed building of any of the operators who are here today is going to be a better managed and better behaved student than on who is going to be there anyway.
GSA's head of construction for the EU Aaron Bailey added that for every unit of student accommodation they built, it would free up more private rental stock for families and others.
"We'd like to think we're part of the solution rather than part of the problem," said Alexander Knapp, managing director of Hines.
Back at Palmerston Place, Tommy Graham of MGM Residents' Association said the group will be keeping a watchful eye on the developments.
"We are concerned at the scale but we're not opposed to this in principle," he said.
"If it's purpose-built hopeful it will be okay but we have no faith in the DCC planners, as they have given the nod to horrendous developments in the past.
They seem to have an attitude that this is a rundown, poor part of the city and residents should be grateful for any scraps.
But we'll wait and see what happens.