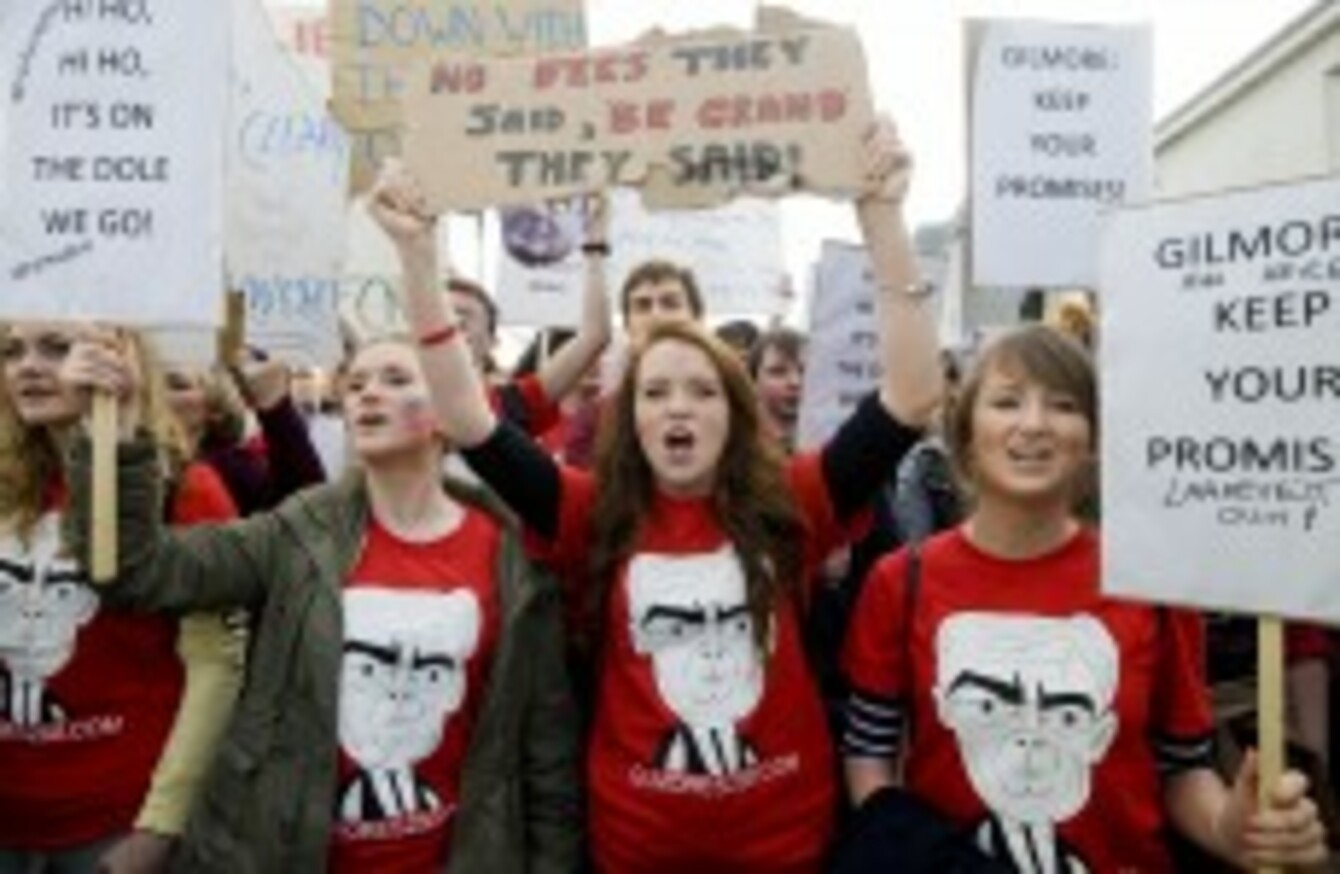 Students from UCD and the Dún Laoghaire IADT protest outside Eamon Gilmore's office in November
Image: Laura Hutton/Photocall Ireland
Students from UCD and the Dún Laoghaire IADT protest outside Eamon Gilmore's office in November
Image: Laura Hutton/Photocall Ireland
THOUSANDS OF THIRD level students around the country are being given boxes of food by students' unions as they continue to wait for their grants to be paid.
The Union of Students in Ireland said students are going to college hungry, while one college has set up a soup kitchen to provide meals for students who can't afford food.
New figures show that 5,575 students are still waiting to receive their first grant payment, more than four months after the college year began.
USI President John Logue said that many of the students were "desperate" for financial assistance.
"While some Students' Unions can provide basic assistance as regards food and modest welfare loans, they cannot pay rent or fees for students who rely on grants to cover these costs," he said. "The chronic delay with grant payments is stretching the patience of landlords to breaking point".
The USI has called on the Minister for Education to put pressure on SUSI, the new grant system, to ensure all payments are received by the end of the month.
Ruairí Quinn acknowledged in November that some students would not receive their grants until January.
John Logue said that a "significant" number of Students' Unions around the country are giving food boxes to students who come to college hungry.
The Athlone Institute of Technology has set up a soup kitchen in response to the demand from students who need food.
The new centralised system introduced last summer to replace the old system of local authorities administering grants has been heavily criticised over the long delay before students are told whether they will receive a grant or not, as well as an additional wait before the grant is paid.
The USI said SUSI has "singularly failed to make the grant processing system more efficient and, as a result, many students are in serious financial difficulty".
Of the 65,000 applications to SUSI, more than 50,000 students were still waiting for a decision on their grant by the end of October, at which time SUSI had made a decision on just 12,000 applications. The backlog had dropped to 21,000 applications by the end of November
SUSI was forced to take on extra temporary staff in December to deal with the backlog.