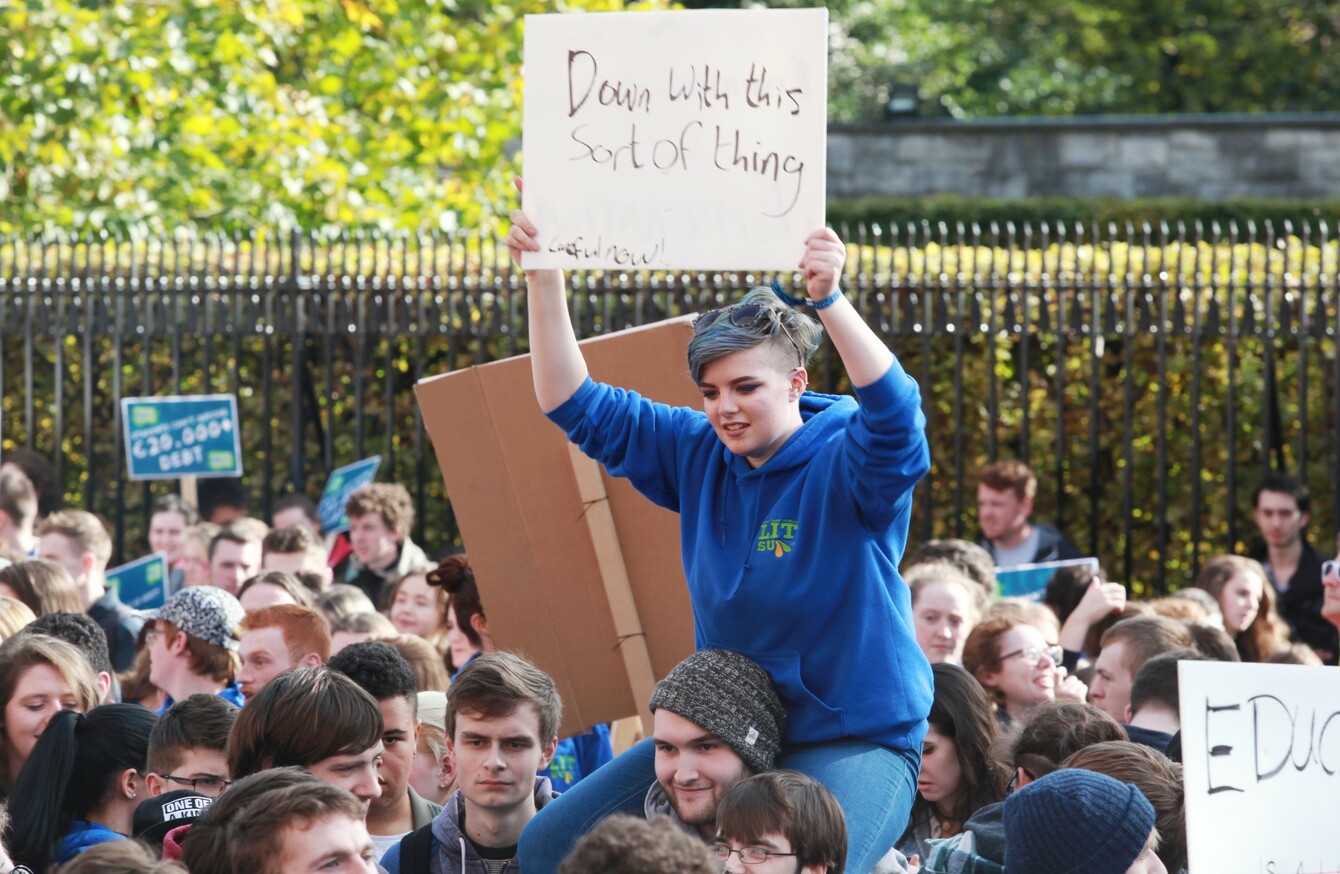 Students marching against introduction of loans scheme last year.
Image: Leah Farrell
Students marching against introduction of loans scheme last year.
Image: Leah Farrell
THE DOOR TO the introduction of student fees was left open this week after the government opposed a motion against third level student loans.
The Labour motion raised in the Seanad called on the government to affirm its commitment to providing equality of access to education and to reject any move to implement an income contingent loan scheme to fund third level education.
While some have branded it ironic that the Labour Party proposed such a motion, seeing as it was accused of u-turning on its 2011 pre-election promises not to increase tuition fees for third-level colleges, the party said the idea of student loans should be taken "off the table".
"College fees should not rise, they should go," said Labour Party Senator, Aodhán Ó Ríordáin, who proposed the motion this week, which sparked of a social media campaign under #NoToLoans.
Final year student, Cian Lalor, from IT Carlow expressed concern over the vote stating:
I had to get a loan out each year during college, and put myself into debt just to pay the fees. What made things difficult is that every year the fees rose until reaching €3,000. I have been in debt since I was 17 – before I was even legally an adult. During my first years after graduation, I have always been in financial debt because of my loans. I couldn't imagine being able to afford loans of €20,000 for my degree.
So, why is this an issue now? Could student loans become a reality in Ireland?
A recent report on funding higher education by Peter Cassells is currently being examined by the Joint Oireachtas Committee on Education.
It specifically makes reference to a student-loan scheme, but said a number of considerations would have to be made before such a plan was rolled out.
"It is expected that there would be net savings to the public finances arising from the introduction of income-contingent loans," finds the report.
Impact of student loans 
However, it states considerations as to whether the introduction of income contingent loans would have an adverse impact on participation among those from low-income families would have to be looked at.
At present students from low-income families are not required to pay fees in relation to full-time undergraduate education while with income-contingent loans such students would be required to make deferred payments.
However the report finds there is evidence from the UK and Australia which indicates that participation by lower-income groups was not adversely affected by the introduction of income-contingent loans.
"Furthermore, research by the European Commission and others indicates that when balanced with student support of various kinds, increased fees do not necessarily have an overall negative impact on enrollments in higher education," states the report.
However, this debate comes in the same week as a report by the Institute for Fiscal Studies in the UK finds that students in England are going to graduate with average debts of £50,800.
Those from the poorest backgrounds, with more loans available to support them, will graduate with debts of over £57,000, reports the BBC.
Interest charges are levied as soon as courses begin in the UK and the IFS said students on average will have accrued £5,800 in interest charges by the time they have graduated from university.
Decline in participation 
There has also been a decline in participation by part-time and mature students in recent years, with the tripling of tuition fees in the UK in 2012 identified as a contributory factor in this decline.
While the Cassells report states that the UK experience is not directly relevant to Ireland, as the level of tuition fees in England is much higher than the level contemplated in the report, it does highlight that part-time and mature students are more sensitive to fee levels.
The Seanad motion was supported by Sinn Féin, but opposed by both Fine Gael and Fianna Fáil who submitted counter-motions. The government claimed it was not appropriate to rule out any policy until after the committee had considered the Cassells report.
"There can be no return to a situation envisaged in the Fine Gael manifesto in 2011, which referred to a student loan scheme to fill the gap. We cannot return to that. We must have a better vision. We have to look forward and aspire to a free third level system," Ó Ríordáin told the Seanad this week.
While, Sinn Féin Senator Paul Gavan said:
The fact that neither Fine Gael or Fianna Fáil are going to support the motion this evening is very disappointing and outlines why neither of these parties can be trusted when it comes to education.
Fine Gael are ideologically opposed to the idea of a fully publicly funded education system, while Fianna Fáíl are simply keeping their options open, and keeping the ICL option on the table.
The Union of Students in Ireland (USI) said it was very concerned that two of the main political parties could not commit that a loan system would not be introduced.
Students not happy 
USI President Michael Kerrigan said it's time government put their money where their mouth is and make the commitment to publicly invest in education.
"Senators from Fianna Fáil and Fine Gael asked for patience with the Joint Committee on Education and Skills to come to a conclusion and publish their recommendations on how third-level should be funded. Well, we say this: where are these recommendations as our colleges crumble before us?" he said.
The USI are now calling on the Joint Committee on Education and Skills to make a decision on the future funding of third-level education, and to reject any move to implement an income-contingent loan scheme but instead to publicly invest in third level education.