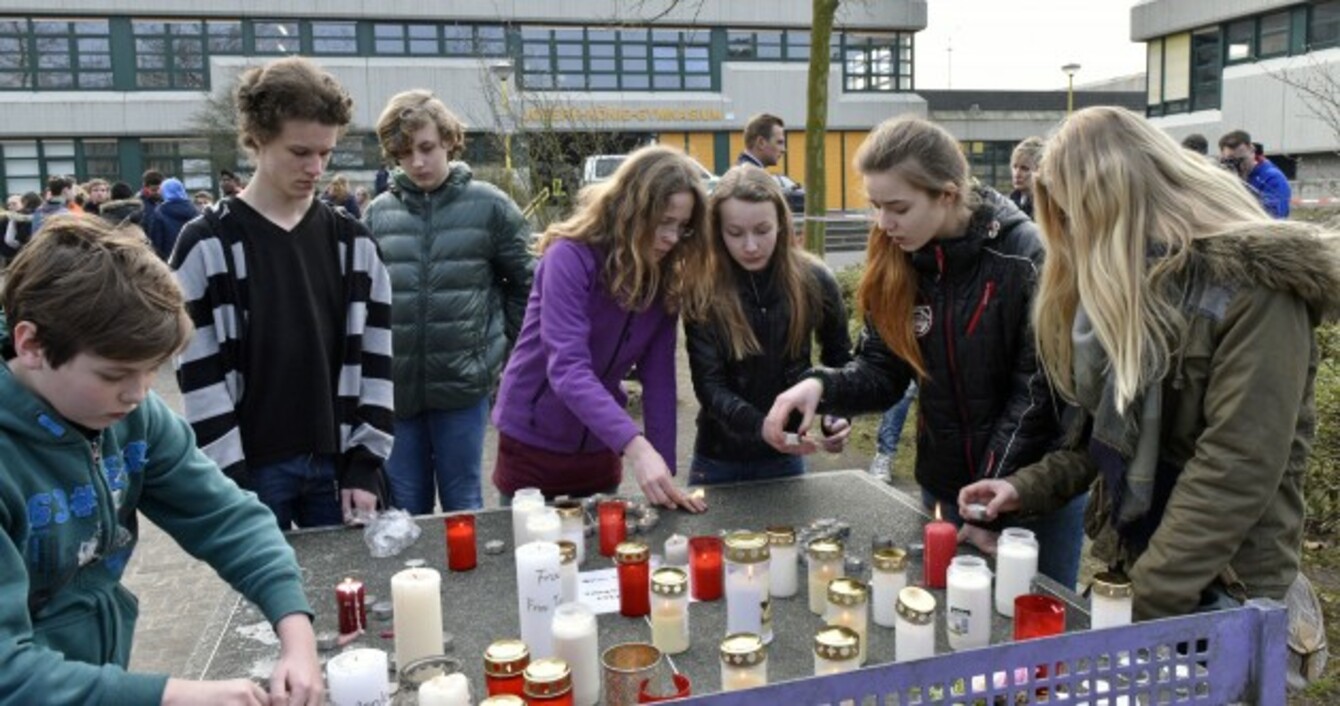 Students put candles on a table tennis table in front of the Joseph-Koenig Gymnasium in Haltern
Image: AP/Press Association Images
Students put candles on a table tennis table in front of the Joseph-Koenig Gymnasium in Haltern
Image: AP/Press Association Images
Updated 11.15 pm
SIXTEEN GERMAN STUDENTS and two teachers were aboard the crashed Germanwings plane.
The mayor of the German town of Haltern has said the teens are assumed dead. 
The group of students were due to return from a school exchange in Barcelona. 
Mayor Bodo Klimpel said that the school heard about the crash through the media and had to do their own research into the incident.
"The city is deeply saddened," he said.
Everyone is in a state of shock. It is the worst thing you can imagine.
The teenagers and their two teachers had been on a week-long exchange trip to Spain, and their names were on the passenger manifest of the Barcelona-Dusseldorf Germanwings flight, Klimpel told a news conference, fighting back tears.
Although rescue crews have not yet reached the crash site in a remote area of the French Alps, "we have to assume the worst," he said.
Students have turned up to school today to light candles and were told about the incident when it was likely the plane would not land in Düsseldorf.
Tragic deaths
A total of 67 German nationals were on board the passenger jet, which crashed in the southern French Alps earlier today.
"There were 16 children and two teachers who had spent a week here, poor things. The children were aged about 15," Marti Pujol, mayor of the village of Llinars de Valles near Barcelona, told AFP.
He said the pupils and teachers left for Barcelona airport on Tuesday morning.
Some of the staff at the high school where they had been on an exchange programme knew their flight number and the time of their flight, he said.
The flight run by Germanwings took off from Barcelona at 9.55am (8.55am GMT) bound for Duesseldorf.
"Everyone in Haltern knew that they were due to arrive in Duesseldorf about noon," Bockey told AFP.
Pujol said pupils at the Instituto Giola which the German visitors had attended during their exchange were being attended to by the Red Cross and psychologists.
The school's website – which is now down – says that its student exchange with a Barcelona school was due to end on 24 March. The students had gone to Spain on 17 March.
Halterner Zeitung is reporting that the school has set up a crisis management team.
Two German footballers who are from Haltern have tweeted about the tragedy.
Benedikt Howedes said that he comes from Haltern and has many friends and relatives from there.
He added that he is sad and can't believe about the terrible accident, and wishes friends and relatives of the victims "the strength to get through this".
Christoph Metzelder turned his Twitter avatar into the black-and-white photo of the Germanwings logo:
- Additional reporting AFP.
- First published 2.30 pm