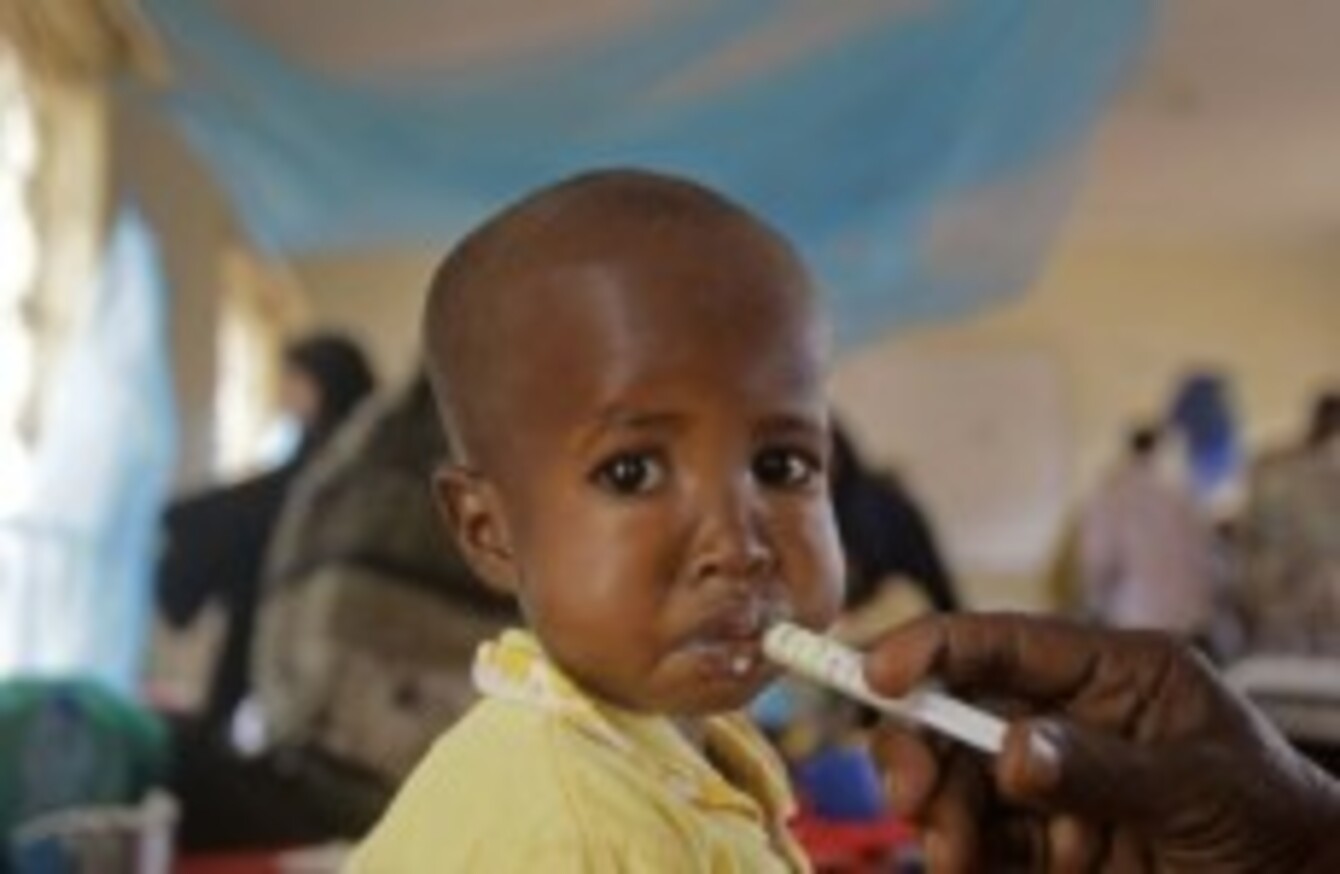 An unidentified child receives treatment for malnutrition in Kenya.
Image: Schalk van Zuydam/AP/Press Association Images
An unidentified child receives treatment for malnutrition in Kenya.
Image: Schalk van Zuydam/AP/Press Association Images
MALNOURISHED CHILDREN ARE being provided with substandard foods, Médecin Sans Frontières has said today.
Médecins Sans Frontières/Doctors Without Borders (MSF) said that despite some recent gains in the fight against childhood malnutrition, the global food aid system largely continues to provide substandard foods to millions of malnourished children every year.
It made the comments in advance of World Food Day on Sunday 16 October.
Around 195 million children worldwide suffer from malnutrition, which is a preventable and treatable condition.
At least one-third of the eight million annual deaths of children under five years of age is caused by malnutrition.
MSF says that children under the age of two are the most vulnerable, and without access to nutrient-dense foods necessary for growth and development they will suffer debilitating lifelong consequences.
Dr Unni Karunakara, MSF's international president, commented:
It's been proven beyond any doubt that getting nutritionally appropriate foods to young, vulnerable children saves their lives, yet the global food aid system has not fully caught up with the revolutionary gains made in nutrition science.
The bulk of international food aid shipments to countries such as parts of sub-Saharan Africa are comprised of corn-soy blend (CSB) fortified flours.
These, says MSF, do not include the vital nutrients and proteins growing children require.
The United States alone annually ships approximately 130,000 metric tons of CSB.
European countries are among the biggest food aid donors in the world, and the Irish government has shown leadership and commitment in the drive for the inclusion of nutritionally appropriate products in food aid, said MSF.
The European Commission (EC) has pledged to meet the nutritional needs of children less than two years of age with its food aid, but has yet to publish clear guidelines about how it intends to implement thise.

"The EC needs to move past general expressions of intent and show that it is serious about improving the quality of European food aid," said Dr Karunakara.
MSF says that many countries have successfully addressed malnutrition at home but it is still waiting for them to apply the same strategies and focus to the foods that they send abroad as food aid.
The World Food Programme now uses supplementary foods that meet the nutritional needs of children under two as the cornerstone of its interventions in medical emergencies.
Meanwhile, donor nations and aid agencies have improved the quality of foods sent to Somalia and Kenya in response to current nutrition crises there.
"High profile emergencies, such as those in Somalia and Kenya today, represent just the tip of the malnutrition iceberg," said Dr Karunakara.
Most malnourished children are invisible, and they should not have to become victims of war or natural catastrophes in order to have access to the foods they need.